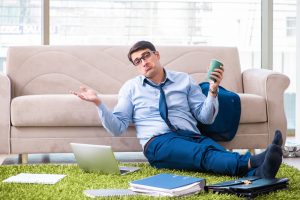 Starting a business at home is an excellent decision for entrepreneurs who have grand ideas. There are many ideas for anyone to create a home-based business online. Of course, it takes a specific skill set, but if everything falls into place, there could very well be a thriving business run from a living room couch.
So how do you go about starting a business at home? It may not be easy, but it's certainly possible. Entrepreneur outlines how to make a dream business a reality below:
Starting an online business takes some legwork. There are legal and financial hoops that you'll need to jump through. It's important that you consult with an attorney or your accountant before taking the plunge. But, once you're ready, starting a business online, even with little money, is not only a possibility, it's a stark reality.

The beauty of the internet is that you can quite literally launch a business and make money online with very little to no capital. If you understand the mechanics of online marketing, or if you're great at social media, you'll clearly find it easier. But you don't need to be a pro to start your business online.

Like anything else in this world, you'll either need a lot of time or a lot of money. If you have both, then clearly, you're ahead of the game. But most people have more of the former rather than the latter. But considering that time is finite and we only have a certain amount of it, using your time wisely and managing your time properly is crucial to ensure your success.
According to Forbes, home businesses are growing at a rapid pace, but those with a higher skillset are more likely to succeed.
Home-based businesses span a broad range of sectors of the economy, though IT and telecommunications account for more of these enterprises than any other single industry; 12 percent of the businesses in the survey operate in this field.

While anyone can launch a business in their own home, the study does suggest that those with greater skills and more experience are more likely to have found it possible to do so. Some 52 percent of home business owners are 55 or older, rising to 79 percent who are at least 45; only 8 percent are under the age of 35. Similarly, 60 % of home-based business owners have a higher education degree, against 40 percent of the UK population as a whole.

Simon Burckhardt, the managing director of Vonage in the UK, argues the statistics underline the extent to which modern technologies are transforming the way in which people work.
Are you curious about what at home businesses are on the rise? According to Medium, blogging and selling stuff on Etsy are two at home businesses that do well for some:
Blogging isn't just a fun online activity to feed our narcissistic tendencies-it's also a clever internet business idea. A quality blog with a loyal audience can earn decent dough by partnering with advertisers, whether through Google AdWords, affiliate partners, or through sponsored blog posts.

Monetizing a blog isn't easy by any means, but if you have the passion and are writing about a unique niche, blogging is definitely a smart online-business idea to consider.

If you're even a bit artistically inclined, selling products on Etsy can be a great work-from-home business. Users love checking out Etsy for unique specialty gifts, and many customers appreciate how easy it is to order custom pieces from Etsy stores. See what's selling out on Etsy and consider whether you may be able to offer something similar.
Another at home business that may work well is creating an e-book, which can help you promote additional business products through a sales funnel. Writing an e-book or two is an excellent venture for a business blog or even a life coach, for example. E-books fit with a lot of at home industries, so don't be afraid to try one to see if it can increase profit for your brand.
E-books have made self-publishing a real income-generating option for writers who previously may have had trouble partnering with big-name publishers. If you have in-depth knowledge about a specific topic, crafting a well-written, informative e-book and selling it online can be a great way to supplement your regular income.
If you desire to work at home, it's all about seizing different opportunities, at least, that's what Monster believes. In particular, for moms who want to be entrepreneurs, there are a variety of skills they can use to excel.
Patricia Cobe said her unscientific estimate is that there are about 10 million "mompreneurs" — a term she and Ellen Parlapiano coined to describe mothers who run home businesses. They are co-authors of Mompreneurs: A Mother's Practical Step-by-Step Guide to Work-at-Home Success.

Some women offer services similar to what they did in their corporate work, as a marketing consultant, for example. Others design and sell products that are unrelated to their previous work, though their corporate experience often helps them run the business.

"In many cases, these women are looking for products or services they can't find," says Sharon Hadary, executive director of the Center for Women's Business Research. This can lead to a business selling better diaper bags or healthy baby food, for example.
It's also interesting learning about some of the home-based business stats, which Small Business Trends gets into:
If you operate your business from home, you're not alone. A recent survey of U.S. businesses indicates the majority of entrepreneurs do the same.

And that's not just in the startup phase either. According to the 2012 Global Entrepreneurship Monitor report, more than half of U.S. entrepreneurs continue to operate their businesses from home long after those businesses are up and running. The study examined Total Entrepreneurial Activity (TEA) across industry sectors in the U.S.

It costs less than you might think to get a business off the ground — According to the study, entrepreneurs required a median of $15,000 to start a business. On the one hand, that's a lot.  But on the other hand, it's an amount that many people in the United States can save up or raise from family.

Most startups are self-funded or family/friends funded —  The vast majority of startup funds (82%) came from the entrepreneur himself or herself, or family and friends.

Venture capital is rare – Only one in 1,000 entrepreneurs in the United States receive venture capital funding, according to a finding cited from an earlier study in 2009.  In other words, forget about venture capital. You're better off spending your time growing your business than searching for VCs.

Entrepreneurship is not limited to a certain age group — Roughly 15% to 20% of adults across all age groups are entrepreneurs.
Telegraph.co.uk says that several variables support working at home will continue to be on the rise. It's something that's not going to stop anytime soon, and in fact, it's going to increase. Many entrepreneurs will run businesses at home and thrive.
Not only is commuting often stressful and unpleasant, it also take up time that could otherwise be spent working or doing something else productive.

Employees who can work from home will also spend less money on petrol or train fares, which may give them less of an incentive to ask for a salary boost to cover travel expenses.

Many people who work from home claim to be more productive because they're not in a loud environment or distracted by co-workers.

In fact, according to a Canada Life survey, homeworkers rank their productivity as 7.7/10, compared with 6.5/10 for office workers.

A spokesperson for employment agency Reed said: "There are some obvious advantages of working from home that you've probably heard before – avoid the nightmare commute, work in your PJs – but the benefits go beyond that.

"Working from home can really help to increase your productivity, as the absence of office distractions makes it easier to keep your head down and actually get your work done."

Business News Daily even says many employees will work at home, whether they run their own business or are working for a separate company.
The evolution of the workplace: "The physical workspace as we know it today is going to significantly change next year as businesses start to get smart about how they use space to drive productivity and adapt to new employee behaviors and tech tools. Large companies will also look to reduce their real estate commitments and move more to flex desk options as more employees work away from the office, while being connected to it by making use of better tools that help them do their work more effectively." – Craig Walker
Sources: Forbes, Medium, Monster, Business News Daily, Small Business Trends, Telegraph.co.uk, Entrepreneur
CHALLENGE Yourself to Profit!
Free Download: Build Your Profit-Generating Online Business With This Free Blueprint
Sign Up, follow the easy steps and You'll get the tactics, strategies & techniques needed to create your online profit stream. It's free!