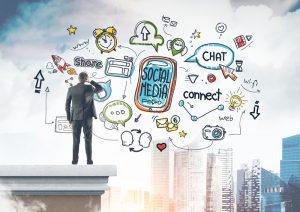 Social media management isn't only about regularly posting content to a business's social media channels. It also shouldn't be the type of job you apply for just because there doesn't seem like there's anything else out there that's worth pursuing. It needs to be a passion that can be enhanced by growing your skillset.
Becoming a social media manager is a complex, yet fulfilling role that operates to help a brand achieve its goals. It's important to work closely with a company to set goals, promote products and events, and continuously improve their social media presence on the web.
Of course, two critical tasks of a social media job is strategizing and engaging. According to Buffer Social, there are a ton of different day-to-day jobs a social media manager must keep track of so it's important to learn how to multitask.
"Strategizing
There are so many goals we could potentially focus on as social media managers – like brand awareness, engagement, traffic, and signups, to name a few. There's also the challenge of figuring out how to make sure your social media goals are aligned with your overall company goals. That's where a having a solid social media strategy comes into play.

Engaging
Along with creating and curating content, cultivating a happy and engaged audience is a high-impact task for any brand. This helps to create a community of loyal followers who will eventually help to spread the word of your product or service on social media."
Kevan Lee, a writer on Social Buffer and a social media manager also names learning and experimenting as two other high-impact tasks that a social media professional should take seriously:
"Learning
Becoming a student of the trade and learning as much as you possibly can has both a short and long-term impact on your brand or company. Like I quickly mentioned before, there's a steep learning curve to becoming a great social media manager and building the skills it takes to succeed all stars with learning.

Experimenting
We love experimentation here at Buffer. In our experience, the more we experiment the more we learn about what works and what doesn't on social media. We've tried all sorts of things from five Facebook Live sessions in one day to creating a Tumblr account to starting a podcast. Experimenting ties directly into all 10 high-impact tasks of a social media manager."
Even though there's not one set degree that will open every door, Andrew Conrad from Capterra thinks it's still a good idea to get a degree in the field, such as Communications or Marketing. When it's time to look for a job in social media marketing, have an excellent portfolio complete with Facebook, Instagram, and Twitter accounts to show hiring managers you know how to run a campaign.
"My colleague, Rebecca, studied marketing and graphic design at American University. She did a bit of everything in the marketing playbook before taking over her role as a social media manager here at Capterra.

"Marketing is the main driver," she told me. "Social media is just one form of marketing … Having a base knowledge of social media and how to run an account" is all you really need to demonstrate.

Alice Fuller, a former television producer turned social media strategist in Raleigh-Durham, echoes that sentiment.

If you truly desire to be a really good social media manager, learn the fundamentals of marketing and writing first. Learn as much as you can … then put what you learn into practice for yourself, then work with others for free or [a] low fee so you can get some real experience under your belt.

Amy Newton, a senior social media manager at internet marketing firm Ignite Visibility in San Diego, underscores the importance of marketing-adjacent disciplines.

In my experience, employers like to hire well-rounded social media candidates, so it's also important to highlight your writing and design skills. At the same time, pursuing a degree that focuses on writing or communications is key. That knowledge is crucial to this industry."
Don't forget about improving your writing skills, because even though one of the main ways to help a company succeed is by being "social" on a variety of social media channels, it's also about enhancing your writing skills. As Digital Marketing Institute reminds us, about 99 percent of communicating on social media is through writing!
"Social media managers do a lot of writing, sometimes more than a dozen posts each day. Each different social network requires a slightly different style of writing. Linkedin, for example, requires a more professional tone, while Facebook is more light and fun. SEO copywriting knowledge is also helpful. (More on this later!) You must be able to create messages that are quickly understood by your brand's audience and promote a positive sentiment for the brand. As Forbes explains, your social media manager "will be communicating with customers on a daily basis – and 99 percent of this communication will be in writing." Some important types of writing include:

Short and effective headline writing
Engaging introductions
Structuring text for easy only reading. (Because consumers will be skimming and scanning, subtitles, bullet points and numbering are absolutely necessary!)"
Forbes agrees that writing is a very important aspect of excelling as a social media manager. Even though it's not vital to be a professional writer, having the ability to clearly convey ideas through writing is important.
"As with graphics production, advanced writing skills aren't necessary. However, a social media manager should have a good command of the language and the ability to express him or herself in writing. While your social media manager may not be writing blog posts, he or she will be communicating with customers on a daily basis – and 99% of this communication will be in writing.

Can he/she clearly convey an idea in writing? Is he/she able to maintain a consistent voice when writing on behalf of the company? Can he/she convey passion and excitement for the business or products(s) through his/her writing? Can he/she maintain top-notch professionalism and avoid embarrassing grammatical or spelling errors?"
Becoming a successful social media manager also isn't all about applying for social media jobs, an excellent place to start is by getting out there and finding ways to show off your talent. One way to do that is by spending any free time building a social media presence on the web. Andrew Conrad, a writer at Capterra, offers an excellent example on how to do just that:
"No matter what role you're in now, there's probably a related opportunity to start building your social media profile. When I was covering high school sports for The Baltimore Sun, I tweeted extensively from every event I covered.

It was a learning experience, but over the years, that experience became more valuable than any social media course I could have taken.

Before I started at Capterra, I ran a one-man dog walking business while working as a freelance writer. By turning that dog walking business into a successful Instagram account, I made sure that I had something valuable to put on my resume from that period."
Mark Paddock, a social media manager, and writer on Social Media Today also supports the idea that getting experience is imperative if you're going to make it as a social media manager. He says it's all about getting your hands dirty and gaining experience.
The way I did it was to offer to handle the Social Media for my employers at the time, Lexus (not for the whole Lexus organisation, just for our Dealership). Quick story – When I was a Car Salesman at Lexus in Liverpool we were told about a special deals weekend we were having that week and shown a mailer that would be sent out. It cost the dealership almost 5K to send this great looking, glossy mailer out to the same database of 1000 people that we mailed all the time. That weekend we were all ready with balloons on the cars and wearing special t-shirts for the event . . .nobody came in.

After some ear-bending and fuelled by the failure of the mailer the GM allowed me to set up a FB page, Twitter feed and take over his LinkedIn profile (he'd done nothing with it since setting it up). I began to find local prestige car owners and fans through Facebook and Twitter and talk about our company car deals/savings in LinkedIn groups. That week I created several appointments of which over half bought cars and made the dealership over 8K. . . we didn't spend a penny. That was my first taste of turning Social Media activity into profit and I got some experience under my belt.

You could even offer your services for free to a local business. You' be gaining experience and building a portfolio to lead to more business and referrals."
Do you have SEO knowledge and skills? If you don't, that's okay, but the Digital Marketing Institute feels it's something you should take the time to learn. SEO plays a huge part in developing a robust social media strategy, so the more you learn about it, the better.
"Though SEO is often considered a separate department within organizations, it should have a large amount of influence on other areas of the organization, particularly content and social media. In fact, according to Hootsuite, SEO has great impact on your social media strategy. A great social media manager knows this and strives to always optimize content on social networks with SEO in mind. When you embrace SEO as part of your social media strategy, you attract a larger audience, leading to more potential customers. As Forbes explains, "content is the cornerstone of your SEO strategy, and your social media manager is the gatekeeper and promoter of much of this content." When thinking about combining SEO and social media, task yourself the following questions:

Do you understand the connection between exposure on social media and increased rankings in the SERPs?
How will you promote your blog content on social media?
Do you know how driving traffic to your company's website impacts revenue?"
Luckily there are a ton of learning resources that are out there if you desire to become a social media manager. Many websites offer paid and free courses, and you can also continue to learn the basics on your own and by observing other people in your field.
Souces: Capterra, Digital Marketing Institute, Forbes, Social Buffer, Social Media Today