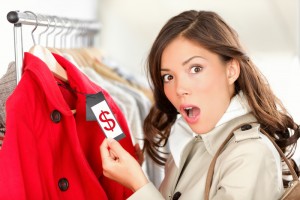 In business you gotta get attention of some sort.  Marketing is all about getting the right kind of attention.  You hopefully show a value proposition and convince a potential customer to purchase your product or service.  And of course you want to be in a positive light.  And there are the stories of people who did bizarre things to market their company.  Can you think of any and did they actually work?
What about the crazy infomercials where someone shows off a crazy new device?  Or what about those weird billboards you may see around town that you can't make sense of?  Here is a hilarious and apparently effective list in this post from allbusiness.com:
-"Month at the Museum" Contest

Objective: Attract young, Web-savvy fans to the Museum of Science and Industry, Chicago.
Payoff: Local and national media exposure; record traffic to the museum's website.

In July 2010, Chicago's Museum of Science and Industry, seeking to pep up its image and drive patronage, promised one person the chance to spend a "Month at the Museum" — as in, actually live there in a hotel-style room. The winner of the contest would then become a social media machine, Twittering, Facebooking, YouTubing and Flickering about the experience, earning $10,000 for the effort.

The museum expected a few hundred entries, which included essays and videos. It received more than 1,500 from all over the world. The process of selecting the winner engaged more than 400 blogs, almost doubled the museum's Facebook fan base, and drew in local TV and radio, along with ABC's "Good Morning America" and other national news and entertainment shows.
On one hand you could say that is absolutely crazy.  However those stats don't lie and it got a spot on national TV!
-The Return of Volta Ferrorama

Objective: Test the waters via a social media event to see if a toy is worth selling to a new generation of kids.
Payoff: An informed decision to relaunch the product.

Ferrorama's parent company, Manufatura de Brinquedos Estrela, noticed that Internet communities dedicated to the beloved brand continued to grow and wondered whether the toy could attract a new generation of buyers.

Estrela staged an event, amplified on Facebook, Twitter, and in the news media, that fully engaged tens of thousands of fans, scored more than 600,000 YouTube views, and broke into Twitter's Trending Topics in Brazil three times.

The leading fan group of Ferrorama organized an effort to have a toy train travel 20 km (about 12.4 miles) with just 110 meters (about 360 feet) of track.
Ok once again look at the results.  600,000 YouTube views is a lot.  Notice how they staged an event in all those different channels.
-Copenhagen Zoo Bus Ads

Objective: Drive patronage to the zoo for a special exhibit without relying too heavily on expensive TV, radio, and outdoor advertising.
Payoff: Attendance surpassed projections by 30 percent.

The Copenhagen Zoo wanted to promote its new reptile exhibit and drive ticket sales. Take out some ads, right? Or, the zoo's marketing office could employ the creative capability of graphic printers by using giant wraps. Shrink-wrapped city buses in Copenhagen gave the impression that they were being squeezed by a giant boa constrictor.
Whoa!  Now those ads with boas around buses are so much catchier than a plain banner ad.  it is that type of creativity that grabs attention and so many would be competitors ignore.
-MINI's Challenge to Porsche

Objective: Generate customer engagement.
Payoff: YouTube views in the six figures; MINI talked about in the same breath as Porsche.

MINI has never been big on TV advertising. The British automaker, owned by BMW, broke into the U.S. market a decade ago entirely via guerilla marketing. In Spring 2010, MINI chief James McDowell appeared in a YouTube video challenging Porsche North America to a race (Porsche turned MINI down).
They engaged in guerrilla marketing which would seem not worth it for a brand that big.  However, urban and "in the know" clever marketing can pay off!
-Target Lightshow

Objective: Promote the 2010 fall and holiday season apparel lines and gain attention from the fashion set during New York's Fashion Week.
Payoff: 3,000 people on street level; 12.6 million Google hits from the event.

Seeking to turn heads at New York's fall Fashion Week, Target rented street-facing rooms in Manhattan's Standard Hotel in the fashionable Meatpacking District. At sundown, the lights went up. Throwing open the rooms' white curtains, 66 dancers dressed in day-glo suits wriggled and writhed to a score by DJ Sam Spiegel while the a light show cycled through a spectrum of color combos — a Close Encounters-like light show reinterpreted for Gen-Y.

Target installed bleachers on Little West 12th Street to provide seating for some of the 3,000 to 5,000 onlookers, invited celebrities to jazz things up, and Web-casted, video-recorded, and photographed the event for maximum media and social media exposure.
What can you learn from these examples?  Thinking outside the box and getting attention is the key.  There is the basic attention techniques like louder and crazier graphics and then there are the clever off the wall kind.  See the difference?
You can read their full list of 10 here.
Free Download:
"Download The 21 Days To Profit Blueprint 100% FREE… and Discover The Single Most Profitable Niche Market Selection Technique"
All new plug and play blueprint builds
profitable Internet businesses in record time…
CHALLENGE Yourself to Profit!
Free Download: Build Your Profit-Generating Online Business With This Free Blueprint
Sign Up, follow the easy steps and You'll get the tactics, strategies & techniques needed to create your online profit stream. It's free!