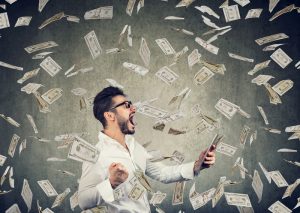 Freelancing isn't for everyone, but for those who take the plunge into the freelance world, it's hard to know where to start. Focusing on perfecting a trade is undoubtedly important, as is joining some of the popular freelance websites on the web. But what does it take to make a steady income that will make all of that online work pay off? We know it's tough starting in the freelance world and making money online, which is why we offer a free webinar training where we'll provide you with some tips on how to get there. Since we're talking about freelancing and how to find and maintain clients, we thought we'd fill you in on a few freelance secrets. These secrets will help you begin your freelance journey and hopefully provide ideas on how to find your online dream jobs!
Want to know one of the first freelance secrets? When you first as a freelancer, it's going to take some time to get business. After you secure a few clients, it's your job to impress them to not only keep your job but hopefully receive some fantastic reviews. These reviews will hopefully help you get additional work in the future.
Though I admittedly started off pretty clueless, one thing anyone can offer clients is an exceptional experience.

That's why, starting with my very first client, I went out of my way to do simple things that I knew they would love. Stuff like …

Surprising them by completing jobs a day or two ahead of schedule
Sending proactive updates to let them know that everything was going great (pro-tip: clients appreciate it when you keep these short and to the point)
Going out of my way to sound friendly and human in messages, including liberal use of emoticons 🙂
Checking over my work a few extra times to ensure it was flawless when the client received it
Sending clients links to my Elance invoices, making easier for them to pay (this also gets you paid quicker, which is pretty sweet)
These "little things" made all the difference, helping me gain two key advantages over my more experienced competition:

a) Lots of repeat customers who continued to effortlessly send work my way.

b) Exceptional (rather than "pretty good") reviews that made it much easier for me to land new clients whenever I wanted/needed to. Check out a couple of examples below.

The bottom line is that clients want to hire (and rehire) people they like, and who make their lives easier.

By being that person, you'd be amazed at the advantage you can get in the online freelance marketplace, regardless of how little you happen to "know" when you first start out.
Not everyone is going to be your fan, especially if you set your income at a higher rate. But that's why a guest writer on Business Insider recommends sticking to your guns and wait for the businesses who are willing to pay you what you're seeking.
Identify your true fans
Not everyone is going to be your customer.

It does, however, make it important to find a way to identify the people who are or will be genuinely interested in hiring you. These are the people you want to talk to and find out the most about.

I prefer to test my audience by offering giveaways of posters I created or even a free illustration from myself. From that, I'll be able to track which of my audience is willing to share and participate. Of course, the exposure from a giveaway is great, but the important thing is that it lets me see which of my audience is willing to take the extra step.

The people who take the extra steps to be involved are often the ones that have a higher likelihood of paying for your services. When you know who they are, you can focus your energy to cater to them.
The Mission suggests launching your freelance career on UpWork, where many successful freelancers make a living. Here are a few tips they recommend you get started with when setting up your profile and securing business:
To start on Upwork you need a good rating. So you're going to have to start with some super cheap labor — just make sure they're quick tasks with a VERY SPECIFIC SCOPE OF WORK. You don't want a client to hold you hostage for a good review.

Once you get a few good reviews (about 5) — you want to create your strategy.

Price High — You want high quality, good paying jobs. Clients expect good quality performance out of higher requesting freelancers.
Spend Time on Your Profile — Use a professional photograph. Take time to really curate your biography and try to impress the client with your work and personality.
Top 3 Portfolio Projects — Once you rope in potential clients with your profile, they'll look through your portfolio to see if your worth an interview. Remember — quality is important here not quantity, so just choose your top 3–5 most impressive pieces of work to showcase. Take the time to write a little bit about the project and, if you can, share the feedback you received.
In case you're curious how much you might be able to make in the social media world, this is what Forbes says you can make if you work on your Instagram skillset:
Instagram marketing – $31.23/hour
If you're not a techie and picking up new skills that will put you in demand, Instagram marketing could be worth considering. With 800,000 users, the social media site is attracting a growing number of advertisers—and demand is high for people with the skills to promote a business on the social media platform. The work includes creating content, adding hashtags, and engaging users to grow a following—and analyzing metrics to see the results of their work.

This list may be intimidating if you don't do a lot of technological work, but it may still spell opportunity for you. For every new area of technology, there will be freelancers needed in related fields.
Another author on Forbes recommends using your skills to make an on-going profit by offering consulting services or creating ebooks, training courses, and video. In addition to those, there are other ways to make money online as well. Passive income continues to come in even when you're not working, which is the ideal to make money.
Turn your expertise into passive income
Regardless of which method you decide to use to generate income when you're not working, most people prefer turning their expertise into something buyers can access around the clock.

The most common way to do this is by offering consulting services. Live consulting, however, is anything but passive, so many freelancers create either membership sites or they create training materials to sell.

The key to earning a passive income is turning your expertise into something you can sell: e-books, training courses, videos, etc. First you have to acquire the knowledge, then actively make the products, and finally reap repeated income from sales that come in while you're sleeping and any other time.
Want some other ideas on what online careers do well? Freelance Hustler discusses a few online specialties, in particular, and argues why you should consider launching your freelance career in one of these fields.
Become a Writer:

Dust off the typewriter! Okay, so the reality of making a living as a writer may not include the romantic images of hiding out in a deserted log cabin, while you compose your masterpiece on your grandfather's typewriter. We'd like to think it is actually even better.

You only need internet access and a computer to get going, and then the world is your oyster!

There are many platforms available that connect freelance writers with clients, and it can be very lucrative, especially if you develop your knowledge base in one particular area and become an expert in that niche. Upwork.com is a great resource for finding writing project. This platform turned our whole business around, and we started from scratch! If you are interested in finding out how we leverage UpWork to make serious money, check out the Freelance Hustler Challenge, which you can access here. There are people searching for someone to write their memoirs, creative pieces, resumes, web copy, blogs, sales copy and more. There are many opportunities available, so you are sure to find a writing gig that suits your style and area of expertize.

Just keep in mind, this one is a craft that takes a little time to perfect, so don't 'write yourself off' too quickly

Become a Graphic Designer:

Always dreamt of being paid to draw? Well if this is where you talent lies there are a myriad paths you could take to reach your goal, all while freelancing. Even small companies need graphic designers, but, it does not tend to warrant full time employment. Freelancing to the rescue once again!

You can find projects to design logos, design layouts (eg for magazines, newspapers, book covers, advertisements, marketing material – both on and offline), packaging and so much more. Upwork has a many jobs that you can browse through to find something that is right for you. We use a few simple tips that make UpWork a very lucrative platform for freelancing.
Freelancers need a variety of skills to secure and keep jobs, but it takes a lot more to make a steady income and be good at your trade. Now that you've learned some tips that'll help you get there, join us for our free webinar training to learn additional ways to make money online and stay in profit. Freelancing won't always be easy, but there are specific tips you can apply along the way to help you maintain an excellent online income!
Sources: Forbes, Medium – The Mission, Forbes, Freelance Hustler, The Work at Home Woman, Business Insider
CHALLENGE Yourself to Profit!
Free Download: Build Your Profit-Generating Online Business With This Free Blueprint
Sign Up, follow the easy steps and You'll get the tactics, strategies & techniques needed to create your online profit stream. It's free!
Free Download:
"Download The 21 Days To Profit Blueprint 100% FREE… and Discover The Single Most Profitable Niche Market Selection Technique"
All new plug and play blueprint builds
profitable Internet businesses in record time…