There's an effective business model that you can get going in under a week with a surprisingly low budget.
It's a business model can yield you a reliable new stream of income that's relatively responsive to action and requires minimal maintenance and upkeep.
But, it's also a business model with incredible scaling potential if you wanted to put in the extra effort.
While it would take the time, dedication, and investment put into a traditional project to scale this type of business to this level, you can run this model in a pretty hands-off manner and still end up with a formidable new flow of income.
Before you read below, I highly recommend that you check out our latest offer. I'm teaching people how to build their own profitable online business in just 21 days: click here to check it out.
The business model I'm referring to is the print on demand business model.
Essentially, with print on demand, you create or source designs that you sell merchandise of online without ever having to see or handle a single one of your products.
Here's a brief summary of the process behind this model:
1. Your source your designs by creating them on finding an artist to help (this isn't as daunting as it may seem)
2. You use a third party print on demand service like Printful to get those designs on products like shirts, socks, etc
3. You list those products on marketplaces or your own website
4. Market those products so that they sell
5. The print on demand service that you use prints your design and fulfills the order without you ever having to touch a single product, freeing time up for you to spend time on marketing, designing, and branding.
This model is BRILLIANT for the landscape of 2020 for many reasons.
It enables you to specialize on creating a good product and finding customers for that product. Many small businesses are trapped by the enormous burden of fulfillment, forcing them to allocate time on production as opposed to marketing, which is how you acquire customers in the first place.
It's also a great business model for testing. It's incredible easy to crack out dozens of designs in a day, putting them on dozens of different product types (stickers, pins, socks, etc.) and ending up with 100+ new products every single day you dedicate to this business.
With the possibility for so many products, it's easy to test different product types to see which ones are the most profitable and scale the ones that prove themselves.
The testability of a business's products is an incredibly accurate gauge for how successful a business can be.
Not to mention the actual monetary investment needed can be as low as NOTHING!
You can use the free graphic design service Canva to make the designs, use one of the many free to use print on demand services, list your products on one of the many free to use ecommerce marketplaces, optimize your listing for sales, and then boom you have an up and running print on demand business. You could have done all of this in under a week – heck, under 48 hours.
If you're not artistically inclined then DO NOT worry. Many print on demand entrepreneurs outsource their designs to graphic artists who specialize in making designs for this niche. You can find these artists on Fiverr selling their work for as little as $5 per design.
Here are the precise steps you can take to build your print on demand company right now:
1. Source your designs. Get acquainted with Canva and use it for pay an artist to make your first dozen designs.
2. Signup on your print on demand service of choice and upload your designs to make products out of them.
3. Connect your print on demand service to your marketplace of choice – Etsy is a good place to sell print on demand products. Setup your ecommerce shop there.
4. List your products.
5. Promote your products.
6. Make sales.
Here are some of my favorite print on demand services:
Bonfire – Free
Rebbubble – Free
Printify – Great free version
Printful – Free to use, but you have to pay for each fulfillment before you get paid
Teespring – Free to use, but you have to pay for reach fulfillment before you get paid
While these POD companies are my favorites, there are hundreds online that you can choose from with many specializing on specific products.
If your store is going to specialize on pins, then there are dozens of sites online that exclusively handle print on demand pin companies.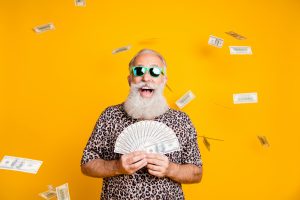 You're missing out on the best opportunity of the year if you neglect to setup your print on demand company.
It's one of the highest potential, most hands-off business models of 2020 and if you choose to ignore it then you're missing out on a digital goldmine.
Now that you've read the article, I highly recommend that you check out my latest offer, where I teach you how to build a profitable online business in just 21 days: click here to see.
Free Download:
"Download The 21 Days To Profit Blueprint 100% FREE… and Discover The Single Most Profitable Niche Market Selection Technique"
All new plug and play blueprint builds
profitable Internet businesses in record time…
CHALLENGE Yourself to Profit!
Free Download: Build Your Profit-Generating Online Business With This Free Blueprint
Sign Up, follow the easy steps and You'll get the tactics, strategies & techniques needed to create your online profit stream. It's free!