Over the years, Google's been making search ads more and more prominent.
Every time you search for something, you'll see ads prominently at the top.
They're labeled, of course, but not very conspicuously.
On some devices, organic results almost always end up below the fold.
So PPC is a must for getting traffic from search engines, but you have to pay for each click your ad gets.
So if it's not well targeted — you're attracting people who aren't ready to buy anything, or who don't have the budget for what you're selling, or some other issue — you'll end up losing money.
You need a significant percentage of clicks to convert.
Retargeting campaigns can help you hone in on the best leads from your customer base, making sure each click is far more likely to lead to a sale.
In a recent blog post, AdEspresso explains how you can do this.
Getting Specific With AdWords Retargeting

Retargeting website visitors on AdWords has never been easier.

On top of basic website retargeting, you can customize a few factors that give you detailed options.

For example, you can target by specific date ranges, list sizes, specific URL visits, and more.

To get started with website retargeting, first make sure that your tags are properly installed. (See the last section.)

Next, head back to the audiences section under your shared library: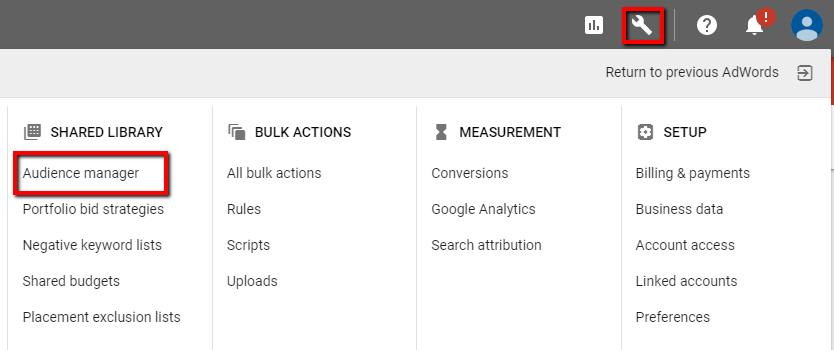 From here, click the insanely large blue "+" button: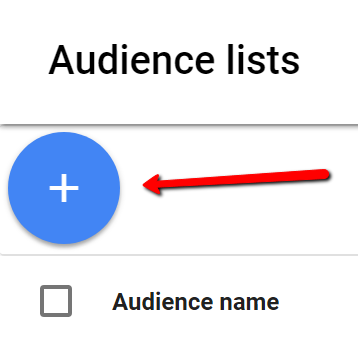 From the drop-down list, select "Website visitors:"
From here, AdWords gives you the default option of targeting all website visitors in the past 30 days:

But you can vastly customize these lists beyond simple website retargeting.

To pull up more options, click the drop-down list: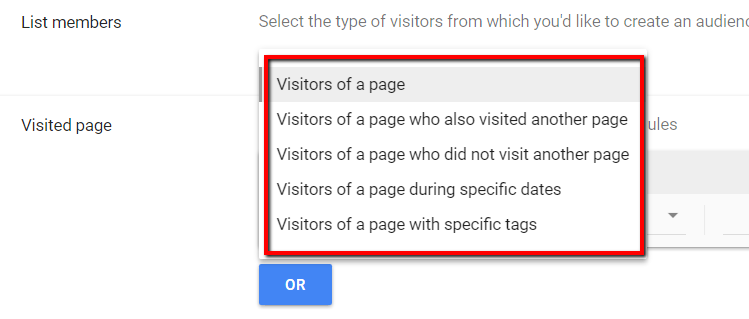 Here's where you can start to get specific with it.

You can create retargeting campaigns based on specific sales or holiday periods by using the "Visitors of a page during specific dates" selection: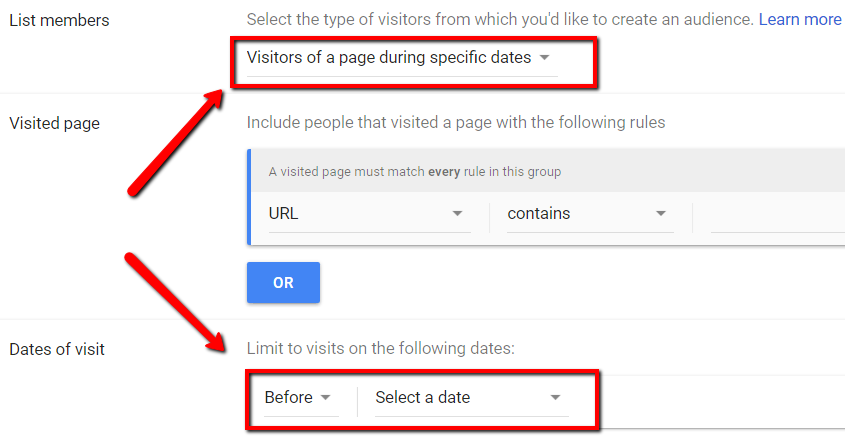 Running a limited-time sale?

Capture those interested users into a new remarketing list.

The website options also offer another powerful feature. You can target specific URL visits based on funnel stages.

For example, let's say that you notice that most customers contact you from a features or pricing page.

That's a good sign that visitors to those pages are toward the bottom of your funnel.

They are just about ready to convert.

Create a new retargeting list based on those page visits to capture a giant list of users who are just inches away from converting: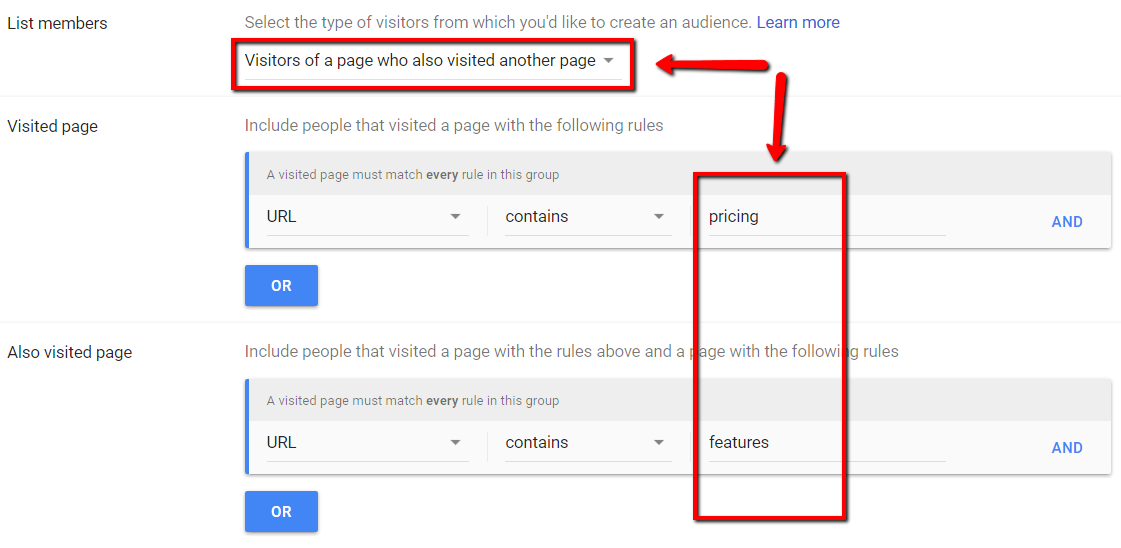 Select "Visitors of a page who also visited another page," and you can add multiple URLs to target.

Meaning a user has to land on each of those before they'll go on that retargeting list.

You can repeat this process for any URL on your site.

For example, you could create a new retargeting list based on blog visitors, who are most likely going to be inbound, organic visits.

These could be your top-of-the-funnel lists that you focus on generating a brand awareness and recognition rather than offering a sales-based ad.

Another option might be excluding people who have visited certain pages on your site:

For example, you could exclude visits to a thank you page from your remarketing lists, as you know they've already converted.

Pro tip: under membership duration, change the standard "30 days" period to at least 60 days, and in most cases, 90 days.

Why? Because some visitors won't convert in a single month. Especially if you're selling bigger ticket products and services.

If you limit your lists to 30 days, users might not convert, and your lists will then expire.

Extend the lifespan of your lists for more conversions.

Once you've created a website retargeting list, you're ready to create ads for that audience and watch the conversions pile up!
You can get more advice for using Adwords for lucrative retargeting campaigns in the full post from AdEspresso.
CHALLENGE Yourself to Profit!
Free Download: Build Your Profit-Generating Online Business With This Free Blueprint
Sign Up, follow the easy steps and You'll get the tactics, strategies & techniques needed to create your online profit stream. It's free!
Free Download:
"Download The 21 Days To Profit Blueprint 100% FREE… and Discover The Single Most Profitable Niche Market Selection Technique"
All new plug and play blueprint builds
profitable Internet businesses in record time…