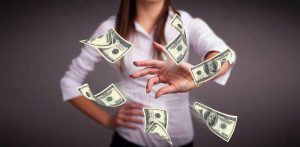 It's every online business owner's dream: to make it — to not only make a profit online but have a wildly successful business and a lot of money to boot. But just because an online store makes a lot of money doesn't mean everything is going to run smoothly. For many companies, this is where the real issues start. It's easy to fall into a success trap, which is why knowledge is power. During our free webinar training we discuss business pitfalls, and in this article, we'll outline some common mistakes business owners make when they start rolling in the dough.
Not having a business plan in place
If you don't have a business plan in place, it's hard to know what steps to take first. Even well-developed companies revise their business plans, and Kabbage says that's what becomes a roadmap to help you succeed in all things from marketing to business operations.
Your business plan is the foundation of your small business. It's the blueprint you will use to structure your operations and measure your progress. When the time comes, your business plan is also what will help you convince others that working with or investing in your business is the right decision.

"I don't need a business plan because I don't need to do any fundraising."

This is a huge misconception: Your business plan is not simply a fundraising tool. A solid business plan is a roadmap to help you lay out marketing and operational milestones.

The plan should be telling the financial story from your business: past, present, and future. If you're just starting out, you want to include a prospective financial outlook for the next five years. Set goals for quarterly and even monthly projects to keep yourself accountable in the first year. It's easier to pivot when you have goals to keep you in check versus doing your accounting and forecasting in the dark.

You may not be looking for investors right at the start of launching your business, but you don't want to be scrambling to put together a business plan when the opportunity presents itself. Be prepared from the beginning with a foundation and continue to build on it.
Making too many large company purchases
When you start making money online, it's exciting, and it may be easy to make large company purchases when you think everything is going well. However, the Balance Small Business says as opposed to making large purchases, sit back and decide what you really need to keep a business afloat. Staying within your means can help a business succeed in more ways than one.
When you start a new business, it's understandable to want all the best new laptops, a flashy website, trendy office, best-in-class software and highly talented staff to help grow the company.

However, if you're itching to make major purchases (even if they feel like investments) near the beginning of your business, think these decisions over very carefully. Some expenses like building a website or attending an industry trade show will be mandatory depending upon the type of business you're starting, but you need always to ask yourself if the expense in question is going to help you generate more revenue in the short-term.

Other expenses such as luxurious parties, team-building trips, and frivolous electronics that aren't essential to the growth of your company offer very little value to your bottom line. If you can't afford a paid subscription to a popular CRM platform, go for a free or less expensive alternative. Make do with the absolute bare minimum. If hiring regular staff is out of reach, look for talented freelancers on platforms like LinkedIn ProFinder or Upwork. Grow your business first and accumulate a higher level of disposable cash before spending on the "nice-to-haves."
Wasting time
It's easy for life to pass before your very eyes, and that's because, according to Inc., we all waste time! Time is valuable, so use it to your advantage. Know what you are spending, what you plan to spend, and of course, what you're saving!
Capital is not only money; time is just as valuable, and managing it well is just as crucial. You have to do as much as you can every day, week, month, and year. Utilizing time effectively is one of the most important skills in an entrepreneur's arsenal.

Those are all the cardinal rules of what not to do, but what about when you've already had a misstep? You have to figure out how to change the burn rate to extend your life. You should always know how much cash you are burning each month and how much time you have left to live.

This is the cold reality of managing your company. Just like in the rest of your financial life, if you are not able to pay your bills you'll have to find a way to spend less or earn more.

Effectively managing money for a company is a never-ending process. Even public companies have trouble doing this well, as evidenced by layoffs. There are times when you need to be frugal and times when you need to fuel growth and capture the market opportunity. Developing the judgment to know which actions to take at which time is where the magic happens.
Not setting aside money
Are you making the mistake of thinking you don't need to set any money aside? Entrepreneur says that's a big mistake because setting aside money is essential. If times get rough or if something else happens what are you going to fall back on? Make wise decisions now by putting away money that you may need in the future.
When entrepreneurs get to the point where they feel like they made it, they may loosen the purse strings a bit – and use funds to pay down debt, take a vacation, buy that new car or invest in much-needed resources and tools.

While that is great, they also need to be thinking about the long-term future. It's very important to set aside a certain percentage of your gross income in a wealth account, or an account specifically focused on things that can appreciate, like investments and real estate.  It's a great psychological tool because you see your wealth grow every time money comes in. I suggest that you set aside 10 percent.

Also, this exercise forces you to pay yourself, something some entrepreneurs can't fathom.

If you don't pay yourself first and set aside money in your wealth account, you'll most likely be living paycheck to paycheck, and that's not financial independence.
They ease up too much
Entrepreneur also warns online business owners of easing up too much after they start making money. It's natural to want to enjoy the success, but don't get so caught up in how well your business is doing that you start letting things fall by the wayside.
In the beginning of a business, there is a big push to make money. But when an entrepreneur gets to the point where the money is actually coming in, a little voice creeps into their head, asking, When do I get to stop?

Many founders find themselves in this mindset that when the pressure is finally off, they can stop working – or at least work less. As entrepreneurs begins to make money, they start to focus on other things in their life or business, and they stop what they were doing that actually made them money. Avoid this at all costs.

Think of your calendar as king. Calendar all your necessary activities and give priority to the income-generating ones. By doing so, your calendar in a tool that ensures you don't stop doing what caused you to grow in the first place.

It's very important that you continue to develop the habits to do the things on a daily basis that caused that money to come into your business. The more it becomes a habit, the easier it is to continue to make money.
Not saving for emergencies
Similar to what we mentioned earlier about not putting money aside, The Balance Small Business recommends saving for emergencies. Unfortunately not every business owner saves for a rainy day, but emergencies do happen and if and when they do you should have enough funds to cover everything.
From Benjamin Franklin to today's best finance experts, there's no shortage of people telling you to keep an ample stash of savings at hand for unexpected expenses.

Call it saving for a rainy day, but there will be times when something happens and covering the cost using your credit card is a shortsighted solution that only tends to create more problems down the line. Most financial planners advise entrepreneurs to keep at least three months worth of expenses in an emergency or contingency fund for both their business and their personal expenses.
We have another free webinar training coming up! Come and learn what it takes to make it big online and how to maintain a successful business going forward.
Sources: Entrepreneur, The Balance Small Business, Inc., Kabbage
CHALLENGE Yourself to Profit!
Free Download: Build Your Profit-Generating Online Business With This Free Blueprint
Sign Up, follow the easy steps and You'll get the tactics, strategies & techniques needed to create your online profit stream. It's free!
Free Download:
"Download The 21 Days To Profit Blueprint 100% FREE… and Discover The Single Most Profitable Niche Market Selection Technique"
All new plug and play blueprint builds
profitable Internet businesses in record time…