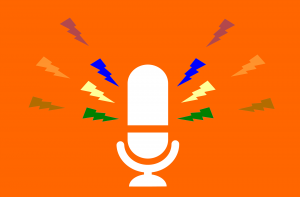 It's noisy lately, and it's all due to podcasts — literally. New to the podcast scene? Podcasts are audio files that people can access online. For the most part, podcasts are similar to television or radio shows and come out during certain "seasons." Each episode may focus on a different topic and feature special guests. We offer something similar that offers small business owners tips on how to create a profitable online business during our free webinar training. Podcasts have been around for a long time, but lately, it has grown in popularity and is getting a ton of attention from celebs, small business owners, consumers, and more. Let's take a look at the reasons why podcasts are rising in popularity and how they could matter for new, online businesses.
Copyblogger reveals that podcasting has passed into the mainstream because, in the United States, 50% of people 12 years or old are listening to podcasts. Check out some of the other impressive stats that show us that podcasting is well on its way to becoming popular; maybe even more than blogging!
And although it's not a new thing, nor a terribly novel one, podcasting has reached a critical mass of adoption that signals it's here to stay for the long haul (despite the outdated nomenclature and that iPods have gone the way of the dodo).

"Among the U.S. population ages 12 and older, the total number of people who have ever listened to a podcast passes 50% for the first time.

"'This is a watershed moment for podcasting — a true milestone. … The medium has firmly crossed into the mainstream,' noted Tom Webster, Senior Vice President at Edison Research.

"One-third of the population reported having listened to a podcast in the last month, representing 90 million monthly listeners." – The Infinite Dial 2019

If you're thinking about diving in…

The media landscape has changed drastically in the last five years — from the streamlined and widespread availability and adoption of podcast platforms like Apple Podcasts, Spotify, and the dozens of other big directories — to the proliferation of smaller and better bluetooth devices and headphones, smart speakers and homes, and connected cars.

Not to mention the widespread adoption of smartphones (the device of choice for many listeners), but also that podcasts are now going to find you no matter what device you're on.

Apple just announced the death of iTunes and the rollout of a Podcasts app for the desktop.

Discoverability is taking giant leaps forward as well, always a contentious argument against getting heard in the vast cacophony of available shows, and new machine learning technology will improve how we search and find great content in audio formats.
If you love listening to stories, Constant Contact tells us that podcasts are perfect for storytelling. If you're looking for a way to better identify with your audience, creating a podcast for your business might be just what you need.
Podcasts are perfect for storytelling.

As a small business, your stories are what help you draw people in, get them invested in your business, and persuade them to choose your business over the competition. Hopefully, you're already looking for ways bring your unique stories to your online presence like your website, blog, social media, and email marketing messages.

If so, you're probably wondering — what's the benefit of adding a podcast to this list?

As an audio based platform, podcasts allow you to harness more communication power than written word alone. Your listeners will be hearing your stories straight from the source, rather than reading the words and interpreting them on their own.

This will help you convey tone, timing, humor, and excitement in a way that even the most talented writers struggle to get across on a page.

You can reach a new, targeted audience.

Your business is probably already thinking about how to optimize your website to get found through search engines. Starting a podcast will open up opportunities for getting found on platforms like iTunes, which has 800 million accounts, or SoundCloud, with over 250 million active users.  

New listeners who come across your podcast are often those who are searching out information on a specific topic. This ensures you're reaching them with the right information at the right time.

Additionally, you can add subscribe buttons to your email newsletters and website to engage those who are already familiar with your business.
Podcasts are diverse and offer a little bit of everything for everyone, as Forbes talks about more below.  
One reason podcasts are so popular is that the format is uniquely situation to fit into our busy lives. Any topic you're interested in? You'll find a podcast dedicated to it. Only have fifteen minutes to spare? You'll find a podcast that you can listen to in that time frame. Prefer stories? There are podcasts written to scratch that narrative itch. Prefer news? Nonfiction? Science? Politics? You'll find a podcast that fits.

It's information and entertainment, in bit-size chunks, right at our fingertips. Plus, the format of podcasts allows a deeper dive into many subjects — it creates the possibility of long form investigations in a very accessible medium.

There's also a personal element to it — podcasts often create communities. It's a way of finding like-minded individuals who share your interests. And often times, these communities create a kind of feed-back loop: with listeners generating content for the podcast producers.
If you love using your imagination, then podcasting may not only be a good fit for you but something that may be worth learning more about for your business. Medium urges businesses to try podcasting because an audience enjoys visualization, and they also use it as a fantastic way to pass the time. Get an audience hooked, and you'll make money and secure listeners who will continue to listen in whenever you release a new podcast.
I Can Visualize It

A good friend of mine is a podcast skeptic. He doesn't understand why so many of us enjoy listening to podcasts, when we could watch videos on similar topics, on even better, a documentary or movie.

To me, one of the great things about podcasts is the lack of visuals — which requires us to imagine. When I hear This American Life, I get to paint a picture of the interviewee, and of the other characters in his or her story. I am allowed to imagine the expressions on people' faces, and the temperature and humidity of the air that day. I develop a comprehensive, moving picture of what is happening. No one is giving it to me.

Emma Rodero, a professor of communications at Pompeu Fabra University in Barcelona, has extensively researched how people engage with audio. Rodero notes that audio requires us to process a story, as we hear it, and to really paint out own picture of what is happening. As Rodero puts it "….you are constantly building your own images of the story in your mind, and you're creating your own production…..and that, of course, is something you can never get with visual media." The absence of photos and video, stimulate our imagination, and offer us some creative license to construct stories in our own minds.

A Way To Pass Time

I'm not a big fan of multitasking. There's quite a bit of research suggesting that it doesn't work. Multitasking makes us less productive, and isn't well suited to the way our brains function. It is far better to focus on one thing, complete it effectively, and then moving on. In an era of distraction, the ability to focus and engage in deep work is more valuable than ever.

However, not every task we perform is created equal. Driving to and from work on a crowded freeway, can be done effectively, as long as we keep our eyes on the road. Commuting by bus or train is even less mentally demanding, although it can be mind-numbing.

Podcasts thus make for ideal listening while driving or riding the train. You can engage with what you are hearing, and gain deep stimulation, making your commute more palatable. If you are distracted for 30 seconds, you won't be totally lost (and can quickly go back to what you missed).

Radio, with a few exceptions, rarely offers as much substance (and discussions on niche topics) as podcasts. Meanwhile, audio books tend to require more focus. I've found that when you miss a few moments, it's harder to reorient yourself. Podcasts can therefore be the ideal commuter companion.
As we all know, technology is all about making things easier and faster, as MNYK Studios points out. This growing technology will continue to grow in popularity, and now is the perfect time to consider making this a part of your new business.  
Technology exists to reduce friction – to make things easier, faster, and more efficient. It's become so ingrained in our daily lives, that we no longer appreciate it, we expect it. Without Uber, how else are we supposed to get from one side of the city to the other? Order a taxi like some caveman?

Podcasts challenge the purported benefits of technology. They are friction in our frictionless world. Sure, subscribing to that crime podcast your co-workers can't stop talking about couldn't be easier. But listening to it asks more from you than other content mediums.

Podcasts require focus to catch every detail, preparation to sit through several hilariously irrelevant sponsor messages, imagination to spin the words into mental imagery, and patience to wait for the next episode to come out next week.
Podcasting can be a lot of fun, and there's a lot of opportunity in it as well. Join us for our next free webinar training and learn how else you can propel your business toward success. Whether you decide to start a podcast or launch a new website, we want to help you create an online business you're proud of!
Sources: Copyblogger, Forbes, MNYK Studios, Constant Contact, Medium
CHALLENGE Yourself to Profit!
Free Download: Build Your Profit-Generating Online Business With This Free Blueprint
Sign Up, follow the easy steps and You'll get the tactics, strategies & techniques needed to create your online profit stream. It's free!