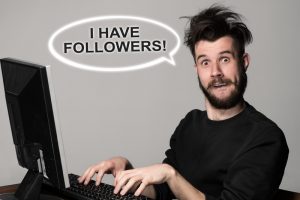 Have a blog and want to make money? Of course! Everyone wants — and would like to — make money. If a blog is up and running and people on the internet are saying it's possible to make some cash, (we also discuss how to do it during our free webinar training) it's normal to hope it's possible. It's not always a get rich situation, but when enough time and dedication gets put into it, it can become a lucrative business. Sometimes people already have blogs running with a lot of followers but are unsure how to make money. It's possible for both newbies and experienced bloggers, and these tips below can help!
After you set up your blog, focus on building an email list. Blogging Wizzard tells us that an email list is a fantastic business asset and can help you sell products and services.
One of the key similarities between all of the top bloggers is that they are actively building their email list.

An email list is your greatest business asset.

It will help you create a community of followers, promote your latest blog post and sell products/services.

When someone subscribes to your email list, they are showing that they trust you and want to hear what you have to say.

Start building your email list early on, before you launch your blog if possible but the main thing is that you do.
Another idea according to Blogging Wizzard is to offer a paid membership on your site:
You could try creating a membership site that sits on a sub-domain and use it to offer exclusive content that can't be found on your blog.

This could include ebooks, videos, audio recordings, premium tutorials and more.

You could also offer other benefits like a membership only forum for example.

You don't just have to set a one-off price; this is perfect for offering a monthly subscription which can make this extremely profitable.

If you use WordPress, setting up a membership site is fairly straight forward.
Blogging Basics 101 recommends using your blog to sell digital products and provides several examples of what items you can sell below:
If you would rather not advertise other people's products on your site, or if you are looking for another stream of income, consider selling digital products. This can include items like:

eBooks

Online courses/workshops

Images, video, or music people can use in their own content

Apps, plugins, or themes

Just remember that if you are going to choose one of these avenues that you make it relevant and useful to your readers. A lot of bloggers make the mistake of assuming they are developing a product their readers need; listen to your readers first, and then create a digital product that will meet their needs.
Blogging Wizzard expands on Blogging 101's thoughts by mentioning a few sites that will assist in setting up and selling digital products on your blog:
Most of the highest earning marketers are making their money from selling products they have created (or have had created for them).

The best product is one which directly solves a problem your audience is facing.

Generally information products are easier to create. All you need after is a launch plan and a system to help you sell it.

There are plenty of platforms that make it easy to sell digital products, below are some examples:

SendOwl

DPD

Selz

JVZoo
Don't forget about sponsored content, which Breaking the One Percent mentions can help you grow your blog and receive payment for advertising someone's products or website. If you already have a successful blog, sponsored content will be a cinch and can help you bring in some money stat.
Once you start building an audience, you'll be able to land opportunities for sponsored content on your site and social media.

This is when companies pay you for tweeting, writing a Facebook post, or publishing an article about their products or services. Putting that content out to your audience helps them build brand awareness and maybe even increase sales.

We've done this with a few companies on our personal finance website, but it's also not our favorite way to make money with our blogs. Writing that content takes time, and unless you already have an audience, you can't expect to make much money with this one.

The larger audience you have, the more valuable you are to these companies, and the more they're willing to pay you for media mentions. Therefore, this is not the best monetization method for new bloggers.
Blogging Basics 101 also tells us that you can use your blog as a content marketing tool. In other words, treat your blog as your business website. An example of how to do that is by selling products, books, and whatever else you can think of promoting on your blog.
It is also possible to sell physical products on your blog and to make money that way. Instead of thinking of it as making money from your blog, however, think of your blog as a content marketing tool that will drive visitors to your business website.

The possibilities are practically endless when it comes to developing a business blog. You could sell hand-made products, books, manufactured products, and so much more. Or you might already have a business and decide to start a blog to convert loyal customers.

Lets say, for example, that you refurbish and resell used smartphones out of your home. You could use a blog to attract visitors to your website where you list your current phones for sale. Your blog might cover topics about DIY refurbishing. On one level, it seems counterintuitive because you want people to buy your phones, but it also helps you build a brand and gain recognition. Social media guru Jay Baer explains the concept on Copyblogger:

I was at a conference a few years ago, and this is where I first sort of started thinking about this concept, and their founder, Robert Johnson, was speaking…

He said, "Well our best customers are the people that think they can fix it themselves."

But eventually you are going to get out of your depth either on that project on a project down the road, at which point who are you going to call? Are you going to call somebody randomly that you discovered on Google or are you going to call the guys who you just watched their logo in the corner of a 14-minute instructional video?

This concept can also be applied to services in all types of industries. For instance, if you offered electronic repair services as opposed to physical products, you could still use the same blogging concept to increase brand awareness and convert more clients.
Pro Blogger explains the difference between direct and indirect income from blogging. There are multiple ways to make money, and it's essential for both newbie and seasoned bloggers to understand the difference.
One last little distinction in terms of income streams…. Some bloggers make money directly 'from' their blog while others make money indirectly 'because' of their blog.

Direct Income – when I started making money from my blogs it was through 'direct' income streams. I put AdSense ads on my blog and promoted some products on Amazon as an affiliate and the more readers I had the more income began to trickle in (it really was a trickle at first). In time as my traffic grew this income grew and I was also able to experiment with other direct forms of income such as selling advertising directly to advertisers.

Indirect Income – later on in my blogging journey opportunity has come for 'indirect' income streams. As my blogs and profile grew as a result of my blogging I was able to sell my services as a speaker and consultant and was offered the opportunity to author a book with the publisher Wiley. Later I was able to start an event for bloggers which also made money. None of this income came directly from the blog – but rather it came 'because' of my blog.

While the way that I make money blogging is a combination of direct and indirect income many bloggers focus upon one or the other.
Running a profitable business through your blog is a dream for many. You'll be happy to learn that if you already have a blog, then you're already halfway there! There are many ways to make money blogging, and after promoting a blog that's already successful, the possibilities are endless. Join us for our next free webinar training as we discuss other ways on how you can leverage your blog and website for maximum profit potential.
Sources: Blogging Basics 101, Breaking the One Percent, Pro Blogger, Blogging Wizzard
CHALLENGE Yourself to Profit!
Free Download: Build Your Profit-Generating Online Business With This Free Blueprint
Sign Up, follow the easy steps and You'll get the tactics, strategies & techniques needed to create your online profit stream. It's free!
Free Download:
"Download The 21 Days To Profit Blueprint 100% FREE… and Discover The Single Most Profitable Niche Market Selection Technique"
All new plug and play blueprint builds
profitable Internet businesses in record time…