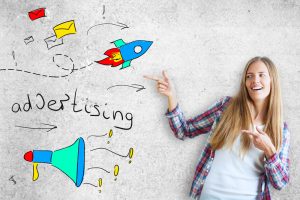 As a business owner, if you've been slowly learning about online advertising, perhaps it's time to ramp up your efforts. Online ad spending continues to grow and at some point may overtake print advertising. So if you haven't yet familiarized yourself with online advertising, now is the time. Advertising online is not a waste of advertising money, and these compelling reasons remind us why online advertising works:
Ad Insights
Ad insights can tell you a lot about your customers and how much it costs to convert a new customer. As opposed to not having enough data, ads can provide you with more than enough data to help you grow your business. ReTargeter reiterates this by saying:
"Know exactly which ads brought in the highest number of qualifying leads. Know how many impressions were served, where they were served, and when. Identify your optimal channels, ad copy, and ad locations. The metrics and analytics available with online advertising allow you to see the exact cost of acquiring and converting a customer. Advertising online provides you with endless insight allowing you to become a more effective marketer. Marketers went from having no data to more data than we know what to do with. This is a great problem to have."
Cost Effective
Online advertising can also be cost-effective and offers plenty of pricing options. Think Marketing reminds advertisers they can easily keep track of their campaigns by studying and gathering reports to measure ad performance.
"Online advertising normally costs much less than offline advertising and production costs are also much cheaper than in offline ads.

There are plenty of pricing options when it comes to online ads, basic pricing models include CPM (Cost Per Impression), CPC (Cost Per Click), CPA (Cost Per Action) and exclusive basis (1 day, 1 week, etc.)"
Affordable Web Design agrees that online advertising is more affordable than traditional approaches and explains why with an excellent example below:
"Marketing online is much cheaper than traditional advertising approaches. The price of newspaper advertisements can often fill up a company's entire marketing budget and vary greatly depending on the region and newspaper the ad appears in. For example, a full-page black and white ad in the Wall Street Journal's National Edition costs around $164,000, while a half-page ad is around $96,000. In a smaller circulation newspaper such as the Milwaukee Journal Sentinel, a full-page ad will run your company around $15,000. The costs drop significantly for local newspapers where many ads may run at $1,000. Despite which newspaper your business' ad runs in, it is important to note that decreasing circulation numbers throughout the United States jeopardizes the reach of your ad campaign. In contrast, online marketing plans offered through professional Internet marketing companies can start at as little as $260 per month and has the potential to reach an unlimited number of consumers."
Builds Brand Awareness
ReTargeter also tells us that online advertising can help improve brand awareness. Brand awareness is how familiar customers are with a brand, such as its name, logo, characteristics, as well as its services and goods. If a company is relatively new, brand awareness is especially important, as it can predict and indicate how different it is from competitors.
"Online advertising can be used to drive traffic to your site and build brand awareness. Effectively targeted campaigns can create brand influencers and reach complementary audiences. Use the endless online display space to be creative with rich media, establish your online presence, make an emotional connection, and get online consumers excited about who you are and what you have to offer. Online display enables brands to focus on their ideal audience and tailor messages that improve both recall and engagement."
Online Advertising is Growing Fast
Online advertising is growing fast, and it's best not to get left behind. Invest in online advertisements and automatically become visible to thousands of people. Just look at what companies are spending on Internet advertising, according to Postcron. Prior to advertising, these people didn't even know your brand existed!
"But this is something more and more people are becoming aware of; maybe that's why Internet advertising moves million and millions of dollars around the world every year. In fact, next to content marketing and video marketing, online advertising is one of the largest growing areas on the Internet.

FYI: spending on Internet advertising reached 137.53 billion of dollars just two years ago and for the following year its predicted to even surpass cost of TV advertising.

This is partly due to the fact that online advertising is very attractive and additionally enables better segmentation of your advertisements so you can reach basically any type of audience you want."
Customers Are Online
Nicole Leinbach-Reyhle, a contributor on Forbes, reminds us of a simple yet accurate factor when it comes to online advertising. It's essential to advertise where customers are the most, and customers are on the web. Being online and marketing a brand through online advertisements and other means is ultimately how a company is going to make it.
"Online marketing isn't something new for small businesses to consider anymore. In fact, it's quite the opposite… having been going on for years and seemingly has no end in sight. Yet, far too many small business owners neglect how important online marketing is for their business success. Among the reasons this seems to be is time. Another money. And yet another is that they don't care. The reality is, however, customers do care and in order to be relevant in today's crowded marketplace, being online is a must."
She goes on to say:
"Consumers have too many choices these days and they have to be constantly reminded that you exist. The best way to reach them is where they spend a good bit of time… which is online," Servis, a VP of Marketing with SnapRetail, firmly states.

And that, friends, leads us to the single most important reason you need to be consistently and efficiently using online marketing as part of your sales strategy… customers. Customers are online, which mean you need to be, too."
Easy to Control a Schedule
Facebook mentions to companies that it's easy to control both the schedule and budget for your ads (of course, Facebook is a bit biased since they offer advertising services). However, we have to agree that having the ability to control where ads appear and how they show up on online makes online advertising very convenient:
"With online advertising, you can control the schedule and budget of your ads. Most online tools also allow you to choose where your ads appear online and in what format. Digital ads also offer more flexibility than traditional ads. On Facebook, for instance, you can update your ad's schedule and budget at any time."
Split Testing Campaigns
A/B testing is used to experiment with different campaigns to discover what is the most effective. There's no magical shortcut to finding out what the best-performing ad is, so that's why A/B testing is important. Coming up with multi-variable tests show you what works best. Chron explains more about split testing:
"Split testing takes two different ad strategies and compares the results. This process is also called an A/B test where you compare results from ad A to ad B. The difference in the two ads might be a simple style version of the ad to see which one gets more attention. The test could also look at the slightly different demographic information or slightly narrowed or expanded target consumer information.

For example, one ad might target married couples between the ages of 35 and 45. This ad could be tested against a target audience of married couples ages 35 to 50. The differences are usually subtle, but when advertisers follow analytics, they can see where they can maximize their ad dollars."
Creates Positive Memories
An another compelling reason why online advertising works is because it resonates with an audience. However, an ad will only resonate with potential customers through ingenious advertising. It's up to the brand to develop ads that will make a lasting impression on their customers.
"Successful advertising rarely succeeds through argument or calls to action. Instead, it creates positive memories and feelings that influence our behavior over time to encourage us to buy something at a later date. No one likes to think that they are easily influenced. In fact, there is plenty of evidence to suggest that we respond negatively to naked attempts at persuasion.

Instead, the best advertisements are ingenious at leaving impressions."
The Atlantic further explains how brands should use online advertisements to create positive memories:
"The crucial challenge for marketers is: What's the best way to translate these memories into actions?

Some imagine a debate between two groups. The first group believes in raw persuasion. Its focus is on crafting a compelling argument that will encourage you, with the delivery of "new news," to buy something right away. The second group believes in the power of engagement. Its focus is on creating a positive experience that will influence you over the longer-term. Here, the objective is to seed positive ideas and memories that will attract you to the brand."
It's Up to the Advertiser
Even though online advertising can help a brand soar to new heights, ultimately how a business interprets and uses data will dictate how successful an ad campaign is. The Conversation says it best:
"Advertising is now a world of software, ultra-high-speed networks and processing power, statistics, optimisation, operations research, heuristics, data science and a range of related disciplines all coming together in dealing with large volumes of rapidly changing data.

How advertisers adapt will define their viability in the new world of online advertising. Period."
Sources: The Conversation, The Atlantic, ReTargeter, Think Marketing, Chron, Affordable Web Design, Postcran, Forbes, Facebook
Free Download:
"Download The 21 Days To Profit Blueprint 100% FREE… and Discover The Single Most Profitable Niche Market Selection Technique"
All new plug and play blueprint builds
profitable Internet businesses in record time…
CHALLENGE Yourself to Profit!
Free Download: Build Your Profit-Generating Online Business With This Free Blueprint
Sign Up, follow the easy steps and You'll get the tactics, strategies & techniques needed to create your online profit stream. It's free!