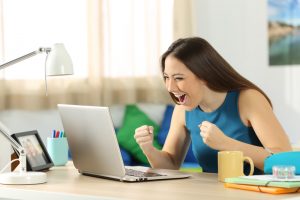 There's a huge earning potential with email marketing, but there are specific steps to take to get there. After all, not everyone gets hundreds of subscribers overnight. It takes time to build a list, and it can also take time to make money. Even after a business owner masters the art of selling to their subscribers and creating an active audience, there's always more to learn. In this article,  we're going to show you how to use email marketing to your advantage. It turns out it's a lot easier to make money online than you may have thought and we offer additional tips on our free webinar training. Now let's get into how you can begin generating income through email marketing!
Entrepreneur says it's all about setting up email software and using an effective sales funnel. Don't focus so much on pitching, but concentrate on value. Entrepreneur provides examples on how to do that below:
The money is most certainly in the list. If you're at all interested in online marketing, setup email software and create a lead magnet that you can use in your sales funnel. Then, build up that list. It's often said that you can expect to earn about $1 per subscriber per month. If you have a list of 10,000 subscribers, that means you can earn roughly around $10,000 per month. You will need to deliver value and not pitch them on every email, but it is a very achievable goal in a short period.

There are many ways to get people onto your list. Lead magnets are one such resource. For example, you can build ebooks, checklists and cheat sheets. But you can also do content upgrades, such as PDF versions of an article with added resources in them, four-part video training series, and more. Think about your audience and what you can offer them to better serve them, then treat them with some respect and you'll eventually reap the rewards.
Regular content is one excellent way to keep subscribers around. Later you can incorporate products into your newsletters to entice them to click and hopefully make your site profitable. Initially, however, it's best to form a relationship with them. Chimp Essentials has more thoughts on how to do this:
It's not enough to have a big list, you have to people on it that click your links, and then buy what you're selling.

For example, if you have a list of 100,000 seasoned, professional Rails developers and you tell them you're selling a basic training for how to learn Rails, you'll generate zero revenue. (They already know Rails.)

Or you try to sell eco-friendly dog beauty products to a list of people interested in surfing in South Africa. (Ok, there might be a little cross-over between dogs and water sports).

The beauty of mailing lists is that you have direct access to the people on it. As in, you can email them. You can get to know them. You can find out who they are, what they want to know and what sorts of things they'd be interested in buying.

Having a list is great.
Having a list that's full of people with the same interests, desires and needs is better.
Having a list that's full of people with the same interests, desires and needs that you speak to on a regular basis is the top rung of the email marketing money ladder.
Breaking that last bullet down a bit:

You first need a mailing list to make money from it (duh).
Your mailing list shouldn't be for everyone, it should be for a specific type of person with specific interests and needs.
You can't just a build a list, however targeted, and be like "I'M NOW RICH!" – you've got to talk to them regularly and pitch them seldomly.
In order for people to click and then buy from the emails you send them, they need to trust you completely. This trust is built by communicating with them regularly. And it's built because you're giving them content even when you have nothing to sell (and not making these email mistakes).

I email my own list once a week, every Sunday morning. I never miss a Sunday and except for 2-3 times a year, I have nothing for sale in those emails – I'm just sharing an article I wrote.

So list subscribers don't convert to buyers when/if you only blast them sales pitches. You've got to give them value, through regular content, and them pitch them.
CopyBlogger nails it on the head when they mention how important it is to be personable with your readers and act like a human. You want your audience to feel connected to you and what your blog stands for.
So, you've got people to open your emails. Now what? How do you keep their attention? How do you keep them reading your emails word for word?

Follow these 11 tips for emails that will captivate your readers:

Write fast. Because that's how your enthusiasm and personality come through.
Keep it short. Edit your emails with rigor. Long and unwieldy emails slaughter your readers' interest. Challenge yourself to cut your text by half next time you edit.
Ask questions. Imagine having a face-to-face conversation with your reader. You'd ask questions in that situation, wouldn't you?
Don't follow a strict formula. Blueprinted emails quickly bore the boots off your readers.
Add a personal touch. Because you're trying to get readers to know, like, and trust you, aren't you?
Don't automate your greeting. Try warm wishes, best regards, or greetings from sunny England. Mixing up your greetings makes you less robotic, and more personal.
Use the word you. Because it's one of the most persuasive words in the English language.
Develop a natural voice. Stop thinking about email marketing. Consider your emails to be a way of talking to your customers or readers.
Add personality. Use words and expressions only you can use. Be human.
Stop being dull. Understand the telltale signs of boring writing. Write short, strong sentences. Be to the point. And break high school rules.
Quit being selfish. Don't be cold-hearted. Genuinely care about your readers.
Don't forget about A/B testing because it's something that's necessary to do in email marketing. Also, Forbes recommends not bombing customers. That's the last thing they need just when they're starting to get more interested in your site. Do your best figuring out what resonates with an audience the most and work on refining future campaigns.
Optimize And Retest

You should always be optimizing and retesting your various email campaigns. A/B testing campaigns are easily run from your mailing list provider. You can harvest detailed stats and begin to refine your future campaigns.

Effective testing will help you to make sure your strategies remain as potent as they were before. It will stop you from allowing the email marketing world to leave you behind.

Give Your Customers Space

It's true that your customers do want to hear from you. The fact you have a regular email marketing campaign is one of the magic elements boosting your ROI. But there's such a thing as overkill. Once you come off a great campaign it's tempting to run the same campaign again in an attempt to get the same results. The chances are you're going to get diminishing returns.

Customers don't want to be bombarded by promotional emails every day. Give them a break and don't make them feel like you're harassing them.

Define a schedule, based on the feedback you're getting from customers, and stick to that schedule. If you promise your customers they'll only receive a weekly email don't send them more than one email per week. Your welcome email can also come with a form to help customers decide how often they want to be contacted.
Popup Emails are just as important as setting up email campaigns, and in addition to coming up with compelling copy, don't forget about designing excellent graphics. OptinMonster mentions a few vital tips on how to make this happen:
Your popup has the tough job of meeting two seemingly conflicting ideas at once: it should both blend into your site's existing design and stand out enough to draw attention.

Lightbox popups work really well because you can create a design that stays on brand. When the popup appears, the rest of the site fades into the background, leaving the popup as the point of focus.

The "Annoying Pop-Up Bear" below aligns perfectly with the whimsy and fun of the host website. It's eye-catching and fun but stays on brand.

Our free webinar training reveals more on how you can continue to make money online, such as quickly building your email list as we covered above. We offer simple solutions so you can quickly grow your audience and make money online.
Sources: Entrepreneur, Chimp Essentials, CopyBlogger, Forbes, OptinMonster
CHALLENGE Yourself to Profit!
Free Download: Build Your Profit-Generating Online Business With This Free Blueprint
Sign Up, follow the easy steps and You'll get the tactics, strategies & techniques needed to create your online profit stream. It's free!