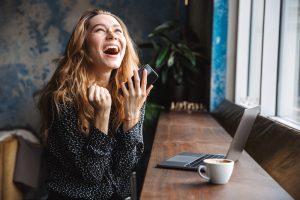 Today in our modern day and age, everything marketing related includes being social online. Whether it's blogging and pushing out the latest content on Facebook and LinkedIn, sharing the company's most recent updates on Instagram or working on engaging with the community, online jobs in social media are growing like wildfire. Below are some traits to have to successfully land social media jobs and make a living as a freelancer online. For more tips on how to make money online and run a successful business, join us for our next free webinar training!
1. Be sociable online
If you want to look for potential social media jobs online, Hootsuite recommends being social! Of course, this makes sense that you should be active on your own social media channels. Companies will likely look at how you engage, how many followers you have, and what type of experience you may have based on your social media channels.
Your social media accounts reveal a lot about you—and prospective employers are likely to seek that information out, looking for clues about your qualifications for the job or your fit with the corporate culture based on what you post online.

Still, according to a national Harris Poll survey on behalf of CareerBuilder, nearly half of hiring managers who use social media to screen candidates have found something that caused them to take someone out of the running for a job. The worst social media offenses? Provocative or inappropriate photos, videos, or information (46 percent) and information about drinking or using drugs (43 percent).

So, should you just lock down your social media profile? No. The CareerBuilder survey also found that a third of hiring managers who screen using social media found something on social that actually caused them to hire a candidate.

When thinking about how to get a job in social media, take a close look at your social profiles to make sure they show you at your best. Look for any less-than-ideal posts or photos you may have shared back in your carefree college or high-school days, and ensure your most recent posts showcase your current skills and relevant expertise.

Here are some key strategies to keep in mind when developing your professional social media presence.

Craft a professional bio that showcases your personality, maintaining consistency in your key points but tailoring the length and tone for each social network. Check out our posts about how to write an effective bio for Twitter and Instagram.

Keep your profile image professional and consistent across networks, but resize it to the optimal dimensions for each network using these image specifications.

Post to your social channels regularly and with interesting insights, whether by creating your own content or sharing your thoughts on content created by others.

Follow relevant accounts, influencers, hashtags, and brands to keep abreast of what's happening in the industry and keep an eye out for job postings.

Connect with people in your industry through Twitter chats, LinkedIn Groups, and other social spaces where you can foster relationships that provide mutual value and extend your network. Keep in mind that 70 percent of people who were hired in 2016 had an existing connection at the company, and referred applicants are 15 times more likely to be hired than those who apply through a job board.
2. Get creative
Creativity is a must with any online job, and The Muse argues that that is definitely the case with social media jobs. Creating visually pleasing content and being willing to try new things to help a business succeed is essential.
While writing is a major part of the job, the ability to create visual content is just as important. Eight out of 10 small businesses use social media to drive growth. That means there's a lot of competition for eyeballs.

To stand out in the crowd, you need to have the ability to create a powerful visual brand across all your social channels, and you need to have a posting strategy that includes a variety of creative and eclectic content, including images, videos, ebooks, promotions, and landing pages. The more diverse your content portfolio is, the better chance you have of being a successful social media manager.

One of my favorite tools for this kind of content is Canva, an easy-to-use design tool for creating photos for Facebook posts and ads to images for your social profiles, presentations, blog, business cards, posters, and invitations.
WayUp adds to The Muse's thoughts by stating that not only should you be creative, but you shouldn't be afraid to take chances.
Being creative and taking chances is also important. "There is a ton of room for experimentation in social media. The key to being successful is trying anything and everything and understanding what sticks," Juliette explains. This means brainstorming new strategies and testing them out to find the ones with the highest impact.
3. Seek knowledge
There's always more you can learn, and that's especially the case with social media! That's why Business 2 Community suggests that the more experience you have, the better off you will be. Besides, companies are eager to hire freelancers who are willing to learn new skills and continue to adapt to the job.
Do you know the intricacies of Facebook's ads manager, Instagram's algorithm, Twitter's analytics dashboard, and LinkedIn's home feed?! Are you familiar with where Facebook wants to be in 5 years? What about the latest updates to each one, as well as the new social platforms that are emerging?

To work in social media, you'll need to be the expert. Get hungry for all of the information you can find and use it to talk confidently about how you'd apply it to your clients. It's competitive out there. If you asked ten social media experts for their opinion on a social media post, you'd likely hear ten different opinions. Make yours be the one that people listen to by having the theory nailed, as well as how to implement it.

Do your research, keep up to date with changes within the industry and demonstrate you can put it into practice by using your own social media platforms regularly.
4. Be observant on how to get jobs
Part of being a successful freelancer also means, according to Hootsuite, that you should learn the best way to score gigs. Being observant will help you find ways to seek job recruiters and discover what type of jobs you may be able to get.  
Job seekers in all fields are turning to social media to connect with companies and look for work. In fact, watching for posts about employment opportunities is the most common reason for internet users in Spain to follow brands on social, while the amount of time U.K. internet users spent on LinkedIn jumped 87 percent between December 2016 and March of this year.

LinkedIn is the obvious choice when it comes to searching out jobs using social media—the network currently has more than 10 million job listings. But beyond its job search functionality, LinkedIn offers important networking opportunities for social media professionals, especially through LinkedIn Groups.

Social channels also provide an important way to research prospective employers and learn about company culture. Facebook and LinkedIn are the most common channels for researching prospective employers, except among 18- to 29-year-olds, who favor Instagram for this purpose. Company hashtags (for example, #hootsuitelife and #hootjobs) can give you a peek inside a company's office life and highlight current job postings.
5. Be fearless
If you struggle with getting work online, don't give up hope. The Muse urges freelancers to be courageous and to continue to push past their limits. Keep pushing forward and look forward to a successful future!
Long gone are the days where businesses are on social channels to simply grow their following. Social networks hold a vast amount of customer information that's just waiting to be discovered by brands.

As a social media manager, you'll need to have an understanding of what kind of customer information is most valuable for your business or brand. For example, do you need to collect email addresses for future marketing efforts? Could crowdsourcing help you figure out what kinds of products and services your existing customers might be interested in?

The easiest way to collect this data is to run promotions and giveaways. People are generally willing to share certain information about themselves—especially email contact information—if there is the potential of a prize in it for them.

If you take the time to learn how to build and host a contest, giveaway, or sign-up form (which you can do using a tool such as ShortStack.com), you'll be golden.
Quick tips:
In addition to the 5 traits you should focus on to get an excellent job, MediaBistro mentions the below tips. Read and remember them as you begin your social media job hunt.
Think Outside the Job Board Box. Start with the Mediabistro job board, and then check out sites like Mashable for a nice selection of industry-specific sites gigs.

Look for Related Positions. O'Keefe says that jobs in the field don't always have "social media" in their titles, so keep an eye out for variations, like "link builder" and "community manager," which often incorporate the same duties.

Let the Gatekeepers Find You. If you build it—an awesome and professional online presence, that is—they will come. Market yourself as an expert in the field through your own Twitter, Facebook or Tumblr pages.

Follow the Leaders. Find out who has the job you want and friend them. That's the best way to find out about news in the field, and most importantly, potential openings.
It's time to make your dreams come true by being a successful social media manager online. Make money and develop a profitable freelance business online — and join us for our next free webinar training to learn how to start today!
Sources: Hootsuite, MediaBistro, The Muse, WayUp, Business 2 Community