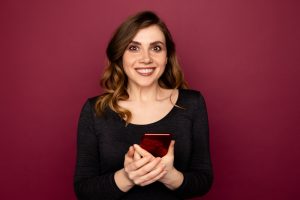 Setting up a new business online is exciting, but it's pivotal to make sure an online presence, including a business website, looks good on mobile devices. People are increasingly searching and checking out the web from their phones, even while at home. Other trends to take advantage of, and we often talk about this during our free webinar training, are mobile marketing and payment systems. Apply specific strategies for mobile phones and receive positive results. Below we explain why it's essential to optimize a website for mobile devices and how to make that happen. 
Business explains why optimizing for mobile is imperative, which we briefly just discussed. People will continue to surf the web on their phones, which is why it's essential to make sure your website is as mobile-friendly as possible. 
Making your website mobile friendly is important not only for avoiding being penalized by Google. There are a number of excellent reasons for opting in. 

The mobile revolution is still underway. Mobile is now a leading platform keeping pace with or surpassing desktop use. Google reports that "global mobile internet usage now stands at 76 percent."

Mobile sites facilitate most online research. Today's mobile shoppers are obsessed with research and want to dig deeper when they look for products and services. This is especially true when online shoppers are more acquainted with the mobile site, or if they need to go directly to the source.

Mobile sites can either build or break your brand. This is another interesting insight backed up by Google data. Brand credibility is at stake when it comes to mobile site expectations. If it takes too long to load your mobile site, you may have just lost a potential customer.
Honing in on your audience, as DreamHost recommends, has enormous benefits. Analyze how customers utilize your site and then figure out how to best optimize your website for mobile. 
Polgar finds that many clients still ask for desktop-based sites. But "a lot of these businesses did not analyze how their customers are finding them, which was on mobile," he says.

For any website launch or redesign, he suggests business owners first figure out how the customer uses their site. Once you determine how they will use the site, then you can develop an appropriate strategy.

Additionally, make sure your site is accessible to all readers — from adjusting the contrast so colorblind people can read content to making it possible for visually impaired people to understand through screen readers.
HostGator recommends using larger font sizes so that people have an easier time reading things. 
Reading on a small screen is that much harder if the font is tiny. It's best to use a font size of at least 14px on your webpages, but go ahead and test out how that looks to see if going bigger could be better here.

It's also best to stick with standard fonts. Any font your visitor's browser might need to download will slow down how long it takes your website to load, which is bad news on mobile.
Another way to effectively optimize your website for mobile is by focusing on a simple design. SEOPressor explains how to bring a simple plan to life below:  
One major way mobile users differ from desktop users is their preference for simple site designs. This is a practical matter as much as anything else – things that are large and complicated will all but inevitably become slow on a mobile device, and one of their main demands is instant delivery of the content they want.

Simple designs also make it easy to keep their attention on the content you want them to see – mobile users often have notoriously short attention spans, and there's definitely a point where keeping things simple can be more valuable than investing in an elaborate, complex theme.
Create a responsive website – HostGator also says that creating a responsive website is critical. A responsive website is the ideal online format and is also suitable for SEO. 
A responsive website includes all the same content and information on any device you access it on, but it changes the way it's displayed and arranged based on the size of the device screen. This is the best option for making your website mobile friendly, because you're not limiting the information your mobile visitors can access – they still get all the same content the rest of your visitors do. And responsive design is also good for SEO. Google has said it's their preferred format for mobile websites.

You may think you can't build a responsive website on your own. But, as responsive design has become the norm, there are many tools to make it possible. Check out top 20 tools for responsible web design.

And the super easy way? All design templates in our drag-and-drop website builder are already optimized for mobile.
Less is more in the mobile world, and DreamHost explains why this is the case: 
Less is more when it comes to mobile. Since phones aren't as powerful as a desktop browser, you should make sure your site is optimized to load quickly, and that your web host can handle the traffic, explains Polgar.

Ultimately, the best design strategy is simple: take away all excess clutter.

"You need to design for small," says Felten. "You have to be a little more focused. You have to cut down on information and content." After your mobile site is in place, you may find that you don't need to add more to the desktop version to the site, after all.

"Small businesses will have to overhaul their current marketing strategies, as their screen real estate has shrunk significantly," says Polgar.

Vitaliy Vinogradov, CEO of Modern Place Lighting, found that a switching to a mobile-first design led to 30 percent more conversions compared to desktop. "One important thing to do is to remove excess plugins, popups, or any other screen inhibitors on the mobile version of the site," he says.

His team combed through the site and eliminated a few social sharing plugins that took up valuable real estate on the screen.
Autocorrect is annoying to most mobile users, which is why HostGator says you should turn it off. It will only slow down their purchase time, and some users may abandon their shopping cart altogether. 
Something it's easy not to think about is the little ways autocorrect can make a user's interaction with your website more inconvenient. If you have forms on your website that ask for name or address information, one small way you can make providing that information easier on your mobile visitors is to turn off autocorrect for each form field, otherwise their phone will try changing their name or street name to more common words and slow down the process of filling out your form.

In the input field, make sure you include autocorrect=off in the html.
Another way to make a site ideal for mobile is by optimizing the image size, as SEOPressor suggests. Here's why that's important:  
When you're dealing with mobile devices, the goal is to create images that have the smallest possible file size while still looking crisp and clear on whatever screen it's being viewed on. This is because the bandwidth of mobile devices are much smaller compared to desktop's and causes longer loading time.

So if you need your users to download a 1MB jpeg file just so they can see a thumbnail-sized image, they're going to be frustrated and leave your site.

Remember, mobile friendliness isn't just about having a nice site design – it's about improving the user's experience, and the load times they go through are a major part of that experience. Shrinking the file sizes uses less of their data (if they're on a limited plan), helps load the page faster, and generally contributes to a positive image of your site.
Last but not least, here is a list of some mobile errors you should avoid at all costs, courtesy of SEO PowerSuite. 
Once you've chosen the solution that best suits your goals and budget, here are some common mobile optimization mistakes to avoid.

Do not block JavaScript, CSS or image files

Google has long advised SEOs against blocking these asserts (let's say, in robots.txt), as this may result in poorer rankings for your mobile as well as your desktop site. To make sure these are not blocked, perform the Fetch as Google test in Google Webmaster Tools. Learn more

Avoid putting up unplayable content

Mobile browsers may have problem with license-restricted content or content that requires Flash or an uncommon player to be installed. It's best to avoid these to improve mobile user experience.

Set up your redirects properly

In regards to mobile, faulty redirects are any redirects that point the mobile user to the wrong equivalent of the "desktop" URL. Usually these issues would be reported in Google Webmaster Tools.

Watch out for mobile-only 404s

Sometimes a page that loads perfectly fine on desktop returns a 404 on mobile. The best practices is to ensure the respective mobile page is not a 404 and to always redirect mobile users to mobile equivalents of your desktop pages
Our free webinar training is a great time to learn how you can improve your website and optimize it. Create the perfect website, and your audience will be more apt to purchase and become loyal customers! Please join us for our next training — we can't wait to see you there! 
Sources: HostGator, SEOPressor, SEO PowerSuite, Business, DreamHost
CHALLENGE Yourself to Profit!
Free Download: Build Your Profit-Generating Online Business With This Free Blueprint
Sign Up, follow the easy steps and You'll get the tactics, strategies & techniques needed to create your online profit stream. It's free!
Free Download:
"Download The 21 Days To Profit Blueprint 100% FREE… and Discover The Single Most Profitable Niche Market Selection Technique"
All new plug and play blueprint builds
profitable Internet businesses in record time…