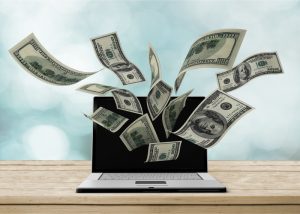 Working 9-5 at a job is a grind sometimes, which is why many people are taking hold of their employment and financial future by starting their own company. We often discuss during our free webinar training how many people assume that if they work hard and go to school, they'll be satisfied working for another company. In many cases that type of job environment works well for employees, but lately, people have begun to secure their employment by becoming a successful entrepreneur. It's possible to be in control by starting a wildly successful business online. Wondering what steps you should take first? Keep reading to find out:
Have a plan
It's hard to create an online business if you don't have a plan, which is why Forbes recommends thinking about what it will take to start a company. You should also think about which industry you'd like to focus your energy. Be realistic yet don't forget to be realistic and figure out what's feasible and what is not.
If you want to go out on your own, figure out if it makes sense financially (and emotionally) to quit and put all your time into your venture, or whether you should figure out a way to better manage your time in order to work on what you ultimately want to do. The excitement of your own venture can cloud the realistic needs you have of your steady income. – Cha Tekeli, Chalamode, Inc.
Reduce your costs
If you do plan to quit your job and start your own business Brazen reminds us just how important it is to reduce our costs. The last thing you want to do is leave your job only to find out you can't make a new business work. Make sure you have enough money set aside before you launch an online business.
Live minimally. Gain freedom from your job by not needing the paycheck.

The more expensive your lifestyle, the riskier it is to jump to something new and uncertain that could have a potentially low income at start. The more you can reduce your overhead, the less risky it is to make that jump.

If you want to start something new or break out of a dead-end job, follow the path of the Ramen-eating hackers who live cheaply. If you live an elaborate lifestyle, you may burn through your paychecks. See how much you can cut.

Make it a game. Buy a $75 sewing machine and give up buying clothes for a year. Learn from the family in San Francisco that lives with no trash. Eat on the cheap. Give up restaurants and alcohol for a year, or even a few months. Track all your purchases and decide whether that night out with friends or new pair of shoes is more valuable to you than your freedom.

The nomadic entrepreneurs who live around the world and work from anywhere are often working in places where the cost of living is low. They're not rich; they've often worked the airline systems to get thousands of frequent flyer miles and travel on the cheap. The life they've built is incredibly inexpensive, making the need for a giant business (and lots of possessions) unnecessary.

Sound like too much to give up? Consider how much you want to leave your job. What's it worth to you? How much do you want to start this business? When you want it, you'll make it happen.
Set a rate
If you plan to be a full-time freelancer, for example, Blogging Wizzard says you should set a rate for your work. Eventually, you should be able to take time off and enjoy a vacation once in a while. To make that freedom happen, you should gradually increase your rate over time.
The whole point of being a solopreneur is to have the freedom to travel or quit working at 2pm. It doesn't mean slaving away 18+ hours a day trying to make ends meet.

In saying this, setting your rate so that you can live comfortably comes in stages.

Earlier we learned about Brent Jones' story. He mentioned he worked for very little money when he first started his own business. For him, he knew he had to prove himself online by taking any job that came his way.

You might have to do this too. Performing small amounts of work in exchange for a testimonial or referral – especially when you're just starting out – can help you build that all-important track record and client base.

You're not working for free; you're just working for something other than cold hard cash.

Having those first few projects under your belt and the social proof that comes with it will only help you establish your credibility as an expert in your field, driving your rate up.

As you progress in your business, don't be scared to charge what you're worth – definitely charge more than you would make if you were doing the same job as an employee.

Let's say you were earning $40/hour to perform a certain task at your old job. Do you really think your employer was charging the client that same rate? No way. They were probably charging them three times that!

You're both the employer and the employee now, so you've got to act the part.
Focus on ideas that can generate income
When you do decide to quit your job, don't just do anything for your online business. Entrepreneur recommends focusing on a business idea that can generate income. Of course, there are no guarantees that you'll make money, but by focusing on ideas that are more likely to make money, you'll be much better off.
"Start a business that is efficient with few monetary demands in the beginning," says Gerber.

For entrepreneurs will minimal resources, Gerber says to start a business around the little cash available. "Your ideas, then, need to be focused on making money. When I started out, I didn't have much at all. I just focused on business ideas that could turn a profit quicker and didn't have many startup costs.
Entrepreneur also urges you to focus on an online business that you know can work. That doesn't mean you can't be creative, but if you start with a company that you know has done well for others then you can add your own spin to it later.
"Too many people think they need to reinvent the wheel, but if they do, the wheel will run them over," says Gerber. "Instead, focus on bettering an idea that already exists."

Use creativity to market an unoriginal idea. "Think of the guys who started College Hunks Hauling Junk," says Gerber. "They put a creative spin on a pre-existing idea. At its core, it's just a junk removal business.
Fully commit
After you decide what to focus on online, Forbes says to commit to your business and stick with it entirely!
To be a successful entrepreneur you need to fully commit yourself. Start by identifying what it will take with these questions: 1. What is the worst that could happen? 2. If that happened, how would I recover? 3. What's it going to take mentally? Physically? Emotionally? Financially? Don't go in blindly. Start building your reserves and the support you'll need to fully commit.  – Rey Castellanos, Feed Your Wolf
Establish a daily structure
Establishing a regular structure will help you develop a daily rhythm that'll help you accomplish tasks on time. Medium the Startup offers advice on how you can make that happen:
Without a boss to delegate tasks to you, the onus is on you to create a productive schedule every day.

The idea of just stopping work and going for coffee with a friend is tempting, but if you aren't working, then you aren't making money.

On the other hand, some solopreneurs lean heavier on the other side of the working spectrum and end up putting in 50–60 hour weeks in front of their computer with no freedom to speak of (which is why they joined this game in the first place).

Proper balance is key here.

I know what works for me, when I start to feel that pang behind my eyes and I start to lose focus, I go to the gym to release some of my stresses or read the book that is in my backpack (I would guess if you're a writer — you're also a reader…).

Perhaps you are in need of some productivity tools to help you stay on track.
Are you ready to ditch your job and start your own online business? Join us for our next free webinar training to learn more about what steps you can take to make your dreams of creating a wildly successful online business a reality.
Sources: Entrepreneur, Forbes, Brazen, Medium the Startup, Blogging Wizzard