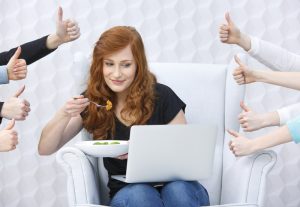 There are several blogging myths that, if followed, will make it hard for a new blog to succeed. Both new and seasoned bloggers may follow these supposed rules because they read or heard them from someone else, but the result was they gave up on developing what could have become an amazing blog. That's why it's so important to debunk myths because many times a lot of them aren't true. Certain myths may prevent a blogger from turning their blog into a profitable powerhouse, but disproving them can help bloggers learn how to succeed.
To begin with, do you think you have to be super techy to start a blog? Think again. Start Blogging Online puts our minds at ease by stating that blogs are a lot easier to set up then they used to be. Many blogging platforms, from Blogger to WordPress make it relatively easy to select a theme and start blogging. If you want something a little bit more complex you can always hire a website designer or wait until you make some money.
Technology is developing super-fast but many people still believe coding skills are crucial to start a blog. More than a decade ago, email seemed like an unbelievable magic but now we are used to it. Everyone knows how to send and read one. The same applies to blogging, it used to be complicated but it has become easy nowadays.

Everyone is capable of starting a blog these days and gets a decent blog up and running. Believe me, I have helped people from age 7 to 79. They all have managed to do that, why shouldn't you?
Perhaps you've heard the myth that if you have too many plugins running it can cause a blog to crash. While having too much software can cause problems, if you're organized and know the   functionality of each plugin you shouldn't run into issues, which Julie from Fabulous Blogging discusses:
This one is tricky, because on the one hand it is true. But did you know that it only takes ONE plugin to ruin a blog? That's right. One line of misplaced code and your whole blog will break. Be very careful about the plugins you install. Even if someone raves about it, you don't know how it's going to interact with YOUR theme and the other plugins you have already installed. And guess what? Even if the plugin gave you no trouble for months, it can all of a sudden not work with your theme or WordPress (especially if there is an update).
Julie from Fabulous Blogging also discusses tags, which are excellent to have on blog posts, but if you have a gazillion of them that's not a good thing. It's best to stick with just a handful of tags that highlight the topics without going overboard.
Tags have little to do with SEO, especially today. Tags are an organizational tool on WordPress. When you choose relevant keywords, you can then use these tags in a tag cloud, on your menu bar, or in your post meta. The point of tags is to help your readers find related posts that might be interesting to them. If you are tagging your posts with 8000 keywords, stop. It's better to have three or four tags that link to other posts.
HubSpot conquers one myth that says that says if a person can't write well they shouldn't start a blog. While it's nice to possess the skills to clearly convey thoughts in an article, not everyone has that talent. Luckily that's where guest posts come into play and practicing your writing. Over time your writing and expertise on the topic should improve.
You don't have to have an English degree to be a blogger — trust me, my spelling is probably the worst at my whole company. What matters more is that you can get your point across to your reader and teach them something they need to know. Writing well can help you get your point across more easily, but it's an added value to a post, not a necessity of blogging. That being said, if you're looking to improve your writing skills, check out this guide to writing well.
Similar to what HubSpot mentioned as a myth (that you don't have to be a perfect writer to run a blog), guest author Tammy Letherer on Huffington Post also discusses another myth: You must be an expert to run and write on a blog.
I've often called myself the reluctant blogger. I wrote a memoir about divorce and while I was writing it, I decided to post the first chapter on a website for divorced moms. In less than 24 hours my chapter, now called a blog, was syndicated to Australia and Germany and within a few days had gotten nearly 4,000 likes and close to 600 comments. Despite this, I'm not an expert on divorce (nor do I want to be) but I was an expert in MY divorce. I was the only person who experienced it the way I did, and that made me the only one who could tell that story.
Another myth which was also pointed out by HubSpot Blog, is that if you don't blog every single day you won't be successful. While it's best to push out regular content it's not always feasible. Heard of the saying slow and steady wins the race? Well, this can be you if you stay consistent and set up a schedule to blog at least a few times a week.
I won't lie to you: when you first start blogging, it's going to be painful. You'll write a post, publish it, and get hardly any traffic or social shares. But after you start blogging for a month or so, you'll see things pick up a bit. You'll notice that traffic and leads are steadily growing, and only then, will you realize that your hard work has paid off. If you need some more convincing, IMPACT's Marketing Director, John Bonini, has a great post on setting your expectations when you're first starting to blog.
It's true that excellent content is largely why a blog succeeds, but The Social M's blog says it's much more than that. It's up to you to pursue an audience and get them engaged. One fantastic way to do that is through social media.
I thought this advice would finally have found its way to the advice cemetery but just a couple of weeks ago I had to read it again as an answer to a blogger's questions what he should do to attract a larger audience: Simply write awesome content and your audience will grow.

Oh man, don't fall for that! Creating awesome content and then sit back and wait for a huge audience to magically find your content is one of the easiest ways to get into blogging frustration. Because it is not going to happen.

If you are looking for an audience, you have to actively pursue it. The better your content the easier this will become. But you have to take action!
Believe it or not, ProBlogger argues that content is not king and goes on to say what will really help a blog succeed. If you're wondering what on earth is more important than blogging or marketing, keep reading.
I know I'm not the only one who disagrees with the myth that content is king. Yet many who doubt that content is king argue that marketing is king. It's not. You can't market nothing, and no matter the type of marketing you use, if you have a mediocre blog, you will end up with little in the way of results.

I once wrote a guest post that sent me over 1000 visitors in a day (before I wrote the guest post, I was averaging 150 visitors a day). But after two days of attracting those 1000+ visitors, my blog returned to the 150 visitors a day average. I was of course disappointed. But I realized that the traffic had fallen because I didn't have solid content to back up that initial guest post, and sustain those traffic levels.

It doesn't matter what your marketing budget is: if you don't have solid content, it will end up being wasted. So marketing is not king.

So if content is not king, and marketing is not king, what is king? You might not expect this answer, but I believe the blogger is king. The blogger should be able to strike the right balance between content and marketing—this is the only path to true success.
Perhaps you're afraid to start your own blog because you feel like the same topic, whether it's hiking or fashion, has been covered way too many times. Before you tell yourself to quit before you've even begun, Refined Revelry urges new bloggers to have faith in a blog idea and to think of ideas that may not have been thought of before.
Your Niche is Too Saturated

This is one of those blogging myths that I think scares off new bloggers. It's no secret that blogging has become an incredibly popular industry. Whether they're hobby blogs or budding businesses, blogs are pretty mainstream these days. Which on one hand is great. On the other hand, it seems like there's more competition than ever. And time and time again I see bloggers told that a certain niche is too saturated and that they should look elsewhere.

Let's take fashion blogging, for example. Yes, fashion blogging as a niche is pretty darn saturated. However, that doesn't mean there's not always room for more! The key to standing out in a saturated industry is making it darn clear what sets you apart. What do you offer that other fashion bloggers don't? Once you narrow that down, the playing field suddenly becomes infinitely clearer.
Sources: HubSpot Blog, Start Blogging Online, Fabulous Blogging, The Social M's, ProBlogger, Huffington Post, Refined Revelry
Free Download:
"Download The 21 Days To Profit Blueprint 100% FREE… and Discover The Single Most Profitable Niche Market Selection Technique"
All new plug and play blueprint builds
profitable Internet businesses in record time…
CHALLENGE Yourself to Profit!
Free Download: Build Your Profit-Generating Online Business With This Free Blueprint
Sign Up, follow the easy steps and You'll get the tactics, strategies & techniques needed to create your online profit stream. It's free!