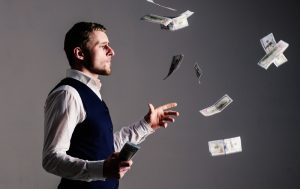 We get it. Professionals have a hard time staying productive, especially when they're first developing their own company online. They may try to elicit the help of every organizational app out there only to get nothing accomplished. Even though productivity stacks are handy, it's easy to overlook essential ways to stay productive. What are some of the biggest productive killers that ultimately lead to money busters? Stop, reflect, join us for our free webinar training, and begin to eliminate choices and habits that aren't helping with work productivity. Follow an approach that works best and yield more considerable productivity gains while making more money.
Complaining
Yep, we all complain once in a while. Or — all the while. Monster says instead of complaining all of the time, figure out what stressors are distracting you and push them aside.
"Unless it is for the sake of brainstorming, avoid complaining," says Kendra Davies, owner and coach at Stellar Life Coaching in Orlando, who stresses that allowing yourself to be distracted by what isn't working won't get you any closer to figuring out what will. "Training your brain to process those negative situations without lingering in them is key to being able to identify innovative solutions and ensures you do not get burned out."
Email
Email can quickly eat up your time, which is why Entrepreneur recommends coming up with practical ways to manage your email instead of allowing it to control you.
We could all be better at emailing. The time we spent managing our inboxes could certainly be used for other more pressing activities. But how can we make the seemingly insurmountable daily task work for us? You can set aside the same amount of time every day to focus just on responding to e-mail. In writing your emails, being brief and direct is best. And unsubscribe to any newsletters or spam mail that just clogs your inbox. And if the request is a small one, it might just make sense to walk over and talk to your colleague.
Forbes says it's all about email boundaries — read what they have to say about it below. They offer some smart tips on the subject!
Setting boundaries for yourself around email management can also be a big boost to how much you get done each day. A huge productivity killer is constantly going to your email inbox and wading through the barrage of messages – most of which aren't essential. The problem is this constant attraction to your email breaks your concentration and attention on bigger projects. So a better way is to pick times that you're going to check email throughout the day – as the day starts, one time mid-morning, one time mid-afternoon, and once at the end of the day. That means you may go a couple hours without seeing something important, but it also means greater concentration on the real work that's on your plate.
Constantly getting interrupted
Inc. puts is plainly by reminding us how easy it is to get interrupted by the people we love the most. Most small business owners and employees work at home, so if your family likes to interrupt you, you might need to set up business hours or figure out a better way to get work done.
Talking and spending time with people you love can be comforting, mindless and often exciting. Time can fly without your even realizing it. You could spend two hours on the phone with your significant other in what feels like minutes.

While it's by no means bad to spend a lot of time with loved ones, you should be cognizant of how much. Set boundaries based on what you need to accomplish at work so that you don't unintentionally lose precious working hours.

I sometimes schedule an alarm or a reminder to notify myself if a certain amount of hours have passed while I'm visiting a loved one. They know I do this and it doesn't ruffle any feathers. It's especially useful when you know you need to get back to work at some point.
Fast Company also says that being interrupted all of the time gets old, so figure out a way to block out the noise and figure out how to get a lot done instead.
PROBLEM: BEING CONSTANTLY INTERRUPTED

Cure: Send a clear signal about when you're unavailable

Set up personal systems to stay focused on work. For example, close the door to your office, or if you're in an open workspace or cubicle, wear headphones to tune out the noise, says Eileen Adler, chief human resources officer at PeopleFluent, a human resources software provider.

"I have a friend who puts a 'do not disturb' sign on her cubicle and wears headphones," she says. "The headphones, however, are not hooked up to anything. She believes it sends a strong message to people who are tempted to ignore the sign."

Another way to limit distractions is to stand up when someone comes to your office to talk; this signals to them that you don't have time to chit-chat, says Adler.
Working too much
What about becoming a workaholic? In our modern day and age, Monster reminds us that it's more common than we think. When you're excited about your business, it's easy to get so wrapped up in it that you forget to take a break and enjoy all of the results from your hard work!
Yes, you read that right. Too much time spent working—at the office or at home during off-hours—has consequences. "Sleep deprivation challenges our abilities to stay alert and attentive, and degrades our creative, innovative thinking," says executive coach and productivity expert Clare Kumar. "In addition, a lack of sleep affects our ability to regulate our emotions and can result in less clear thinking and poorer judgment." As a result, attempting to do your job when you're tired makes whatever it is you need to do extra-challenging, causing you to spend more time on the task while subsequently downgrading the quality of your work. Stop burning the midnight oil, and allow your brain and body to recharge so you can hit the ground running.
Clear Company recommends taking more time off from a job if you can. Taking time away helps you come back feeling refreshed and ready to tackle new activities with dedication and intent.
America is an overworked nation. 86% of men and 66.5% of women work more than 40 hours per week, we don't have as many vacation days as the rest of world, and employees don't take those days off as much as they should. Everyone, at all levels of business, simply works too much, and more time spent as work ends up making you less productive.

Take a step back and see if you're not encouraging a culture of work over one of results. The best employees work, on average, for 52 minutes, then take 17-minute breaks. When employees take breaks like these, they're more perceptive, and less likely to get bogged down in tunnel vision, leading to better work overall.
Social media and notifications
Our cell phones are our most prominent friends — and enemies, which is why Entrepreneur offers the valuable suggestion of silencing those notifications. It's best not to allow these notifications to distract you from getting your work done.
Social media is fun and can be a great way to connect with other people in your industry, but there is a time and a place for it. If you're working on a project, ask yourself whether it's really necessary that you be perusing your sorority sister's birthday photos on the side. (The answer is likely no.)  For those who can't help themselves, perhaps a site blocker is necessary.
Fast Company also says you should block those cell phone notifications or at least turn your phone's ringer off so that you're not distracted every minute something new pops up on Instagram, for example.
PROBLEM: A CONSTANTLY DINGING SMARTPHONE

Cure: Use apps to block notifications

The "do not disturb" feature on an iPhone or Quiet Hours on Windows phones will block calls that interrupt your focus, says Michael Fritsch, president and COO of management consulting firm Confoe, Inc.

"You can configure it to let certain people or communications through," he says. "Or simply set your phone aside or in a drawer to keep it from distracting you."
Focusing on organizing everything
As we mentioned at the very beginning, being organized is fantastic, unless you start to get so fixated on keeping everything organized that you get nothing accomplished! Let's see what Inc. has to say about organization:  
It may seem counterintuitive, but "getting organized" can actually interfere with productivity. This is the one that plagues me the most. I'll often spend 30 minutes in the morning trying to get organized and into a productive head space. I go over my to-do list, figure out what my priorities are, try to organize them for the coming week, get my head into working mode, and then get started.

What has recently worked much more efficiently has been sitting down once every few days, or even once a week, to map out how to spend my upcoming work time. Then, when I get back to the grind, I jump right in instead of losing time and energy figuring out what to do.
Find out how you can create a sustainable income online and get rid of the bad habits that are preventing you from earning more. Join us for our next free webinar training and pave the way to your online business' success!
Sources: Entrepreneur, Forbes, Inc., Monster, Fast Company, Clear Company
CHALLENGE Yourself to Profit!
Free Download: Build Your Profit-Generating Online Business With This Free Blueprint
Sign Up, follow the easy steps and You'll get the tactics, strategies & techniques needed to create your online profit stream. It's free!
Free Download:
"Download The 21 Days To Profit Blueprint 100% FREE… and Discover The Single Most Profitable Niche Market Selection Technique"
All new plug and play blueprint builds
profitable Internet businesses in record time…