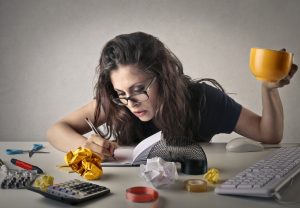 Getting and staying organized takes more effort than just attempting to organize papers and straightening up the clutter on a desk. It involves coming up with procedures and systems that effectively work for a business. Come up with the right type of systems and a company can become profitable and productive. Below are some ways to get a small business organized. Try just a few to get started and as you get more organized implement other systems that will continue to streamline your business as time goes on.
Organize Paper Files
It's easy to feel disorganized due to random papers everywhere on your desk or in random folders. Even if it may seem overwhelming to go through them doesn't mean you shouldn't do it all. Small Business Trends recommends scanning as you go to cut back on time.
One study found that the average person wastes over 4 hours per week searching for papers. Go through your filing cabinets and shred anything that's out of date or no longer relevant to your business.

If you're worried you might one day need four-year old notes from a client project, then scan the originals and throw out the paper files to make more room.
Organize a Business Space
A business space says a lot about how organized you are, and if it's untidy and you have no idea where anything is it'll be challenging to stay focused and complete the job at hand. Infusion Soft recommends having a catch-all space (explained below), as well as managing your cables.
Set up a catch-all space. Designate a space in your office where all incoming items for your business should go. For example, if you receive important paper documents regularly like invoices or bills, consider a desktop file organizer. These usually have anywhere from three to five trays you can use to prioritize or organize files into.

Manage your cables. Cables can quickly turn a desktop into Medusa's head, but you can easily manage cable mess with some simple zip ties, and—if need be—get even more elaborate with under-desk cable trays.
Get Rid of Paper Receipts
Small Business Trends also discusses why it's a good idea to get rid of paper receipts. Instead of allowing them to pile up, you should invest in a scanner or download an app, such as the one they recommend below.
Considering the IRS accepts electronic copies of receipts, there's really no reason for you to continue hanging on to all those tiny paper slips from restaurants, taxis, office supply stores, etc.

Find a receipt management scanner or app for your smartphone (such as Neat Receipts) and make sure your solution lets you export data to whatever expense reporting/accounting app you use.
Customer Support
Neil Patel recommends finding a way to keep track of customer support by following up with customers in a timely manner and keeping them happy.
Your loyal customers are the heart of your business.

While they take up a lot of your time and resources, it's time well spent to keep them happy and pleased with the services you have to offer.

To make sure you're reaching them effectively, consider using a program like Groove that allows you to manage your customer tickets effectively.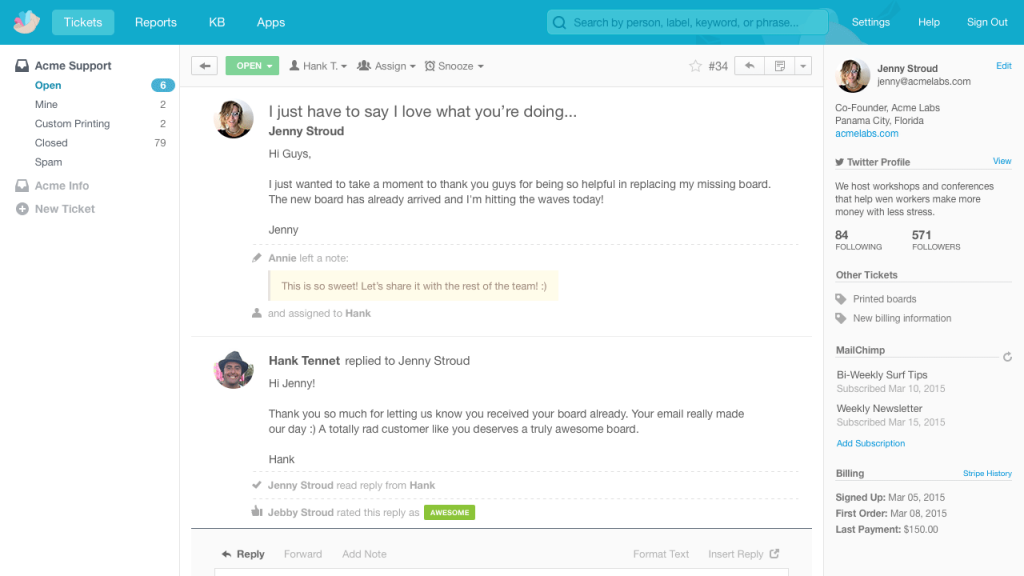 This allows you to spend less time managing customers and more time improving your product and business systems.

It's important to automate your system, but it's a bad idea to automate your relationships with customers.

Use software like Groove that allows your employees to strengthen your relationship with your customers, but don't try to automate the process.

This will only leave you feeling frustrated when customers leave you behind for competitors that treat them better.

Instead, make it easy to treat your customers with world-class service and they'll reward you with continual business and referrals.
Keep Emails Organized
Speaking of following up with customers in a timely manner, Entrepreneur says that also means organizing emails. If mail piles up them it'll be hard to sift through everything and find the most important emails. Keep email organized and you won't have that problem.
It's easy to let the mail pile up, but save yourself time in the long run and deal with incoming mail immediately. Sort your mail as soon as it arrives. Throw away junk mail, forward mail to the appropriate people when necessary, open and separate the rest of the mail and file it when appropriate. Categories for filed mail may include bills, mail that needs to be responded to right away, mail that is not urgent, publications, etc. If you rely heavily on email communication, you should check your email as often as every hour and reply immediately, if possible. Use the folders in your electronic mailbox to organize your email.
Content Marketing System  
Don't forget to work on and develop a content marketing system that'll make it easier for clients to find you through means of social media and writing. According to Freshbooks, if you develop an effective social media and content strategy you'll be able to better identify with an audience.
Effective content marketing makes it easier for prospective clients to find you and trust you. As a small business owner, you likely don't have hours to spend on content strategy, creation and circulation. That's why organizing your efforts is so important. Here are a few ways to do this:

Create an editorial calendar. Ensure you're creating content on a consistent basis by scheduling it all in a calendar. Not sure where to get started? Content Marketing Institute offers some great tools, tips and a free template. (Pro tip: You don't have to publish content every day. It's better to publish fewer, high quality pieces that your audience will find super valuable.)

Choose social media wisely. There are so many social networks out there it can be easy to get overwhelmed. Think about who your audience is and what channels they are likely to use. Start off by having a presence on only 1 or two and then add more if it makes sense. Creating a social media strategy is a great way to take see a bird's eye view of where you are and ensure all of your efforts are very intentional and effective.

Outsource. If you have some extra money in your budget, think about hiring a freelance writer to help fill out the editorial calendar. Sites like Upwork can help you source the perfect writers for your posts.
Productivity Tools
The Balance Small Business offers another strategy on how to keep a small business organized and that's by using effective productivity tools. Here are a few examples:
We all have our favorite apps and tools we use every day, although some are probably more useful than others. In fact, for every one productivity-enhancing app you use, I bet there is another one that is just not the right fit, but you keep using it because you've been using it for so long and you're used to it. This is why it is so important to — at least once a year — take stock of the apps and tools you are using in your small business and decide if they still meet your needs. This is also a great time to consider if you have some gaps and find the right tools to fill them. Below are some of the top areas where many small business owners find productivity tools useful. These should give you a solid starting point for getting your productivity tools organized this year:

Contact management. From keeping track of your customers to remembering people you meet while networking, every small business owner needs a system for managing contact information. You can opt for a comprehensive customer relationship management (CRM) system like Salesforce, or for smaller scale management you can set up your existing Contacts app to work for your business.

Meetings and communication. Whether you conduct meetings face-to-face, on the phone or via video chat services, there is a way to make the process more organized. You can use a service like Do to get your meetings more organized — before, during and after.

Accounting and bookkeeping. Organize and streamline the way you invoice, take payments, and manage cashflow with tools like Quickbooks Online, Xero and Wave.
Organizing Cash Flow
Organizing cash flow is another way to stay on top of things and regularly send out invoices. Setting up reminders and figuring out the best way to keep track of projects will keep you organized.
Although it might seem easy to do as a startup to organize cash flow since there might be very little, you may actually get so caught up in the other aspects of your daily routine that you forget to send an invoice or remind a customer that a payment is overdue. That's when it helps to have an online invoicing tool that gives you a dashboard view of your current invoices, those past due, and those upcoming if you have recurring payments from clients.

Companies like Freshbooks deliver this capability so you can continue focusing on core capabilities while still keeping an eye on the cash flow from any device. The online invoice tools sends invoices via email with convenient links to payment options like credit cards, e-checks, and payment portals like PayPal. You can set automated reminders and acknowledgments to keep a steady stream of cash flow.

Even after your startup is built out and you are generating revenues, these tools will scale up with you and continue to keep your business organized. Many offer more features that you can add later on to handle larger volumes and projects so you never lose that efficiency that helped you from the start.
Sources: Small Business Trends, Infusion Soft, Neil Patel, Entrepreneur, Freshbooks, The Balance Small Business, Business.com
Free Download:
"Download The 21 Days To Profit Blueprint 100% FREE… and Discover The Single Most Profitable Niche Market Selection Technique"
All new plug and play blueprint builds
profitable Internet businesses in record time…
CHALLENGE Yourself to Profit!
Free Download: Build Your Profit-Generating Online Business With This Free Blueprint
Sign Up, follow the easy steps and You'll get the tactics, strategies & techniques needed to create your online profit stream. It's free!