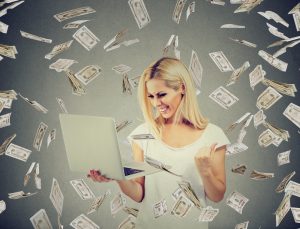 Now that the ecommerce store is all set up the sales will just start happening, right? Wrong. Just creating an online business ecommerce store isn't going to drive traffic on its own. It's going to take time and effort to get people to make a purchase. Even though it may seem tricky, it's certainly possible. We discuss how to create an online business, make it succeed, and ultimately make a profit during our free webinar training. It may get tricky, and some ecommerce stores don't work out, but that can't happen. Luckily below we have 8 practical (and quick) ways to improve ecommerce sales
Build your brand awareness
Big Commerce quotes Bill Widmer, who knows all about SEO. He says building your brand awareness will help your ecommerce sales increase. Why not give it a try?
Brand awareness impacts trust (which impacts sales), repeat purchases, and even SEO.

The more people know (and trust) your brand name, the higher your sales will grow.

To improve brand awareness, focus on quality.

Create high-quality content, consider influencer partnerships, partner with other businesses in your industry, don't neglect paid ads, and be active on social media.

– Bill Widmer, Content Marketing & SEO Consultant
Work on customer trust
Of course, a store isn't going to be successful unless your customers trust you. Build your brand and customer trust simultaneously. Customers will trust you if you're transparent about the products and keep them updated on everything necessary. Crazy Egg reveals more on how to build trust with your customers:
If you don't believe that trust matters in business, consider the number of companies that have experienced huge financial losses subsequent to data breaches. The average data breach costs a company about $3.6 million.

CSO contributor Michelle Drolet notes, "Breaches will happen, but how you act to mitigate them has a very real impact on the bottom line." If you can rebuild trust after it's broken, you won't suffer the same financial loss.

The same goes for any breach of trust. When you break promises to your customers, provide false information, or fail to publish credible content, you lose trust.

How do you build trust? There are a few best practices to follow.

Keep your word: Don't make promises you can't keep.
Post trust badges: Use SSL certificate badges and similar signs of trust.
Remain transparent: Provide insights into your company's inner workings.
Respond to customers: Answer help requests and customer support questions.
Admit mistakes: Don't try to cover things up. Tell people how you'll fix it.
Publish case studies: Show how you've achieved great things.
Cite sources in content: Give credit where it's due.
Focus on these best practices to forge trust between you and your customers. You might see your revenue climb as a result.
Target existing customers
After customers start rolling, it's essential to get new ones, but it's equally important to target your existing customers. Having customers that come back and buy more is the ultimate goal, and hopefully, they'll tell their friends about your products! QuickSprout dives into this technique more:
When businesses have trouble growing, they immediately think it's because they don't have enough customers.

This is a common misconception, so don't jump to conclusions.

Instead of focusing all your effort on customer acquisition, you should improve your customer retention strategy.

Look at the impact loyal customers have on an ecommerce site:

Compared to new customers and customers who only made one purchase on your website, loyal customers:

add more items to their shopping carts
have a higher conversion rate
generate more revenue each time they visit your site
Don't get me wrong.

Obviously, it's great for your business if you can keep getting new customers.

But that's a more expensive marketing strategy.

It's much more cost efficient to go after your existing customer base.

Why?

These people are already familiar with your brand.

They know how to use your products, and there's no learning curve.

So focus on ways to improve their experience.

Try to come up with a customer loyalty program that gives people an incentive to spend more money each time they shop.

Each dollar spent can translate to a rewards point.

When a customer accumulates a certain number of points, they can redeem them for discounts or other promotions.
Use photos with customer testimonials
QuickSprout reminds ecommerce businesses that testimonials are fantastic, but an even better way to advertise your products is by providing a picture with the testimony. Having a picture with the name will really highlight your testimonials and make them seem legitimate.
User reviews and testimonials are a great way to show proof of concept.

But a message from some nameless and faceless person isn't really that convincing.

Take your testimonials one step further.

Add a photo and include the person's full name and title (if relevant to your product).

Here's a great example from Pangea Organics:

Autumn Bree Fata is an integrative health coach, so her title provides some authority and tells us she knows something about this product.

Including a picture of her face shows she's a real person and not just somebody you made up.

What do you think looks better and more professional?

The example above or:

"This product is great!" – Daniel L.

It's obvious. The example from Pangea Organics will resonate more with the people visiting your website.

This testimonial can encourage others to make a purchase and drive more sales.
Be honest about shipping costs
We already mentioned how important it is to build on customer trust, and similarly, Shane Barker says you should be honest about shipping costs.
What's the one thing that compels most shoppers to go through with their purchase? According to Statista, the top online purchase driver is free delivery. 63% of online shoppers go through with their purchases because the store offers free shipping. So this means that online retailers should provide free delivery whenever possible in for ecommerce sales.

Ideally, you could set up a free shipping minimum rate in which shoppers will have to buy for a certain amount in order to qualify for free shipping.

But some retailers may not have the means to offer free shipping. High overhead costs and other factors can prevent startup ecommerce stores from offering free delivery.

If you aren't able to offer free shipping, you should still be transparent about shipping costs. When you're upfront about the extra costs shoppers have to pay for shipping, it can help encourage them to go through with their purchase.

But if you only display the extra shipping costs during checkout, it can result in cart abandonment. In fact, the top reason shoppers abandon their carts is because of unexpected shipping costs, according to Barilliance.

If you want ecommerce sales, it's important that you display the actual total cost of the item on the product page itself. That means you need to display all the extra taxes and costs that could change the total order amount, including shipping rates.
Facebook advertising
Facebook advertising is another way to drive sales, and according to Big Commerce, many companies miss out on this. Take advantage of Facebook advertising and help your brand take off.
It's one of the best ways to drive new visitors to your store, convert them into paying customers and re-engage them to buy even more.

According to Adweek, the average return on investment from Facebook Ads in ecommerce is 152%, and it's the largest social media referrer for ecommerce orders.

Not advertising on this channel is a major missed opportunity for online brands.

The best part: it's easier than ever with tools like Vantage that specialize in Facebook ads for ecommerce to build and launch campaigns that drive sales.

– Paige Gerber, Head of Marketing, Vantage
Respond to customers on every channel
Even though you expect most customers to contact you on your website, which makes sense, Crazy Egg reminds you not to allow anyone to fall through the cracks. That means responding to potential and current customers on every channel such as Facebook, blog comments, and the like.
Engagement is one of the most important metrics to track when it comes to online marketing. Your engagement is the amount of interaction you get from your subscribers, followers, and fans.

Examples of engagement could include the following:

Facebook likes
Retweets
Blog comments
Responses to social media posts
Email replies
Answers to polls and surveys
It's easy to track engagement on social media channels. Facebook Insights, for instance, will let you track engagement by post.

While tracking your followers' engagement with you matters, so does your engagement with others. How often do you comment on blogs in your industry? When people leave comments on your Facebook posts, do you respond?

Simply answering, "Thanks, glad you enjoyed it," to a comment that praises your latest blog post can spawn conversions. People know you appreciate them, so they become fans. Eventually, they might become customers.

Referring to a Salesforce report, Jon Suarez-Davis writes in AdWeek:

"Nearly 80 percent of consumers say the experience a company provides is as important as its products and services"

If you provide a positive experience, you'll boost online sales.
Offer live chat support
Do you offer live chat support? As your ecommerce shop grows, Shane Barker recommends offering live chat support. It's an easy way to answer customer questions and solve their problems without having them have to wait for an answer 24 hours later. Plus, they'll like that as a customer they're essential, which they should be.
Sometimes shoppers may fail to convert because they have some doubts or questions they need clarified. So they leave your website, perhaps with the intention of sending you an email or calling you to ask those questions. It sounds complicated, doesn't it?

What if you could answer their questions, and solve their problems right then and there? Live chat support enables you to do just that. You can provide real-time help to your shoppers, which can enhance their experience and enable them to find what they're looking for.

According to Comm100, the average customer satisfaction rate for live chat is 85.39%. And it takes less than a minute for shoppers to get their questions answered with the help of live chat.

This increased satisfaction rate and lowered wait time can help you increase ecommerce sales. Most of the time, shoppers will go through with their purchases if their doubts and questions have been answered. Live chat can also help shoppers find what they're looking for, which can also result in more sales.
Join us during our free webinar training to learn many ways on how to build an online business and increase your profits by applying various techniques along the way.
Sources: Big Commerce, QuickSprout, Shane Barker, Crazy Egg
Free Download:
"Download The 21 Days To Profit Blueprint 100% FREE… and Discover The Single Most Profitable Niche Market Selection Technique"
All new plug and play blueprint builds
profitable Internet businesses in record time…
CHALLENGE Yourself to Profit!
Free Download: Build Your Profit-Generating Online Business With This Free Blueprint
Sign Up, follow the easy steps and You'll get the tactics, strategies & techniques needed to create your online profit stream. It's free!