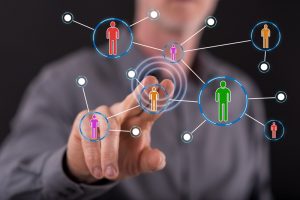 We don't need to remind everyone just how widespread — and important social media is these days. It's literally the fastest growing trend, and it continues to grow at a rapid rate! Creating an online business becomes a lot easier when social media is involved. Just see what we have to say about that and how else it's possible to make a profit online during our free webinar training. It's time to increase revenue and conversion rates, and it all starts with implementing the right social media tactics.
Stay Genuine
Staying true to your brand is essential when you're trying to generate sales on social media. Neil Patel reveals how to become the type of social media account you look up to. A few examples include giving your audience what they want and curating content.
No one wants to follow a social media robot online. Follow this golden rule: be the kind of social media account you would want to follow. For example:

Participate. Tag those you've quoted and mentioned when you share on social. You won't only share insights with your audience, but you'll earn some brownie points along the way.
Curate content. Think of your social media like a blog. Promote the work of other companies if you think a link is something your audience might want to check out. Some people will follow you online just because you're so good at finding interesting tidbits and links.
Give, give, give. Infographics, statistics, insights, stories–if you can provide something that your followers will find valuable, make sure you share it. After all, social media is a two-way street: don't just promote your company and forget to give valuable information to readers.
Identify Trends
Figuring out what makes your audience tick is imperative. You can find out by staying ahead of the trends and focusing on what your audience is currently into. Small Business Trends discusses where to pick up on such trends:
A great social media campaign does not start with a posting spree. It starts with listening. If you want to create and distribute content that effectively drives traffic to your website, you need to be in-tune with the topics your target audience is currently talking about.

A big mistake that a lot of brands make is answering these questions and crafting their messaging to fit their own needs, as opposed to the consumers'. This is where tools like Buzzsumo, Sprout Social or Feedly come in handy. They enable you to learn about the content that is buzzing within your industry, around your brand or about your competitors.

Let's say your company specializes in men's fashion. You'll want to start the observation process through a large scope with a short time window. The first metrics to look at are in relation to the big picture of the industry.
Once you're on Buzzsumo's homepage, select the "Trending Now" tab. In this case, you would select "Fashion" and a certain timeframe.
A/B Testing
To find out if something is really working, especially when it comes to ads, Neil Patel says you must be willing to do some experimentation. That means using A/B testing to figure out what makes your audience tick.
Are you thinking like a data-driven marketer? If not, you should. You need to analyze data to figure out which platforms performs the best in driving brand awareness, engagement, and ultimately conversions.

A key component of data analysis is A/B testing. Perform A/B tests on your social ads to find out which version resonates more with your audience. On most of the social media platforms, you can invest a relatively small amount of money to gain insights that could generate huge returns. Facebook is big on promoting its own A/B testing platform, which means that most of the work is already done for you.

Not sure you want to spend any money on social A/B testing just yet? You can even use strategies to test your Facebook posts without putting a single penny down.
Content Distribution and Re-Distribution
Content marketing is everything when it comes to engaging and keeping your audience interested in your brand. You can keep them up to date on your latest happenings, new products you are releasing (if you have an ecommerce company), and how to use a blog to benefit your brand in other ways. Entrepreneur mentions a few different ways to use content to your advantage:
Hopefully, you're already engaged in a content-marketing strategy. If not, you need to start — because one of social media's most powerful roles is as an outlet for promoting your published material.

Whenever you publish a new post, use your social media channels to boost that post to the public. This will do a number of things for your brand: You'll attract more initial traffic to your post, achieve more visibility (especially if that post is shared) and encourage more customer loyalty (especially with consistent updates), all of which can help improve your SEO. Best of all, it only takes a few minutes once your post is live.

Content distribution is about making a recent post available to more people, but content re-distribution is about maximizing the value of your older posts. It's a good idea to keep a running list of your "evergreen" content pieces, and re-post them on an occasional and rotating basis.

This will help keep your social media profiles full of regular updates, and will maximize the long-term value of every evergreen post you produce. The trick is to time and frame your posts so your followers don't get sick of seeing the same things over and over. What's more, this is not a time- or budget-intensive strategy.
Twitter Techniques
Crazy Egg recommends using Twitter to your advantage and uses a tip from Ian Gray as an example.
Schedule out a series of tweets from one blog post.
This tip comes from Ian Gray, founder of Seriously Social.

An easy way to automate your Twitter marketing and schedule out several Tweets with almost no work is to setup a free account with missinglettr and connect it with your blog's RSS feed.

Once missinglettr sees that you have created a new blog post, it will schedule out a series of tweets for the coming year based on various sections of your post.
Ever used gifs on Twitter? Crazy Egg also recommends implementing this into your social media strategy:
A gif is basically a short video loop that will quickly tell a story and engage your audience.

Twitter has a library packed full of them so that you can add them to posts without having to leave your feed.

Gifs will help you engage and connect with your Twitter audience and will add some flair to your feed that most people do not have.

Give them a try!
Jeff Bullas also shares his thoughts on Twitter and how to use it to connect with your audience:
Twitter plays by its own rules.

It has kept its 140 character limit despite the jokes, the pressure to change by many of its followers and the demands to be more like Facebook or Google+.

It is misunderstood by many people who throw stones at it from the sidelines. Despite the knockers it has kept true to its initial design and constraints that don't seem to fit it into an online world that is about bigger being better.

This succinct reporting has made it the channel of choice for breaking news. Twitter is now often seen popping up on the television screen as viewers interact with a show. The character limitation it demands lends itself to one liners that are often humorous, pithy and sharp.
Focus on the Right Platforms
It's not a good idea to get all burned out trying to keep up with every social media site imaginable. Focus on the right platforms as Forbes mentions, and you'll be more likely to identify with your audience.
Stop chasing every new social media platform and every tactic. Instead, find the ones that deliver the most return for you and double down on them. Doing so will not only provide greater returns but also prevent you from spreading yourself too thin with unproven efforts. Planning, preparation and execution don't mean chasing your tail. – Craig Greiwe, Rogers & Cowan
Optimize a Brand's Narrative
Forbes says that creating an incredible brand narrative is just as important…
Optimize your brand narrative to step up social in 2019. It's not enough to create a social calendar based on product or company messaging. Your content needs to be evocative and compelling to lead audiences to an action. Evaluate your brand story and ensure it is inspiring and stands tall among the social clutter. Ground your social content in that message and it will surely rise above. – Keri Witman, Cleriti
Check out our free webinar training to learn about more social media tactics and how to use the internet to your advantage while building your online business!
Sources: Neil Patel, Business Trends, Entrepreneur, Crazy Egg, Forbes, Jeff Bullas
CHALLENGE Yourself to Profit!
Free Download: Build Your Profit-Generating Online Business With This Free Blueprint
Sign Up, follow the easy steps and You'll get the tactics, strategies & techniques needed to create your online profit stream. It's free!