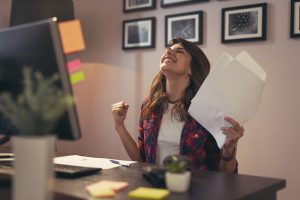 Content creators have a gift to captivate an audience and help them learn special skills, whether it's self-improvement or how to smile more often. Being a content creator takes discipline, time, and effort. Check out the guidelines below and learn how to become an influential thought leader who attracts people who would like to improve their lives. Content writers have the potential to make a living online, and we explain how to start a profitable online business on our free webinar training. For now, if you're thinking about becoming a content creator, here are some of the habits successful writers implement daily.
Read news about your industry
HubSpot recommends reading as much as you can about your industry. Think about it: The more you learn about your industry, the more you can write about. When providing services, you should be well-versed in many industries. Staying up on the news will help you stay current.
Creating great content that really resonates with your target audience requires you to know what's going on in your industry. And the best content creators scour — not just read, but scour — the internet for industry news and trends. This sets them up nicely to understand the context behind what's happened historically in their industry and how that shapes their target audience's mindset in the present.

Get in the habit of reading by putting everything you read in one place. You can set up an RSS feed with an app like Feedly for blogs you know that contain relevant industry news. Also, ask a few colleagues what they're reading these days and follow suit. Discover where your buyer persona spends time online and snag those blogs, too. Ahead of the game and have a few favorites already? Add 'em to the list.
Write regularly
Practice makes perfect, which is why LinkedIn says you need to write regularly. Whether it's over a cup of coffee or on a sunny afternoon, writing is important. Make time to write regularly and don't put pressure on yourself to make it sound "perfect." Writing, in general, will help you improve over time and learn what you should and shouldn't do.
Practice make perfect. The industry is moving faster than ever, and if you don't practice you'll lose it, so try to constantly flex your writing muscles as this will help you work through ideas that might have been juggled in your head, it might help you generate new ideas.

Content creators are not always inspired to write, that's natural, but remember than something inspiring can come from the very act of writing. So do it daily, or every other day. I am not saying you need to write a perfectly polished 1500-word article every day on an industry related topic but set aside 10 to 15 minutes daily to jot down some thoughts and ideas. Find when your mind is most at ease, at its clearest (for example for me it is when I am having a good cup of coffee) and just start free form writing.

What did you read yesterday that stuck with you? What didn't you understand? What problems have you encountered? Such question should help you start the flow.
Weidert adds to the LinkedIn article by stating that the more content you have on your site, the more people you'll likely attract to your site! That means you better get writing!
The more content you have out there, the more traffic you'll attract to your website – there's no doubt about it (and, the more you write, the better you'll get). Experts aren't shy about sharing their insights, and if you want to become the premier publisher in your industry you have to commit to acting like one – it's not something you do only when you "have time."
Keep track of brand mentions
Dreamgrow says you should keep track of people on the web who mention your brand. It gives you the opportunity to reach out to them and find out if they want to collaborate or help you promote a similar product.
Monitoring mentions of your brand around the web is an opportunity for a lot of reasons. Say a major newspaper mentions your company but forgets to link back to your site. You can reach out to them through email and build an easy link.

If someone spoke fondly of your brand on their blog, it can also become an opportunity to network, collaborate, and co-promote.

At the same time, if someone writes a scathing review of your company, you have an opportunity to reach out and control the damage.

Use a tool like Google Alerts or Buzzsumo to track your brand mentions and look for opportunities every day. Buzzsumo will even allow you to track your competitors' mentions, which could lead to more opportunities.
Study the industry's audience
Earlier we mentioned staying up to date on what's trending in your industry, HubSpot also recommends studying the industry's audience. That means you need to keep a close eye on the audience to see what they are doing and how your services fit into that picture.
One of the hardest pills to swallow as a creative professional is that you are at the mercy of your audience — and the needs of that audience can sap your creativity.

But, at the end of the day, your audience pays your bills. And if you study your audience deeply enough, you'll find interests and creative opportunities you wouldn't have found without them.

The third quality of all successful content creators: They know their audience inside and out. Examine your own readers and viewers: What do they want that you're not yet giving them? What problems do they have that you can solve for them? Here are some other characteristics of your audience you can identify for yourself or for your employer:

Age

Gender

Location

Family size

Job title

Salary
Give examples in your writing
As you continue to hone your skills as a content creator, Weidert recommends using examples in your writing.
You make things much more real and relatable when you give people examples of what you're talking about. For example (no pun intended), if you were writing about the difference between commodity whey protein and functional whey protein and you wanted to describe texture, don't just write, "Functional whey protein allows you to replace cream in a bakery formulation while maintaining the same texture." Instead, write something like this: "Functional whey protein allows you to replace cream in a bakery formulation while maintaining the same texture – the same rich creaminess, the same tender cell structure, the same moistness, and the same mouthfeel."
Engage with your audience
This goes without saying, but Dreamgrow reminds us how important it is to engage with your audience. Work on developing relationships with your audience and nurture those relationships. You can gain new clients that way and hopefully some friends too!
Lead generation and lead nurturing are two of B2B content marketers' biggest goals.

Creating valuable content is a start, but creating personal relationships is the most effective way to nurture leads.

So take the time every day to engage directly with your audience. Here are some ways:

On social media – Respond to any questions or comments on your social posts, but don't stop there. Actively seek out your audience and start conversations about other content/topics that interest them.

On forums – Take time to start forum discussions related to your niche (not just your business). Comment on other topics and of course respond to your audience.

On your blog – Respond to any comments on your posts. If someone approached you with a thoughtful question or comment, consider addressing them publically by turning it into a blog post or podcast.
Network consistently
LinkedIn says networking can also help your business flourish, and we couldn't agree more! If you're afraid to get your feet wet on social media, you have to start somewhere. Start small and see which platforms work best for you and where your audience tends out to hang out at the most.
Some people are terrified to the idea of networking. If you are not extrovert, start small, with a colleague for example. But remember that success doesn't come solely from your passion, but also from who inspired you, who taught you or who pushed you to think differently.

You will jump from content creator to successful content creator when you accept that there is (always) more to learn than you know and when you open up to new ways of thinking. That is exactly what networking forces you to do.

There are countless opportunities to network with Facebook, Twitter or LinkedIn. Find the thought leaders in your industry and follow and engage with them.
Join us during our free webinar training and learn how to use your skills as a content creator and freelancer to develop a strong and powerful online business. We can help you get there! 
Sources: HubSpot, Dreamgrow, LinkedIn, Weidert
CHALLENGE Yourself to Profit!
Free Download: Build Your Profit-Generating Online Business With This Free Blueprint
Sign Up, follow the easy steps and You'll get the tactics, strategies & techniques needed to create your online profit stream. It's free!
Free Download:
"Download The 21 Days To Profit Blueprint 100% FREE… and Discover The Single Most Profitable Niche Market Selection Technique"
All new plug and play blueprint builds
profitable Internet businesses in record time…