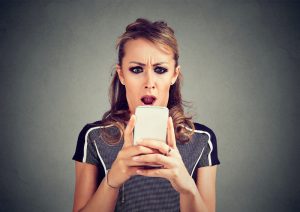 Now that all of the social media sites are set up and the content is scheduled, what happens next? How is it possible to get the word out about social media profiles and should the focus only be on promoting specific profiles? Below are some social media promotion techniques that will help kickstart a new online business. In addition to adequately utilizing social media, learn how to jumpstart an online business by attending our free webinar training. Keep reading to learn about 7 smart social media promotion techniques that'll pave the way to a profitable business!
Fill out the profile
Filling out social media profiles may not seem like that big of a deal, but if you're missing simple things like the link to your website in your profile you could be missing out on a lot of traffic. As Social Sprout recommends, don't forget to add links, provide a brief yet compelling description of your business, and other details depending on the specific social media channel.
This seems like a no-brainer, but you'd be surprised at what you might be missing out on. Unless you're going for an ultra-minimalistic look, your brand's Facebook Page should be filled out. Add a monthly check-in to your social media checklist to explore new features.

In the About tab, you have space to add links, including other social networks' profiles. The Story section allows you to give more information about your company in a storytelling format.

Article uses the About section to let customers know where else to find them. Not all the links are active, but the icons do indicate the networks.
Cross-promote across platforms
After you get some content on your site and would like to promote services or content, for example, it's an excellent idea to cross-promote across all platforms. For example, Social Sprout recommends having a call-to-action on a social media account asking your followers to follow you on other social platforms.
Some of the easiest cross-promotion for cross channels is occasionally reminding your followers that you have other social media accounts. It can look like a link to the social media page accompanied with a call-to-action asking people to follow the account.

For a more subtle approach on cross-promotion, use space in your bio to mention that you're on other networks. For Snapchat-heavy users, a profile photo change to their Snapcode works well.

UMD Athletics is active on Snapchat and uses Twitter to promote their Snapchat code. As their Tweets come up in your timeline, you're subtly reminded that they're also on Snapchat.
Wordstream adds to Social Sprout's thoughts by recommending that even if you're running a contest on Instagram, for example, you should also promote it on your other social media sites such as Facebook for extra exposure.
If you're running a photo contest via Instagram, make sure you still promote the contest on Facebook, Twitter, Pinterest, etc. You want all your followers, across all social media networks to know about your great giveaway!
Contests
Contests are another excellent way to get people to engage in social media. Small Business Trends recommends trying contests such as a follower voting contest or logo design contest, to name a few.
Follower Voting Contests

Another idea for a social media contest, have followers submit photos or ideas for consideration. But instead of just choosing a winner yourself, have your other followers vote on the best entrants. Eggo has done this in the past by having people submit their favorite waffle recipes and then letting followers pick their favorites.

Logo Design Contest

Instagram made use of this campaign back when it redesigned its logo, encouraging users to make their own versions in various mediums. You could try a similar promotion on Instagram or any other platform with photo capabilities.
Promote social accounts on newsletters and email signatures
Are you forgetting to add your social accounts to newsletters and email signatures? According to Social Sprout, putting your social signatures on places where people will see them will give you a better chance to gain new followers and get more interaction.
If you're sending newsletters out on a recurring basis, add the social icons at the base. It's another subtle reminder to the recipients that you're there if they need to find you.

For a more direct approach in promoting your social media accounts in your newsletter, add a fan section where you showcase a photo from the community. Most newsletter services allow for embeds. But if yours doesn't, a photo upload with an account link will do.

If your company often emails externally, like to potential sales clients, add links to your email signature. This is another branding opportunity and should be used to its full potential.
Utilize hashtags
Hashtags are another great way to promote your products, and Wordstream says you should join in on a weekly theme such as #ThrowbackThursday.
Join in on weekly hashtag themes like #ThrowbackThursday – If you want to build your social media following, you need to be an active participant in the community. This means posting regularly, and also joining in on fun weekly social media traditions that already have a loyal audience. Show the kids how hip you can be!
Small Business Trends adds to Wordstream's thoughts by mentioning other hashtag ideas which include testimonials, conversations, and weekly hashtags (as we discussed above).
Hashtag Testimonials

You can also create a hashtag that is meant for customers to share testimonials. You can then repost or use that content in other promotions. The White House used this strategy when promoting the health care marketplace in its #GetCovered campaign a few years ago.

Conversation Hashtags

You can also create hashtags more to encourage a sense of community among your customers. For example, the #SimpleStart hashtag from Weight Watchers serves as a way for customers to share their goals and stories. But it also makes it easier for them to interact with the brand and other Weight Watchers customers.

Weekly Hashtag

Or you can create your own set of hashtags that you can use each week to share content that's unique to your brand. For instance #treehousetuesdays might not be relevant to tons of brands. But it is something that helps to set Airbnb apart from other lodging companies.
Use photos to convey a feeling
Photos make a statement, so when you use them on your social profiles, Forbes says to remember that they convey the feeling behind your brand. Work on perfecting what you want your brand to say and have the photos you post reflect that.
Photos that have nothing to do with your products or business: Instead, they convey the feeling behind your brand. For instance, how Starbucks shares photos on Instagram to associate their brand with sunshine, warmth, and good friends (not just coffee).
Social only discounts
Another excellent idea from Social Sprout is to provide discounts on your social media profiles. Providing discounts only on social media will prompt people to follow you on Instagram, for example, if they want to stay up to date on upcoming promotions and discounts.
In traditional advertising, you see weekly deals in the newspaper or receive discounts in email. Social is no different. These discounts are served to a certain segment of your audience and end after some time.

The simplest way is to offer a code in a post. Experiment around with social-only discounts. Try doing flash deals with limited quantities in Instagram Stories or posting an Offer on Facebook.
Bonus: Why Dove's self-esteem campaign worked
As a bonus, below we discuss a social media campaign that Hootsuite says worked (and we agree!). Even though you have a new and small online business doesn't mean you can't learn from the more prominent brands! This campaign is an excellent idea of what can work on social media:
What Dove did

#RealBeauty: A lot of brands preach it nowadays, but Dove was a pioneer that helped bring self-esteem and self-love into marketing.

Dove's global campaign has taken many forms since it first launched nearly 15 years ago, but it has become more than a campaign since then—it's extended into a corporate mission.

The company has commissioned independent research on self-esteem that it has used in its television and print advertising as well as its social campaigns, and its website features resources to educate consumers of all ages on issues related to self-esteem, bullying, the online world, and more.

Hashtag campaigns, including #RealBeauty, #NoLikesNeeded, and #SpeakBeautiful have encouraged users to show off their inner beauty. And after discovering that 70 percent of women don't feel represented in advertising, the company pledged to stop retouching all photos used in its marketing by 2019.

Why it worked

AdAge judges unanimously named Dove's Campaign for Real Beauty one of the top 100 campaigns of the 21st century so far in their 2015 survey.

In 2018, Dove began a two-year collaboration with Cartoon Network's Steven Universe "to take on body confidence and self-esteem issues." The first video in the series, published to Cartoon Network's channel in July 2018, has more than 2 million views, 103,000 likes, and 9,500 comments—many of them wildly positive.
Now that you have your business set up online it's time to promote it and get some sales. To do that you need to work on your social media promotions and learn other ways to make money. Continue to learn how to grow your business by joining us during our next free webinar training.
Sources: Social Sprout, Wordstream, Hootsuite, Forbes, Small Business Trends
Free Download:
"Download The 21 Days To Profit Blueprint 100% FREE… and Discover The Single Most Profitable Niche Market Selection Technique"
All new plug and play blueprint builds
profitable Internet businesses in record time…
CHALLENGE Yourself to Profit!
Free Download: Build Your Profit-Generating Online Business With This Free Blueprint
Sign Up, follow the easy steps and You'll get the tactics, strategies & techniques needed to create your online profit stream. It's free!