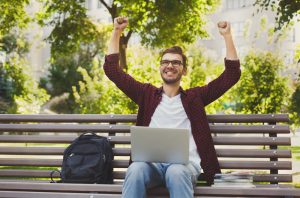 Thinking about taking the plunge and setting up a new website? As many knows, two things drive traffic on the Internet the most. Of course, excellent content is essential as is the social media networks that effectively distribute it. We all know the better the material and the more engaged an audience is on social networks; the more likely a business will succeed. Effectively exposure leads to leads, inquiries, and ultimately sales. Recently during our free webinar training, we discussed just how important content marketing is when setting up a website. It turns out that if done correctly, content marketing can make all the difference for a brand to succeed. To effectively utilize content marketing, it's all about the tactics. Here are some of the tactics that are "musts" while setting up a killer content marketing strategy:
Set Up a Mission and Goals
Before implementing other parts of a content marketing strategy, you first need to come up with a compelling mission and goals on your website. OptinMonster provides some examples as to what you should include in your mission statement and how you can properly layout your goals as well:
A good starting point for your content strategy plan is to set out a content marketing mission statement. This is a brief statement that makes it easier to focus on what's important – and what's not – in creating your content so your content marketing strategy stays on track.

A content marketing mission statement outlines:

Your target audience
The content you'll use to reach them
The benefit they'll get
Here's an example from CIO.com's about page.

It defines the audience (CIOs and business technology executives). It highlights the benefit (insights on career development). And it gives examples of what its content covers (certification, digital transformation, skills development and hiring practices).

To create a mission for your own business, try this formula:

We provide [target audience] with [type of content] to help them [business goals].

While the mission statement covers what your audience will get from your content marketing strategy, you also need to think about what your business will get from it. That's where your business goals come in.

Typical goals include:

Improving revenue as a result of your content marketing strategy
Making more sales and getting more high quality leads, which will help you meet your revenue goals.
Getting more traffic to your site, as the more traffic there is, the greater the possibilities for meeting your other goals.
Improving the perception of your business, so you gain influence and authority, and are seen as a thought leader.
SEO success, which leads to more traffic.
Reduced marketing costs, as your content becomes more effective.
Social media engagement, which can help with both traffic and authority.
Once you know your goals, it's time to move to the next step.
Know the Wants and Needs of Your Audience
Understanding what your audience wants and needs is essential if you desire to improve your content marketing. Understanding what your audience is looking for will help you determine the type of content you push out as well as what keywords to implement, as Neil Patel illustrates:
Before you can create successful, engaging and overall great content, you've got to know your audience very well. One technique to employ in this regard is keyword research, aimed at discovering what your ideal customers are looking for.

Start by getting a better idea of the existing demand for your topic through Google Trends. Just type your main keyword into the search box to learn how many searches it received within a specified period of time.

For instance, here's the Trends graph showing the popularity of the keyword "online business consulting":

Remember, the more you know about your readers, the more precisely you can base your content creation on them, and the more effective your whole content marketing strategy will be.
Implement Incredible Visuals
Content Marketing says it's all about achieving incredible visuals. They provide an example on not what to do and what you should be doing instead to make your website stand out from the competition.
Let me show you the content marketing approach of a typical company. I've blurred out the content to protect the identity of the guilty party.

Even though you can't assess the quality of the content, you can see the image. Good, right? I mean, shouldn't you be "using visual content to increase blog engagement?" Isn't that a "best practice?"

Why am I calling out this one? Just adding an image to an article doesn't mean that the content will have higher engagement. An image in an article does not mean "visual content." The picture with a dollar sign and "save customers money" text is, unfortunately, bland and generic. It doesn't add value to the article and warrants little more than a passing glance because of its cliché nature.

Let me share a few points of visual content that do enhance engagement:

Infographics

Infographics aren't as powerful as they used to be, but they still can take a blog from bland to awesome. Plus, you can easily double your traffic with infographics.

Charts, graphs, and relevant images

Throwing a stock image at the top of a blog doesn't cut it. You should add relevant images throughout the article. Try to keep the user's engagement high through the whole piece of content, not just the introduction.

ConversionXL and the Buffer blog do a great job at this. Here's an excerpt from an article at ConversionXL:

SlideShare

Visual content isn't merely the stuff you incorporate in your blog. It also includes content on places like YouTube, Instagram, and SlideShare.

I point specifically to SlideShare because it is one of the pre-eminent visual-sharing platforms. And, you guessed it, it's woefully underutilized by companies.

If you have any familiarity with making slides in PowerPoint, then you're ready to use SlideShare. Prepare to be visual.
Build More Targeted Landing Pages
Neil Patel offers a lot of suggestions on how you can improve your content marketing, which is by building more targeted landing pages. He gives excellent examples from Nuffield Health, Copyblogger Media, and Instapages on how to use landing pages to your advantage.
My search traffic almost tripled when I created advanced guides for SEO and several other internet marketing topics. Each of those advanced guides has its own separate landing page, optimized for the applicable keywords.

Nuffield Health generated 60% more revenue by optimizing their landing pages for the right keywords. They consistently sought to learn more about their market and customers and then integrated their new discoveries into content creation.


Or, take a look at Copyblogger Media. Copyblogger has dozens of landing pages, each aimed at a keyword that the target audience is passionate about. That's a lesson for you when it comes to developing a sound content marketing strategy: when creating more landing pages, think strategically about keywords and build your content around the right ones.

The easiest way to start creating high-quality landing pages is to use templates. There are many you could choose from, but I like Unbounce and Instapage, neither of which are free.
Content is More Than Blogging
Yes, blogging is one of the main ways to implement content marketing, but Content Marketing Institute urges you to look past that. Content marketing is also about promoting your content and thinking of other ways to successfully implement it, whether it's on your website or pushing it on social media.
Blogging has become an entry barrier for content marketing. Instead of being an appropriate entry point, it's now a distraction that can keep a business from publishing content where it truly matters.

Why do I say this? Let me explain how some businesses view blogging:

OK, we need to do content marketing.
All right, let's start a blog.
Blog.
Keep blogging …
Keep blogging …
Keep blogging, and, by the way, why isn't this working?
OK, stop blogging. (No ROI)
"Content marketing" in the minds of such businesses begins (and ends) with a blog. If, and when they realize that the blog is useless, they either give up or keep plodding on, throwing content into the lonely abyss of wasted online content.

Stop blogging for just a second, and think about the issue strategically. Blogging is not a strategy. Blogging is but one method in an arsenal of content marketing methods. But, before you ever settle in on blogging as the primary method of choice, you must first determine whether or not blogging is the best strategy.

Content doesn't mean "blog." Content is just content. Where you post and promote this content is the key feature of a successful content marketing strategy. Spend time thinking about that question before you ever start a blog.
Email Marketing
Of course, let's not forget about email marketing, which is just as important as other forms of content marketing. Jeff Bullas recommends taking advantage of email services such as MailChimp to improve your readership and gain new subscribers.
Never underestimate the power of email marketing. If people have signed up to your emails then chances are they want to hear from you. But, be sure to provide your contacts with useful content, rather than just a barrage of sales spiel. There's plenty of different types of content that you can email your customers including; competitions, blog posts, e-books, event invites and exclusives.

In order to build your contact list, think about implementing plenty of sign up tabs on your website. Make sure you give your customers an incentive to sign up and follow through in order to build up customer confidence.

Put it in action:

Send your email list useful, shareable content
Don't constantly hard sell to your customers
Put sign up forms visible on your website with examples as to why they should sign up
Content marketing can either make or break you, which is why it's essential for you to implement it effectively. Follow these tips and learn more on our free webinar training to take advantage of various content marketing techniques to ensure your business is a success now and in the future.
Sources: Neil Patel, Content Marketing Institute, Jeff Bullas, OptinMonster
CHALLENGE Yourself to Profit!
Free Download: Build Your Profit-Generating Online Business With This Free Blueprint
Sign Up, follow the easy steps and You'll get the tactics, strategies & techniques needed to create your online profit stream. It's free!
Free Download:
"Download The 21 Days To Profit Blueprint 100% FREE… and Discover The Single Most Profitable Niche Market Selection Technique"
All new plug and play blueprint builds
profitable Internet businesses in record time…