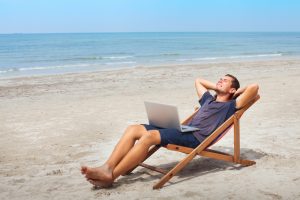 Freelancing is an exciting venture because it offers a lot of flexibility and freedom. This freedom is something that a person can't achieve at a regular desk job. Not only do freelancers get to choose what type of work they do, but they also get to decide on the time of day and how long they work. Making choices that suit an individual's strengths is one of the many perks of freelancing. When a freelancer first ventures into the online world, he or she might wonder if they have what it takes to make a living off online jobs. Our free webinar training teaches freelancers and other professionals how to use the right technology and tactics to build a profitable business. If you're on the fence about venturing into the freelance world, learn more about its advantages. Here are six surprising benefits you might not have realized.
You Can Follow Your Passion
It's nice being able to follow your passion, and freelancing allows you to do that. Even if you have multiple passions, you can have a variety of clients in different fields. Business elaborate more on why it's so nice being able to follow your passion:
Being a freelancer allows you to have freedoms that those on staff don't have. In newsrooms, for instance, journalists are often assigned stories and tend to receive more direction from their editors. On the other hand, freelance writers are able to use their creativity in generating ideas and the directions of their stories.

"I enjoy freelance writing because it gave me an opportunity to advocate using my voice," Crumpton said. "Despite its faults, I can vision a career in freelancing because I have an opportunity to share my experiences and thoughts with a broad audience."

Since freelancers have more control over who they work with and what they work on, they can always count on being interested in and engaged with their work passionately.

"I like being able to decide what I want to work on and have control over where I can publish my writing," Tenreyro explained. "Even though I have to depend on publications to accept my pitches, there's a great amount of freedom in not having to be assigned work I don't like and focusing on pieces I feel are important to me."
You're Less Likely to Get Sick
Since you're not around as many people there's good news: You're less likely to get sick! During the holidays a lot of employees pick up colds and the flu. Forbes brings up a valid point: Since you won't be in an office surrounded by colleagues with germs from their kids (sorry, it's true), you're less likely to get sick! Although, it's a good idea to stick clear of gyms or at least clean your hands regularly.
Most freelancers work from home. This working situation can actually keep you from getting sick because you deal with all your colleagues and clients remotely. A lot of offices are moving away from the cubicle layout and creating open plans to increase communication and encourage collaboration. According to a Danish study, these efforts also make it easier for people to get sick. The research found that the more people working in one room, the more sick days those people take. And people in fully open offices take 62% more sick days than those in cubicle offices. Working at home keeps you from getting a workplace bug and bringing it home to your family.
Flexibility Of Location
It's nice being able to work wherever you want, and Entrepreneur says that freelancing gives you that opportunity. Do you want to kick it in a coffee shop across the world? You can do that. Want to hang out at the beach for the day? As long as you can see and won't get sand in your keyboard, you can do whatever you want!
Freelancing empowers individuals to lead the much sought after laptop-lifestyle. It comes with immense freedom to work anytime, from anywhere in the world as long as the job is well done and on time. Dipesh opines, "For a freelancer, the most important thing is to deliver quality work and he gets to choose his location of work and has the flexibility of timing."
LinkedIn also mentions how beautiful it is to work whenever and wherever you want for your clients:
Whether you prefer consistency or shaking things up when it comes to your work environment, you can choose to work wherever you want, whether you choose to work in a local coffee shop or while you're on vacation in Europe.  You are no longer stuck in an office or even in your home. Find a place in which you work best. You could work in a park, at the library, or in your living room while you're wearing your pajamas.
An Opportunity To Earn More
According to Entrepreneur, freelancing also gives you the opportunity to earn more, if you use your time wisely and get connected with the right clients. Since work is rapidly changing, it's essential to keep up with the times and evolve with the freelancing world!
Freelancing allows individuals to gain access to clients beyond any geographic barriers, be it different states in the country or even overseas locations.  This helps a person stretch beyond geography and work on what rewards their skill the best. "Today the way business & people work is changing rapidly. Freelancing opens up a new world of opportunities to the global workforce", suggests Dipesh.
You Control Your Work Relationships
The beauty of freelancing, as Forbes informs us, is that you get to choose how you want to communicate with your clients. Setting up times to get back to clients will alleviate stress and help you stay more productive.
When you're freelancing, it's up to you how much you want to communicate with clients and colleagues throughout the day. A lot of freelancers have a policy not to check their email more than 2 or 3 times a day to help them keep on track. And as it turns out, drawing these lines is good for your health. A study from the University of British Columbia found that the less you check your email, the more you can reduce stress.

In many office environments, email is the main form of communication. Ignoring your email is like ignoring your boss. As a freelancer, you can make your own email checking policy to reduce stress and reap the benefits.
LinkedIn adds to what Forbes says above on how convenient it is to control work relationships:
When you work for someone else, you don't get a choice of who you work with. You can become stuck with unprofessional or rude clients. But, when you're a freelancer, you can choose with whom you work. If you don't mesh well with a client's personality or business or payment philosophies, you can pass on the opportunity and wish them the best. It's as easy as that.
You Keep the Profits
LinkedIn reminds freelancers that they get to create the profit as opposed to working for a flat rate or yearly salary. That means you can change your price and look for more significant, and better opportunities if you want.
No longer do you have to work for a flat rate, no matter how large the projects are that you complete. Now, you get to allocate or keep all the profits from your large and small projects and clients. This gives you the freedom to then use that money to improve yourself and expand your business.
In addition to the surprising advantages listed above, Freelancer gives us a quick overview of the many benefits freelancing has to offer:
There are several perks to working as a freelancer, including:

Get started quickly…today even. As long as you already know the skill you plan to offer, getting started is simply a matter of finding your first client.

Easy to start. You can start right now, using your network find a client. While you'll want to build a LinkedIn profile and/or a website, you can network within your current career and friend networks to find your first client.

Affordable. Odds are if you have the ability to provide the service, you also have whatever equipment or software you need to deliver it. Eventually you'll want to invest in business building tools, such as a website, but using LinkedIn (which is free) is a great online resume that can help you promote your service.

High demand for help. While the marketplace of freelancers is competitive, the need for quality, reliable freelancers is growing. Many businesses don't have employees and instead have a team of freelancers.

Choose your own schedule. Work when and where you want.

Pick and choose clients. While in the beginning you may take any client that will hire you, as you grow, you can choose not to take on difficult clients. You can even fire them.

Do the work the way you see fit. While you need to deliver what the client asks, how the work is done is up to you.
Freelancing indeed is an exciting venture, and it's one that you can find success — our free webinar training dishes on some of the best ways to make by using an online business to your advantage, how you double your profits and get more business.
Sources: Entrepreneur, Forbes, LinkedIn, Freelancer Blog, Business
CHALLENGE Yourself to Profit!
Free Download: Build Your Profit-Generating Online Business With This Free Blueprint
Sign Up, follow the easy steps and You'll get the tactics, strategies & techniques needed to create your online profit stream. It's free!