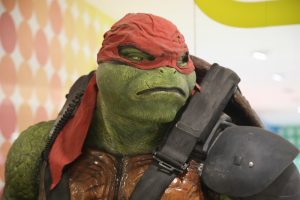 Who are we kidding — online marketing is one of the first things we think about when it comes to Teenage Mutant Ninja Turtles. We all know that the latest Teenage Mutant Ninja Turtles movie has become a fan favorite and that's because we all love and have a favorite Ninja Turtle. The film (and our free webinar training) got us thinking: What if the Turtles were online marketers who knew how to rock the web? It turns out our favorite Turtle can teach us a thing or two about marketing and how to use it to our advantage and in the process bring in some serious money.
Leonardo: Leading With Data
Being a tactical leader like Leonardo has its benefits because you can confidently move forward with business decisions. The more information you gather, the easier it'll be to make wise choices, as Huffington Post says.
You're the tactical leader, always learning from what's been done before leaping into what's next. Even though you carry two long katanas everywhere you go, your real weapon is information.

When you don the blue mask to conquer email marketing, pour over open and click rates, look for patterns in your most successful subject lines, and lead your marketing campaign with confidence — because knowledge is Turtle Power.

From your early days training with Splinter, you learned that you can use the data from email campaigns to identify what's resonating with your audience and use that to inform future email strategies and content marketing. It's like a focus group without the group-think mentality, because after all, actions do speak louder than words. Getting big insights out of your smaller audience, on a budget, is easy as (pizza) pie.
Money Pod Marketing also discusses what not to do when it comes to email marketing. In particular, Leonardo was a leader, and you should strive to be a leader when coming up with compelling subjects and killer preheaders.
Leonardo was the fearless leader. He got things going and kept everyone safe. When it comes to email, the subject line can definitely be thought of as a message leader which is why I'm pretty sure he would be against useless preheaders.

Most email clients will show a small snippet of the email's body after the subject line. A preview of the content.

You know what's annoying? Seeing the dreaded "Can't read this email. View in Browser" as the email preview. Giving people a different way to read the email is not a bad tactic. Its a good one. But its not the best way to leverage that exclusive preheader real estate.

I tend to think of things in terms of classic direct marketing. The subject line is the headline. You know what the preheader is? The sub-headline. The whole point of those two elements are to get the viewer reading further.

Use your email preheader as an extra nudge to get people to even open the email. Just like direct mail, if nobody opens it, it doesn't matter how good the content is.
Michelangelo: The artistic one
Being artistic is another way to succeed in your business, and as PR Daily mentions, even though Michelangelo comes off as too easygoing, a person with his personality type can still significantly contribute to an online business.
Michelangelo is easygoing and easy to get along with. A fun-loving and free-spirited turtle, he has a Southern Cal-style with a creative, artistic and adventurous side.

He's also the most frustrating type of millennial: a fickle demographic easy to dismiss as a class clown.

In financial terms, those who fall under this archetype spend money they don't have, buy experiences instead of things and quit jobs they must have because they don't "feel" fulfilled.

They're also single. Only 26 percent of millennials in the United States are married, compared with 36 percent of Generation X, 48 percent of Baby Boomers, and 65 percent of the Silent Generation.

To market to Michelangelo, focus on these tips:

Collect, curate and share fun content that doesn't come from your own content marketing team. Use tools like memit that enable your marketing pros to collect, tag and share their favorite finds across departments and within teams.
Go the extra curation mile and create an online hub that's both an internal resource as well as a customer-facing sub-site. Pressly specializes in designing beautiful two-for-one interfaces, like this one for the enterprise Deloitte.
Get playful with memes games and quizzes. The more frivolous, the better. Fun equals fans.
Prioritize responsive (mobile-friendly) email and hyper-localized SMS marketing with a conversational and irreverent tone. JackThreads, a fast-growing clothing retailer, writes subject lines that are perfect for getting Michelangelo to open emails: "It's Baaaaack" and "Stop What You're Doing … and PARRRTY."
Donatello: Innovating Through Automation
Being an innovator has its perks, which is why you should strive to be like Donatello. A few ideas Huffington Post mentions are automating key messages and emails.
You're an innovator, always tinkering with whatever's in front of you to make it better. Maybe it's your innate technological genius, or maybe it's because you got stuck with a stick for a weapon.

The purple mask helps you see endless possibilities through smart technology. Start by automating key messages that hit inboxes at just the right time, like with a welcome series that makes long-term fans out of new subscribers. You can also automate emails based on clicked links and dates you store in your contact records, if you're feeling extra tinker-y.
Raphael: Fierce and Future Focused
Even though Raphael comes across as self-consumed, it's the "selfie generation" that has taught marketers just how crucial social media is. If you're not taking advantage of social media, that's a huge mistake. PR Daily further elaborates on how being a Raphael can help your business grow.
Raphael is the bad-boy turtle. Never one to bite his tongue, he's sarcastic, fierce, and has a sense of humor that is totally deadpan.

Likewise, some millennials can come off as cynical, egotistical and self-consumed—the so-called "selfie generation." Eighty-seven percent of 18-25 year olds in the U.S. use Facebook. Fifty-three percent are on Instagram, while 37 percent are on Twitter and 34 percent are on Pinterest.

These statistics are why social media platforms can be extremely successful. When it comes to reaching Raphael, don't underestimate the power of the following:

Make your content marketing story-driven. Focus on your brand's artistic side, your passions and especially your failures. Authenticity matters.
Crowdsource ideas and contests. Last October, Sock It to Me was able to rake in 4,600 submissions for its simple design-a-sock contest.
Beef up social campaigns. Use a post-management platform like Oktopost, which is especially vital for tracking real-world ROI—not just "likes," shares, retweets and pins.
Master Splinter: Keeping Everyone in Check
Even though he's not a Ninja Turtle, when it comes to content, a Splinter can keep others in check. When you're running an online business that needs a structure that's a good thing according to Contently.
Splinter is the wise mutant rat ninja who raises the Ninja Turtles, teaches them how to be ninjas, and keeps them in check. A brand newsroom needs a CMO to craft the broader strategy and make sure the team doesn't get in too much trouble. He doesn't get his hands dirty often, but when necessary, he pops out of the shadows to save the day. Especially when this guy is involved…
Shredder: Carefully Comply or Else
Just like you don't mess with the villain in Teenage Mutant Ninja Turtles, it's the same way with legal and compliance issues. Do things by the book otherwise it may come back to haunt you, or at least that's what Contently argues:
As the primary villain, Shredder is a necessary evil for the Ninja Turtles. Otherwise, they'd just be hanging out in the sewer, eating pizza, and pining after April O'Neil all day. Likewise, Legal and Compliance is the necessary evil of brand newsrooms. They can ruin all the fun, but the larger operation doesn't work without them.

A good CMO will go toe-to-toe with legal when needed, picking the right fights and advising the Ninja Turtles when to back off.
So do you want to be a Teenage Mutant Ninja Turtle? If you do, it's time to shape up and learn from these powerful lessons. Use marketing to your advantage, which we cover in our free webinar training will give you an edge over your competitors and help you take advantage of all the web has to offer. It's time to make and keep an online business in profit!
Sources: Huffington Post, PR Daily, Contently, Money Pod Marketing
CHALLENGE Yourself to Profit!
Free Download: Build Your Profit-Generating Online Business With This Free Blueprint
Sign Up, follow the easy steps and You'll get the tactics, strategies & techniques needed to create your online profit stream. It's free!