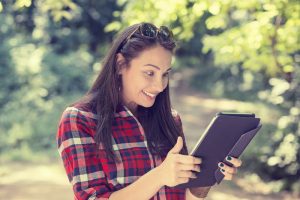 Running a successful ad campaign on any successful social media channel can increase conversion rates, how many website visitors are checking out a site, and a brand's overall success. But getting ads to succeed on social media sites and knowing what type of ads to run can take money and time. It's impossible to know how to do everything advertisement related, especially as a new website. However, that's why we offer a free webinar training that'll provide tips on how to properly set up a profitable website and grow it through effective advertising. Below we explain 6 advertising tips that are worth trying on Instagram, Facebook, and Twitter.
Instagram Tips
1. Use lifestyle photography
Entrepreneur recommends using lifestyle photography to make your ads look like real content. The last thing you want to do is make your ad look "fake," which is why you should try your best to make it blend in with the rest of Instagram. Engagement and getting clicks is essential, and to that, you need to entice your audience with beautiful photography.
The best and most effective ads on Instagram are the ones that don't look like ads at all. In fact, your ideal customers will appreciate this. You never want people to feel that you're trying to "sell" them or trick them into buying something.

To achieve this goal, avoid using stock photography at all costs in your ads. Instead, create engaging lifestyle photography that showcases how your product could and would be used in real situations, and by "everyday" people that viewers can relate to.

See how Under Armour used lifestyle photography to attract and engage with its own ideal audience.
2. Use video to tell a story
Instagram is all about telling stories these days, and that's why Entrepreneur says you should use a video to tell a story. Launch an ad that tells your audience more about your brand, and that will help them better relate to what you stand for and what you're trying to sell.
Another way to reach your intended audience on Instagram is by creating and launching captivating ads that run within the Instagram Stories section of the platform.

According to Instagram, over 400 million accounts are now actively using this section of the app. Stories, in fact, presents a big opportunity for business owners who are willing to put the time, energy and money into creating unique, entertaining stories that users can see and interact with while viewing other stories from the people they follow.

The Stories tool on Instagram allows you to create immersive, vertical, fullscreen ads that blend photos, video, and text. Not sure what kind of story to tell? Here are a few examples from other retail and ecommerce brands:

Batch Organics ran ads in Instagram Stories that helped the brand successfully increase click-through rates.

Mainline Menswear ran ads in Instagram Stories that helped the brand boost brand awareness in an increasingly competitive product category.

Padani ran ads in Instagram Stories that helped the brand educate potential customers on the types of options they could choose from when shopping on  Padani's website.
Facebook Tips
3. Optimize ads when it's the right time
Moving onto Facebook ad tips, Post Planner tells us that Facebook timing is everything, which is why you should wait for the right moment to optimize your ads. Here's why:
Page managers sometimes panic when ads run but no results are provided within the first 24 hours.

Many businesses have daily ad budgets of $5 or $10 — and they quickly turn off ads that don't convert or convert too expensively.

They forget that the data they have on hand is not perfect. Most stats they use to make ad decisions are incomplete & insignificant because the ads haven't reached a large enough audience.

Tip

Don't worry… you don't need a statistics degree to follow what I'm saying here. It's quite simple.

There are plenty of resources to help you calculate the minimum reach before you start optimizing your ads — such as the sample size calculator.

As a rule of thumb, I usually wait for my ads to reach about 1,500 people before I consider any changes.

And if you target by age & gender, make sure each segment reaches at least 1,500 people before taking any results seriously.

Otherwise, you might be leaving money on the table.

Takeaway

Before you start optimizing a Facebook ad, make sure the ad has reached at least 1,500 people.
4. Run Facebook Messenger ads
Another way to increase your sites' sales is by trying a variety of Facebook ads, such as a Facebook Messenger ad. Single Grain also suggests managing these conversations with bots if you don't have enough people in your company yet to interact with potential customers.
If you don't already know, Facebook Messenger ads are a thing you can already set up. They're fairly cheap if set up correctly and very effective, in my experience. With them, you can do a bunch of things at once, in a single interaction, that would take quite a bit to set up in virtually any other scenario.

Facebook Messenger ads show up on the Messenger home screen. If you're already using Facebook ads and their ad manager, then setting up ad placements on Messenger is pretty simple and you can use some of the existing advertisement material to do so. With Messenger ads, you can send people who click on the ad to your website or start a conversation in order to connect with them, get additional details and allow them to see more of your product.

These conversations can easily be managed with bots. The bot we use can collect quite a few different types of customer data, including email addresses. Bots can also help direct customers to the best offer or landing page for them. Once a customer starts a conversation with you, you're also on their Messenger contacts as they are on your list. That means if they choose not to interact right away, you can always use this channel later.

We recently set up our Messenger ads to collect messages and store them inside of our bot. The bot we use is ManyChat to collect Messenger messages and email addresses (and, ideally, they've clicked on a link that gets them to a page that allows them to be re-targeted).

Also, if you have a Facebook ad that's performing well (and may do even better after you read this article and implement a few of these hacks!), you can use that within Messenger. Again, this will make you stand out more as there are currently few Messenger-focused ads.
5. Select the right ad frequency
Ad frequency is everything, which is why Post Planner says you should observe ad patterns and decide on the right frequency. Don't burn a person out on your ad, but on the other hand, you need your audience to remember you.
There's no exact science that backs up the claims many Facebook experts make about how often you should show the same ad to the same user.

Part of the problem is that reach doesn't mean a user saw your ad on Facebook. It just means that your ad appeared while they were using the website.

Tip

These guidelines might help:

Psychology experts say that someone must see something at least 3 times before they'll remember it. So even if someone notices your ad each time it appears on Facebook, you should still show each ad at least 3 times.

But there's also concern about burnout.

Will people turn off your ad (or label the ad as spam) after seeing it one too many times?

Try to estimate how often someone will notice your ad when it's shown to them on Facebook. Do this by rating the ad's visual attractiveness on a scale of 1-10 — 10 being the most attractive.

A rating of 1 could mean that only 10% of the people who are shown the ad actually notice the ad on Facebook. A 5 rating could mean that about half the people who are shown the add will notice it.

The point of this exercise is for you to make an informed decision based on the appearance your ads. How likely is it that those ads will grab somebody's attention?

Perhaps the best guidelines are found in success stories.

Aim to show each ad a minimum of 3 and maximum of 10 times in the news feed. The minimum could jump to 10 and maximum to 40 for ads that are shown in the sidebar.

Takeaway

If you're not familiar with ad frequencies & have no prior data from your ad campaigns, let your ad frequency go above 3 before you start making changes.

The maximum limit should vary depending on whether you show it on the news feed or sidebar.
Twitter Tip
6. Generate free clicks
Want to know a Twitter tip? Curata Blog has excellent advice, which is how to generate free clicks! No, it's not too good to be true!
On Twitter, tweet engagements are the most popular type of ad campaign. Why? I have no idea. You have to pay for every user engagement (whether someone views your profile, expands your image, expands your tweet from the tweet stream, or clicks on a hashtag).

If you're doing this, you need to stop—now. It's a giant waste of money and offers the worst ROI.

Instead, pay only for the thing that matters most to your business, whether it's clicks to your website, app installs, followers, leads, or actual video views.

For example, when you run a Twitter followers campaign, you pay only when someone follows you. But your tweet promoting one of your unicorn pieces of content will also get a ton of impressions, retweets, replies, mentions, likes, and visits to your website. All for the low, low cost of $0.
There are many social media and hacks out there, so don't be afraid to learn all that you can. The more you learn about online advertising, the better off you will be! Don't be scared to learn and grow, and before you know it, you'll be a social media advertising expert. Learn how to set up a successful online business during our free webinar training.
Sources: Entrepreneur, Post Planner, Curata Blog, Single Grain
CHALLENGE Yourself to Profit!
Free Download: Build Your Profit-Generating Online Business With This Free Blueprint
Sign Up, follow the easy steps and You'll get the tactics, strategies & techniques needed to create your online profit stream. It's free!
Free Download:
"Download The 21 Days To Profit Blueprint 100% FREE… and Discover The Single Most Profitable Niche Market Selection Technique"
All new plug and play blueprint builds
profitable Internet businesses in record time…