Many people have email lists that they don't know how to make money from. What's the point of having thousands of emails if you can't profit from them?
Luckily, this simple guide offers 5 ways to profit off of your list. After implementing any one of these 5 methods, you'll be able to milk your list for cash whenever you need to!
Before you read below, I highly recommend that you register for this week's webinar, where we'll show you the easiest way to build a highly profitable email list: click here to register now.
Method 1: Sell Other People's Products
Affiliate marketing, or selling other people's products for commission, is a very fun way to utilize your list. It's pretty simple:
First you find someone in your niche looking for affiliates to sell their product.
Select the deal that makes the most sense to you and get the link they offer you. This is the link you will use to sell their product. There are many ways affiliate programs offer payment. They can offer a commission for the sale, payment for each click made with your link, payment made for each addition to their list, etc. Do your research and select the offer that you think would profit the most for you and that your list would be most receptive to.
Now you push the link to your list by running a 1-2 week campaign promoting the offer. Depending on the offer, your list, and your style of marketing, the way you run your campaign is up to you. In fact, this is where the fun part is. Here, you can get creative in how you run your campaign and how you sell the affiliate offer.
After the campaign is over, go over the analytics. Was it a success? What worked? What didn't work? After going over the stats, write down what trends you found so that you can refer to them later. It's important that you learn what works and what doesn't work – by learning and constantly polishing your campaigns each time you run one, you'll become a powerful marketer.
You can find affiliate programs through these sites:
Amazon Associates
eBay Partner Network
CJ Affiliate
Clickbank
ShareASale
Method 2: Handle Cart Abandonment
Over 70% of online shoppers will abandon shopping carts they've filled before reaching checkout. That's a lot of money you can be losing out on and many businesses either don't know about this or don't know how to approach this problem.
What you can do to recover a big chunk of these buyers and boost your profits is to have the customer give you their email before checking out so that you can contact them after they abandon their cart.
In your email to them you're trying to regain their attention so that go back to the checkout page and make their purchase. There are a number of strategies you can apply to get this accomplished.
Firstly, make sure to setup your responder so that an email is sent out very shortly after the cart is abandoned so that the product is fresh in their mind. If you wait too long, over an hour, to get that email sent they will forget about you.
You can send an email letting the customer know that they're missing out on a highly rated product with stellar views, this is taking advantage of FOMO – fear of missing out. Nobody wants to miss out on something everybody is in on.
The most common ways businesses recover shoppers is by implementing special coupon codes to send out just to cart abandoners.
Include a photo of the item that the shopper is missing out on, this also takes advantage of that FOMO feeling.
Send multiple emails. Many abandoned cart flows consist of 3-5 emails, not just one. This way you're sure to get the customer's attention.
Method 3: Setup a Tripwire
Many marketers sell 'tripwires' to their list and find them to be very profitable. What exactly is a tripwire, though?
A tripwire is a low-priced product, usually under 20% the price of the main product, that is sold to cultivate a buyer-seller relationship. This is using the principle of continuity, if you have bought someone in the past you're more likely to buy from them in the future. Tripwires are sold to people so that they're more likely to buy the high-ticket products in the future.
For example, DigitalMarketer sells cheap $30 products as their tripwire and then they upsell the customers of this tripwire more expensive courses in the future. They found that these tripwire customers were 10x more likely to buy than their ordinary leads.
You can do the same thing. Sell a cheap product to your list and then upsell them the big product in the future. They will be more likely to buy these big products from you and as a result make you more profit.
Method 4: Survey the List
What better way to figure out what to sell than by asking your list?
A good strategy for profiting off of your list is to simply ask them what they want and then provide that to them. Many marketers go through a lot of trouble to find a product their list will want when they can just survey the list and ask them what they want.
After all, a business just finds problems and presents solutions. Find the problems your list has and then present the solutions they're looking for.
Model 5: Run Sale Campaigns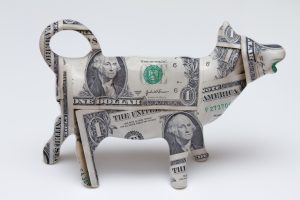 You will find that the majority of your sales will be made under special occasions, like sales or holidays. No business has a constant flat line of sales coming in over the year, there are times where the majority of the money is made. Take advantage of those times.
Over the course of the year, push sale campaigns to your list. Offer your product at a discounted price for a very short amount of time and push this opportunity to your audience.
Craft a multi-email campaign on this offer and maintain a sense of scarcity throughout the whole campaign. This sale is only available for a limited amount of time, get yours before it's over…
Some very effective sale campaigns have taken place over the course of a very small amount of time.
If you become known for running flash sales (sales that last over a VERY short amount of time, just a few hours) people will become more attentive to your emails in the case that these flash sales happen.
ALWAYS include calls to action at the end of your emails directing the customer to make their purchase now before the sale is over.
Now that you've read the article, I highly recommend that you register for this week's webinar, where we'll show you the easiest way to build a highly profitable email list: click here to register now.
Free Download:
"Download The 21 Days To Profit Blueprint 100% FREE… and Discover The Single Most Profitable Niche Market Selection Technique"
All new plug and play blueprint builds
profitable Internet businesses in record time…
CHALLENGE Yourself to Profit!
Free Download: Build Your Profit-Generating Online Business With This Free Blueprint
Sign Up, follow the easy steps and You'll get the tactics, strategies & techniques needed to create your online profit stream. It's free!