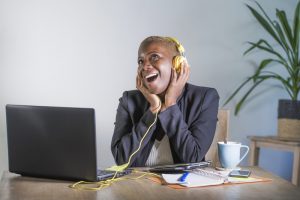 One of the most exciting parts of having an online business is getting to do work someone loves. Business owners can resolve issues that come up because their company matters to them and they also have people who care about them and like to help them come up with a solution. While building a new business success will often get measured by happiness and that largely depends on how the company goes based on team members (if there are any yet), customers, family, and friends. Running a business isn't easy (and we discuss how to get started on our free webinar training), and staying positive can get tricky when things don't go as planned. Below are some top tips on how to stay happy and follow through with goals while building a new business.
Delegate to others
In the beginning, you are going to have a lot to do, so depending on if you are launching your online business with family, friends, or a new business partner, you'll need to delegate specific work to everyone. Inc.explains why work delegation is helpful when creating a new business.
When you try to do too much it's bad for your business and your body. Most of us don't work well when we're crunched for time or are carrying a workload way beyond what we're capable of completing. Putting pressure on yourself to perform results in stress, unhappiness, lack of creativity, and even a sense of panic. As a business owner it's your job to delegate, not do everything. There's no shame in asking for help-in fact it's encouraged. Identify your weaknesses and outsource them so that you can excel in your department and let others handle the rest.
Entrepreneur adds to the Inc. author's thoughts by explaining how sticking to your strengths and allowing others to take over what you would consider your weakness will help your business grow. If and when your company does take off it'll be nice going away knowing your company is in good hands.
Play to your strengths and outsource your weaknesses. "Hire employees who can work without your supervision," says Jim Belosic, CEO and founder of ShortStack in Reno, Nev., which helps businesses run campaigns and  online promotions. "There's no better feeling than knowing you can take a few days or a week off from work and things at the office won't fall apart."

Next, hire a cleaning service at home. "Your most valuable resource is time," says Ruth Frantz, founder of Henri's Reserve, a curated e-boutique of family estate champagnes based in Southport, Conn. "The minute the house starts looking like a war zone, you feel you have lost control, as does the family. Outsource as much as you can afford."
Realize success is not linear
Everyone would like to think that progress is linear, but that just isn't the case. Inc. reminds us that it's vital to practice patience while building a company from the ground up. Not everything will go as planned, but that doesn't mean you should give up. You'll have good days and bad days but stick with it.
Practicing patience will allow you to appreciate each milestone on your journey to success, and not feel frustrated when things don't go exactly as planned. Each business experiences different obstacles, addresses shortcomings, makes changes and evolves. Because every individual owner and institution reaches success in a different way (and at a different speed) there is no point in getting angry when your business plan goes off course. If you enjoy the journey and adapt willingly, you'll find happiness in all stages of entrepreneurial success.
Business News Daily also recommends defining success on your terms. Select goals that support what you'd like to see your business become in the future and continue to change those goals and your company grows and changes.
Define success on your own terms. "In most cases, the growth goal is modest and the financial targets are important, but secondary to other objectives," wrote King. Growth objectives for a small business owner should be created in a way that supports your broader life goals, and only the business owner can define that, he said.
Effectively communicate
Without communication, it's challenging to get things done in a business, which is why Huffington Post says it's best to effectively communicate with team members and people who are helping you sort out your business and get everything set up.
Don't let frustrations or innovative ideas build up — that sort of stress can take years off your life and dramatically impact your day-to-day happiness. Instead, develop workplace strategies to clear the air, and open up the communication channels amongst your team. Small business owners rate "good intra-team communication" as one of the key factors to an improved quality of work life. So long as you're respectful and constructive, there is no reason to keep your thoughts and feelings hidden. Try holding weekly retrospective meetings, or giving the Kaizen philosophy a try! It's a great idea to not only express your constructive criticisms, but also your hopes and dreams for the company. Being heard and understood simply feels great!
Define your business and stick to boundaries
Medium mentions that you should define what your company is about and what you believe in. Remember why you started your online business to begin with and lean on that when you feel like giving up.
We believe you can lay the foundations for success by really defining who you are and what you stand for – your values, passion and purpose. At The Happy Startup School, we believe passion trumps any kind of entrepreneurial experience. Defining your passion is what will drive you to succeed – after all if you're not passionate about your business why should anyone else be?

This passion will help you define your business purpose and help people rally around your cause.

Rather than saving 'the real you' for the margins of life, you'll be living a seven day weekend!

It will create a contagiously happy environment for the people around you, with a positive effect on both productivity and profits.

Having a clear purpose will help people to know why you exist, giving your brand more resilience and your company a reason for being. It will also help you make quicker decisions.
Similarly, while building your brand Entrepreneur recommends keeping healthy boundaries so that you make time to do other activities such as spend time with family and enjoy your hobbies. It's essential to have a balance between spending dedicated time to your business and making time to soak it all in.
Most entrepreneurs throw the majority of their energy into their company, but that doesn't mean a venture needs to commandeer all his or her time. It's so important to put a fence around important breaks and moments to create balance in life. For some people this means spending time with loved ones. For others, it's important to pursue treasured hobbies. For example, I try to never miss a roast chicken dinner with my wife on Sundays or my company's basketball game on Thursday afternoons.
Happiness dictates a lot according to Medium, which is why when you stay happy you will be more open to ideas. You also will be more likely to come up with ideas and work better with co-workers. That's why it's in your best interest to stay happy and stick to those work and home boundaries.
Take a second and think about how you work when you're not happy, when you're feeling negative, anxious or stressed.

Are you creative? Inspired? Motivated? Engaged? Is our productivity at its peak?

Our ability to work at our most effective reduces when we're feeling stressed or under pressure. We can't make decisions thoughtfully or work to our full potential.

Now turn it around. When you feel happy, how do you work? Are you charged up, feeling creative and positive about outcomes? More resilient and persistent when we suffer setbacks?

Our brains become more alert, open to ideas and innovation when we're happy, letting us to work to our full potential. It's a recipe for productivity that comes much easier to those whose business idea revolves around something they believe in.
Make time for fun
Speaking of happiness, Entrepreneur says to continue to stay happy you should make the time to have some fun! Of course, in the beginning, setting up a business and making it profitable is going to take some work. However, that doesn't mean you're not allowed to have some fun. After all, it's those fun times that will make you remember why you started your business to begin with — to have a passion for what you do and enjoy your down time as well!
Entrepreneurs spend a huge amount of time at work. It should be enjoyable. When a business owner hires great people and provide them an environment that they'll enjoy, fun should follow. For example, I run a lending business, which is in one of the oldest and typically more conservative industries in the world.

On the surface, my company's office should be a gray sea of cubes or something equally as dull. Instead, it is set up in a way that encourages employee interaction and entertainment, including flying sharks (to represent our nemesis, the loan shark) and a mobile DJ station, a library and a ping pong table.
Another Entrepreneur article reminds business owners that happiness should be a priority, and to stay happy, you should schedule things that help you keep a smile on your face. Not everything is going to be joyous, but if you can keep most of your activities happy, then you're more likely to help your business succeed.
"To remain happy as a small business owner, I schedule things that make me happy just as I would a meeting with my sales team or marketing department," says Nellie Akalp, CEO of CorpNet in Westlake Village, Calif., a company offering business license and registration services.

"I schedule lunch with my husband" and "kickboxing lessons at least three times a week" plus "ice cream afternoons with my youngest," she says. "It may sound ridiculous to 'schedule' these types of things, but I really find that once they are in my calendar I follow through with them every time."
Happiness doesn't always come easy, but to enjoy your line of work and continue to help your business grow you should still work on finding a way to stay happy. Join us during our free webinar training to learn how to stay satisfied while developing a profitable business online.
Sources: Entrepreneur, Entrepreneur, Inc., Huffington Post, Business News Daily, Medium
CHALLENGE Yourself to Profit!
Free Download: Build Your Profit-Generating Online Business With This Free Blueprint
Sign Up, follow the easy steps and You'll get the tactics, strategies & techniques needed to create your online profit stream. It's free!