If you've done a Google search recently — which you have, unless you live under a rock — you've probably noticed the featured snippets at the top. This feature was added relatively recently.
You'll get an answer to your questions right there on the search results page, taken from one of the top results in the SERPs.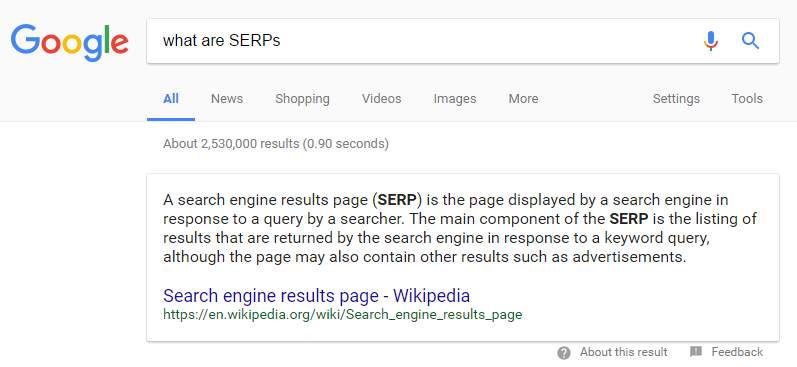 Naturally, you're probably wondering if there's a way to optimize your content so that it makes it into a featured snippet.
For many queries, the featured snippet is dominated by resources like Wikipedia, but that's not always the case. For many keywords, it's quite possible for smaller sites to make it into the snippet.
They key is in how you structure your content, along with other factors for which you can consciously optimize.
In this recent article from the Content Marketing Institute, they break it down into five key steps.
5 tips to create featured snippets

The good news is that, as a form of organic content, the featured snippet box is available to everybody who knows how to optimize their content accordingly. Yet, it's tough news — you have to work hard to gain it.

How do you make your content fit? If you can't buy the space, how do you take proactive steps to ensure that your page earns the top spot?

Here are a few simple steps I've used to create content that ranks in the snippets.

1. Create content specifically to answer questions. Provide in-depth answers.

Featured snippets are informational in nature. In the words of Neil Patel,"If your content doesn't answer questions, it won't get into the featured snippet. That's all there is to it."

2. Know the questions your readers are asking.

According to a 2015 article by Eric Enge at Stone Temple Consulting, 19% of searches using a question result in a featured snippet on the first SERP. Typically, these inquiries fall into the following categories:

How does
How do
How to
What is

3. Create truly high-quality content.

The primary thing you need to understand about featured snippets is that they do not bypass Google's complex ranking system.

They are among the topic organic results for a query. Because of this, it's critical to keep all the standard ranking requirements in mind as you create featured content.

This means your content needs to check these points:

High quality
Comprehensive
Entertaining (to engage the reader)
User-focused

4. Work to provide the best answer.

You're not going to land a featured spot unless you're the best at responding to a given question.

You can't afford to skim the surface with your featured snippet content. Work on hitting these three cores:

Dive deep and go in-depth with your content — cover every question that could come up on the topic.
Break down each step in the answer and use visual content to back it up, from videos to infographics and screenshots.
Remember to tailor your content to suit beginners in your niche.

5. Use question-and-answer pages.

Q-and-A pages on your site can be a great way to provide value to users, consolidate questions, and increase your chances of making it into a featured snippet. Because these sections already address user questions in virtually the same wording searchers would use, they're ripe to be picked up as featured snippets, and can seriously boost your chances of getting on the front page.

For best results, be sure your Q&A page features all relevant questions, and each is well-formatted with a complete answer.
You can learn more about how to optimize for Google Featured Snippets over at the Content Marketing Institute.
CHALLENGE Yourself to Profit!
Free Download: Build Your Profit-Generating Online Business With This Free Blueprint
Sign Up, follow the easy steps and You'll get the tactics, strategies & techniques needed to create your online profit stream. It's free!