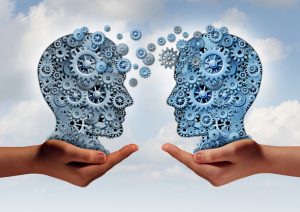 It's entirely natural for new companies to want to understand (and why) their audience acts the way they do. It's very challenging to develop an enticing and compelling marketing plan if a brand isn't sure if customers would effectively respond to it. So far, if the sales aren't coming in, that means it's vital to take some time to figure out how a customer thinks. We also discuss this during our free webinar training. While marketing and psychology are very different (or are they?), it turns out learning more about psychology can help a brand grow. Yearning to get some sales and a growing customer base? Check out these 5 psychological master keys that'll open doors to making money!
1. Don't overwhelm customers
First thing's first, Quicksprout says not to overwhelm customers, and we agree. Easier is better. As soon as a potential customer gets overwhelmed, they're likely going to jump ship, and you don't want that to happen. Keep their attention by applying the right techniques and make things as simple as possible on your website.
Have you ever had to make a difficult decision in a high pressure scenario?

It's tough!

The options keep bouncing back in forth inside your head, but you never seem to get closer to an answer.

Shopping might not be a high pressure scenario, but buying any expensive product is an important decision. People tend to put a lot of thought into the purchase before making it.

Now think back to a tough decision you've made recently, where you may have gotten a bit overwhelmed.

If you had an option to not make the decision in that scenario and move on with your life, wouldn't you have taken it?

Maybe not always, but most of the time, yes.

And that's what happens to your potential customer. They can opt out of a tough buying decision in half a second by clicking the close button on their browser.

As you may know, that's exactly what happens when people get overwhelmed. It's called "analysis paralysis," describing a scenario in which someone gets so overwhelmed they can't make a decision.

Do not let your potential customers get overwhelmed.

The famous jam study: Professor Sheena Iyengar wanted to see how variety affected decision making…with jam.

She went to a grocery store multiple times and set up a station offering samples of jam.

Many companies do this. They give out small samples of their products, which then increases sales of their products.

But Iyengar set this up as an experiment. She offered samples of 24 different flavors of jam to some shoppers, and she offered only six to others.

Which scenario do you think led to more sales?

Turns out offering the smaller set of jams was much more effective:

With 24 jams available, more shoppers tried a sample, but only 3% bought at least one jam.

With 6 jams available, fewer shoppers tried a sample, but 30% bought at least one jam.
2. Stay consistent
Shopify gives new businesses the advice of staying consistent. Consistency is essential because your words must align with your actions and vice versa. As soon as customers catch on to your consistent ways, they'll be more likely to stick with you and support your new products and incentives.
As it relates to the psychology of selling, the principle of commitment and consistency says that people will go to great lengths to appear consistent in their words and actions, even to the extent of doing things that are basically irrational.

That's why if you're trying to make a change in your life (losing weight, for example) it can be very helpful to share your goal. Once you've committed publicly, you'll have much more incentive to keep up your end of the bargain.

As a retailer, if you can understand the psychology of buying and get customers to make a small commitment to your brand—like signing up for your email newsletter, they're more likely to eventually purchase from you. And if you can actually get products in their hand, even if there's no official commitment to buy them, your chances increase even more.

This is the principle behind Warby Parker's Home Try-On Program.

Warby Parker knows that with a product that sits in your line of vision all day (literally), look and fit are important. They also know that if they can get a set of frames in your hands, they're a majority of the way toward making a sale, that's the power of understanding the psychology of shopping.

So they make it as frictionless as possible: Order the samples, get the box, order the frames you want, and send the box back for free. They say there's no commitment, but they're wise students of Cialdini. They know the customer feels the commitment the minute they open the box.

Make it easy to commit with easy returns

You can apply the commitment and consistency principle to your returns policy, too. In one study conducted by Narvar, nearly three-quarters of consumers said they'd would be more likely to buy from a company that has a "no questions asked" returns policy.

Zappos' and REI are two brands with famously easy return policies that are great examples of this. There's less friction for the customer to buy because they know that if they don't like it, they can easily return it. But once they have the product in their hands, will they really return it? Maybe not. They're already committed.
3. Offer incentives
It's true when Huffington Post says that offering website incentives can do wonders. Free shipping and offering a discount when a customer spends over a certain amount are two examples of incentives. Think about what would entice you as a customer and apply the same incentives for your customers to get sales.
These days, shoppers are spoiled, but e-commerce store owners may use that to their advantage. Free shipping both ways has become an industry standard practice. But for businesses aiming to increase average order totals, free delivery should only be reserved for orders above a certain dollar value.

For example, clothing retailer Express only offers free shipping when customers spend $125 or more.

Similarly, other stores give instant discounts when customers spend above a specified minimum order value. In a recent promotion, G.H. Bass offered $15 off purchases of $75 or more.

Even when shoppers only find one or two items they love at a store, they will relentlessly search for additional merchandise to add to their cart in order to claim money-saving offers.
4. Unity
Shopify says to use your niche to your advantage. Whether it's using a label or pairing up with a similar brand to create tongue in cheek ads, figure out creative ways to unify your brand and make it stand out from your competitors.
This seventh principle behind the psychology of selling is from Cialdini's Pre-Suasion.

The principle of unity is based on the idea of shared identities. Your brand and your customers may have shared ideas or values, but unity takes it a step further with identities, or groups. Identities are based upon those commonalities.

Let's take a scenario: You might be a brand that sells outdoor gear to customers who love spending time outside. When you apply the unity principle, you're identifying with groups of outdoors lovers. Patagonia is a prime example of a brand that has done this. They've self-identified not only as lovers of the outdoors, but as activists who are fighting to preserve the outdoors. This has encouraged groups of customers who share that identify to have fierce loyalty to the brand.

Don't be afraid of labels

When applying the unity sales technique to your online store, it's okay to use labels. In fact, it's encouraged. Labels enforce these shared identities. You're not a "Justin Bieber fan," you're a "Belieber." There's a reason his fans are so fiercely loyal; and they share that identity with each other to create an entire community of passionate Beliebers.

Ecommerce brands can take a similar approach. If your customers have created a label on their own, embrace it. If they haven't, look for opportunities to do so. The label can revolve around your brand or around a shared value.

Don't be afraid of enemies

Sharing enemies can be an effective sales psychology technique and quick way to build unity with your customers. The age-old battle between Apple and Microsoft is a prime example of this. The advertising war between the two major brands have fueled the rivalry, not only between the companies themselves but also among their customers. Mac and iPhone users are fiercely loyal to the brand and will quickly denounce all things Microsoft, and the same rings true the other way around.

But your nemesis doesn't have to be serious. Chubbies Shorts, for example, has waged war on pants and business attire. Their customers have found unity with the brand thanks to their shared dislike of conforming pants wear. They've created tongue-in-cheek marketing campaigns that have established that unity with their customers.
5. Social proof
You've probably heard of this simple psychology hack, and Hubspot explains it perfectly below:
Most marketers are aware of this concept already, but it was too important to leave out from this list. If you're not familiar with it, social proof is the theory that people will adopt the beliefs or actions of a group of people they like or trust. In other words, it's the "me too" effect. Think of this like an awkward middle school dance — few people want to be the first one on the dance floor, but once a few people are there, everyone else wants to join in. (Keep in mind, this desire to conform doesn't go away when you get older and less bashful about your dance moves.)

One easy way to make the most of social proof is on your blog. If you're not already, use social sharing and follow buttons that display the number of followers your accounts have or the number of shares a piece of content has. If those numbers are front and center and you already have a few people sharing your post, people who stumble on your post later will be much more likely to share.
Are you ready to take on these psychology master keys and use them to build a steady stream of customers? You can do it, and there are many more psychology hacks where these came from! Join us for our next free webinar training to get the scoop on how to create an enticing, money-making website that'll succeed!
Sources: Quicksprout, Huffington Post, Shopify, Hubspot
CHALLENGE Yourself to Profit!
Free Download: Build Your Profit-Generating Online Business With This Free Blueprint
Sign Up, follow the easy steps and You'll get the tactics, strategies & techniques needed to create your online profit stream. It's free!
Free Download:
"Download The 21 Days To Profit Blueprint 100% FREE… and Discover The Single Most Profitable Niche Market Selection Technique"
All new plug and play blueprint builds
profitable Internet businesses in record time…