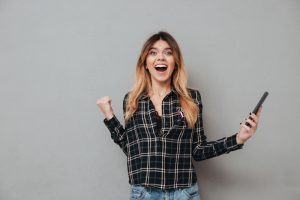 There's no time like the present to start an online business. It's the golden age where making a profit online is very possible. Thanks to the ever present growth of the internet and smartphones, the amount of business happening online continues to increase. While it may seem intimidating starting an online business in a big sea, it doesn't have to be. Right now is the perfect time to push fear aside and go for it! We further discuss the many opportunities the internet has to make a profit online in our free webinar training so we hope to see you there! Below are 5 online business ideas that may be an excellent fit. They also happen to bring in a lot of money for new and up and coming entrepreneurs!
Blogging
First up is blogging, which we all know works well as online business for many people. A blog opens up a lot of opportunities and interacting with readers through photos, videos, news, and more can help you make money and build a successful business. The Balance Small Business elaborates more on why blogging might be a wonderful fit for you:  
If you have expertise or a passion or interest for a subject, you're ready to start making money with a blog. With a service like Blogger (www.blogger.com), you can start up your blog totally free. You can also create your own site and secure your own hosting for a low price, which is generally the route I recommend, as many free blogging sites have restrictions on what you can say or do, including making money or advertising.

You may think blogging is all about writing. And it can be if that's what you want to do. But written blog posts are just the start. You can post photos, videos, and links to other sites, repost news and other articles… anything is game, really, as long as it relates to your niche.

They key is that you want to post original content that is useful to your target audience and to post on a regular basis. That is the best way to get ranked in the search engines and to also get your audience to take action.

What sort of content should you provide? Anything that is engaging to your prospect. How-to topics, top-10 lists, commentary on trends in your niche, tips and tricks articles—basically, you need to provide useful content. There's no shortage of ideas for your blog.

You make money in a variety of ways with an online business blog.
Virtual Assistant
Another wonderful opportunity to make money is by becoming a virtual assistant online. Virtual assistants are versatile and have the potential to make it big. If you already have assistant skills under your belt you might consider becoming a freelancer. LinkedIn explains how to monetize your skill set as a freelancer below:
If you need some 'right now' money, you can always find work doing secretarial type tasks via email or skype. There are thousands of entrepreneurs who will hire you to do basic work for them, like replying to customer service emails, scheduling meetings, or managing another tedious part of their online business. This is also a great way to get an inside look at the online empire you wish to build, by seeing how one already works from the inside out.

Ways To Monetize
• Hourly pay

• Paid per task completion

Real Life Examples
There are thousands of people who work from home and get paid a good $10 to $25 dollars an hour to help out an online business with all sorts of easy tasks. You'll likely find that customer service emails are a huge one, so is data entry. Not really the idea of a true entrepreneurial venture, but I thought I'd include it because everyone needs to cover the base somehow, and this beats showing up to a desk job all day.
SEO business
Heard of SEO? Entrepreneur explains why SEO is yet another hot online business to take on because it can help improve other online businesses. It can also improve a website's rankings and build their online presence.
Search engine optimization is a topic that I've been writing about for years now. The truth is that, while paid ads are growing at an astounding rate, the ability to appear organically and relevantly on search engines like Google is not only becoming more competitive, but also more lucrative.

When it comes to organic search keywords, there is sheer value at the top. Considering that roughly 40 percent of people click on the first search results and that the first page accounts for some 91 percent of the search share, appear organically at the top of Google's Search Engine Results Pages (SERPs) is something that is lusted and longed for by the world's foremost online marketers.

As the internet grows and expands, not only is SEO going to get more competitive, but it's also going to grow more lucrative. You could quite easily capitalize on this industry if you know what you're doing. This doesn't just go for doing work for clients, but also for yourself. You could launch any number of online businesses, niche websites, and blogs with the right amount of SEO skills.
Box subscription
Are you a current box subscriber? Most people are subscribed to at least one box because why not?! It's fun to get some surprise goodies in the mail. Entrepreneur explains why this is a great business opportunity and how it could take off for you as well.
The box subscription business has exploded. While it's nothing new, and it's been around for ages now, the overwhelming rise of the internet has breathed newfound life into this online business idea. What is a box subscription exactly? If you think back for a moment to one of the most viral box subscriptions businesses, you'll clearly recall the Dollar Shave Club.

Founded by Michael Dubin in 2011, the concept was ingenious in its use of a video that quickly went viral. The company was sold for a billion dollars, and when you look at it from a sales funnel perspective, what Dubin did was brilliant. Like other box subscription businesses, there's a basic level of items that you can order.

When you place your order, you're directed into a sales funnel with numerous upsells in the form of add-ons. Dubin's understanding of the market forces and his ability to have fun and create a business that was properly poised for explosive growth have made him an icon.

However, you don't need to go viral to enjoy the growth in box subscription businesses. You'll even discover websites like CrateJoy, which was created primarily to help connect potential subscribers with box subscription businesses, giving you a platform where you can get the proverbial word out about your business.

Companies like Graze, Blue Apron, FabFitFun, LeTote and many others are on the rise. In 2016, it was estimated by Shorr Packaging that there were 21.3 million box subscription websites, up from just 700,000 in 2013, a roughly 3,000 percent increase. What's most interesting here are the consumer demographics. The typical visitor to a box subscription websites makes roughly $78,436 a year and is in their early forties.
YouTube videos
Even though YouTube has been around for a while, LinkedIn argues that it's still hotter than ever. With so many videos and people watching videos, don't give up your dreams of becoming a successful Youtuber. You never know what could happen!
In the past few years, YouTube has grown rapidly. The site now has over 5 BILLION videos being watched per day. That is an INSANE amount of traffic for one website to be getting, and its opportunity for you to soak that up and make money from it. If you've got something to say, YouTube is the place to put it. Never before in the history of the world, has the average person been able to create a TV show from the phone in their pocket and have it watched by thousands.

Ways to Monetize
• Google AdSense for YouTube

• Sell your own product in the description box

• Sell affiliate products in the description box

Real Life Examples
YouTube stars are all over the place! You seen them! Maybe you follow PewDiePie Or iJustine? Or maybe Michelle Phan's makeup tutorials are more your style? Do you eat raw foods, cause maybe you follow Dan The Life Regenerator. My point is, no matter the niche, there is someone in that niche making YouTube videos about their passions and getting paid 6 and even 7 figures for it.
There are so many online business opportunities. Take the time to think about which opportunities would be a good fit for you and consider starting your own online business. We have a  free webinar training coming up and we'd love for you to join us. We enjoy talking to other online business owners who desire to learn more about this exciting industry.
Sources: Entrepreneur, LinkedIn, The Balance Small Business
CHALLENGE Yourself to Profit!
Free Download: Build Your Profit-Generating Online Business With This Free Blueprint
Sign Up, follow the easy steps and You'll get the tactics, strategies & techniques needed to create your online profit stream. It's free!