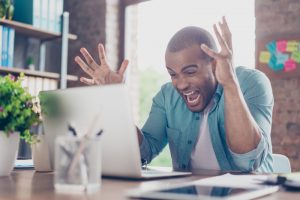 Starting a new online business is exciting, and to make it worthwhile, it's going to take a lot of time and dedication. We address some of the steps to take to make a business succeed during our free webinar training. Even though it's essential to put in enough hours to make the business worth the blood, sweat, and tears, there still needs to be a work-life balance. Why? Spending too much time, even in a new business, can lead to burn out. To prevent that from happening there are steps one must take. We discuss 5 of these steps below.
Create some 'me' time
Forbes recommends creating some time for yourself and understanding that even though our culture frowns on spending time by yourself, it's healthy and usually something that's much needed! Figure out a few activities you can do on yourself that'll revitalize you and maybe even give you fresh business ideas.
I have found I am genuinely surprised by how rarely people spend time by themselves; this might be because they are too focused on the week ahead, or other less important things. But I think it is vital to spend some time focusing purely on your own needs – as your well-being is so vitally important. One way of doing this is might be by picking a hobby which you can do by yourself, or with a small group, which allows your mind to relax. The common hobby that most people adopt is a sport. Sport is a good option as it allows you to ensure that you are both physically and mentally fit. Also, by playing a sport you are likely to interact with new people, therefore meaning that you are able to build new relationships which is a positive step in the right direction.
Establish an inner state of home
Even if you're working at home, Oprah says to establish an inner state of the home. In other words, you need to have a separation of home versus office. Think of happy things about home that you love and try your best to focus on home activities during your time off and work activities when you're working. Easier said than done, am I right?
Some people spend years in an office cubicle without ever feeling the energetic involvement of real work; others do brilliant, inspired work without ever leaving their bed. This is because both work and home are first and foremost states of mind. So to begin separating your work life and home life, we'll concentrate on creating a mental "state of home" inside your head.

To do this, focus on memories that feel relaxing, nourishing, replenishing—in a word, homey. Remember baking with your grandmother, or talking with your sister, or snuggling in bed with a loved one (fabulous sex is an excellent way to feel at home, as is cuddling with your beloved collie—just not at the same time).

If you don't have many homey memories, your mental state of home may feel tepid at first. Persist! Remember the most comforting times and places you can: the branches of the tall tree where bullies couldn't reach you, Uncle Joe's bomb shelter, the warmest corner of the prison yard. (Ideally, you're looking for a sense of joyful replenishment, but happy relaxation is nearly as good, pleasant neutrality will do, familiar boredom is better than nothing, and defensible concealment—well, you get the idea.)

Once you come up with three memories that qualify, hold in mind the feelings they bring, while silently repeating, "Home. Home. Home."

Only one thing now remains: time in the saddle. The more time you spend doing only homey things in your homespace and only worky things in your workspace, the more you'll develop the state-dependent memory that will trigger the associations you want in either place. When you enter your homespace, you'll automatically relax, effortlessly dropping effort and negative office juju. (If the urge to think or talk about work arises, note it, then picture it evaporating like steam.) And when it's time to work, the genuine R&R you've enjoyed will help everything you do feel more like flow.
Manage your time and workspace
Adding to Oprah's thoughts on establishing an inner state of home, Psychology Today recommends setting up a strict work schedule. Stick to your schedule, and you'll be more likely to avoid exhaustion and getting stressed out.
If you prefer separating work from home, stick to a strict work schedule or only check emails during work hours. You can also block off specific times in your calendar for strictly non-work, family, or friend time. Time management is equally important for those who like blending work and home. If your preference is to blend work and home, you should make sure to set aside time to distance yourself from your work to avoid stress and exhaustion.

If you prefer blending work and home life, you can hang up photos of your friends or family in your workspace. If you prefer separating work and home, but need to complete work at home, try to create a separate space for work and only perform work-related tasks in that space, during a set time frame.
Separate work life from personal life
Are you putting up enough boundaries? Forbes explains why that's important, especially if you work at home, and how to make it happen.
Sounds easy on paper but I am all too conscious of how hard this is to do, believe me!

Another way to improve your work-life balance is to ensure that you use your time away from work to concentrate on being away from work i.e. putting up boundaries.

For most people, checking their emails or text messages for work updates has become habitual (believe me as an entrepreneur, I am no different). This means, however, that their mind is far more likely to be thinking about working than relaxing, thereby limiting the time which they may need to recuperate. One simple solution to this problem is to avoid texts or emails which involve work over the weekend or outside of work times. By doing so, you can enjoy time to yourself, or with your family.

This might in principle mean not having work emails on your personal phone or just being EXTREMELY disciplined. Either way, if you are at dinner still responding to work emails that are not urgent – then it is time to think about what to do.
Use different social media sites for different purposes
Another way to separate work for your personal life is by setting up various social media accounts for different purposes. Don't mix your work accounts with your accounts; otherwise, it'll be hard to escape "work" when you're supposed to be relaxing. Career Contessa explains more below:  
If you'd like to separate your work relationships from your personal ones, it's a good idea to keep them separate online as well. The easiest way to avoid overlap is to use different social networking sites for different purposes.

For example, Twitter and LinkedIn are excellent tools for developing your professional network, whereas Facebook is often better suited to sharing photos and news with your family and close friends.

Of course, it's important to communicate these preferences to your contacts as well. So if a work colleague or client sends you a friend request on Facebook, you could politely explain that you use your Facebook account for staying in touch with close friends and family, then invite them to connect with you on LinkedIn or Twitter instead.

Similarly, if friends or family members share personal information or photos of you on the networks you're trying to use for professional connections, you should let them know that you'd prefer to use Facebook for personal interactions.
Psychology Today adds to Career Contessa's thoughts and offers advice on how to separate work from home with social media as well as phone numbers and email accounts.
Use tools and technology in a way that matches your preferences. If you prefer separating work from home, you can use separate work and personal email accounts or phone numbers and turn off notifications on work devices while at home. For those who prefer blending work and home, you can work from home more often in a "virtual workplace," or use the same email address and phone number for all contacts.
Stick to a work-life balance and your online business will likely grow at a healthy pace. Burn yourself out, and you may make unnecessary mistakes and miss out on some excellent opportunities. Join us during our free webinar training to learn more business fundamentals and how to continue having a profitable business online.
Sources: Forbes, Career Contessa, Oprah, Psychology Today
CHALLENGE Yourself to Profit!
Free Download: Build Your Profit-Generating Online Business With This Free Blueprint
Sign Up, follow the easy steps and You'll get the tactics, strategies & techniques needed to create your online profit stream. It's free!
Free Download:
"Download The 21 Days To Profit Blueprint 100% FREE… and Discover The Single Most Profitable Niche Market Selection Technique"
All new plug and play blueprint builds
profitable Internet businesses in record time…