You've heard the saying, "the money is in the list," right?
Well, it's true.
Having a list of people who are genuinely interested in what your business does can be extremely valuable. I mean, they've already raised their hand, gave you permission to contact them, and are just an email away from your potential offer.
But before you can turn that list into gold, you've got to generate the list (kind of obvious, right?)
Unfortunately, this is where a lot of people get stuck. That's why I was happy to come across this post from the folks over at HubSpot that shines a light on many common lead generating mistakes.
Take a look at these first four. Are you making any of these mistakes? (Be honest).
1) You're buying leads, not generating them organically.

If you're having trouble generating leads, it can be tempting to buy email lists so you can feed your sales organization with something — anything.

Bottom line here is that quality email addresses simply aren't for sale. The whole point of generating leads is to eventually nurture those leads into customers. In order for your leads to become customers, the leads you generate need to actually want to hear from you.

Your leads need to opt in, plain and simple.

2) You aren't using your blog to generate leads.

We find that marketers aren't fully taking advantage of blogging as a lead generation powerhouse. Either folks aren't blogging at all, or they're not putting lead capture forms or CTAs on their blog — sometimes because they don't have any valuable content offers to put behind a form.

Generating leads from your blog posts is simple: Just add a lead-generating call-to-action to every blog post. Most of the time, these CTAs will lead to landing pages offering free content like ebooks, whitepapers, checklists, webinars, free trials, and so on.

Promote your content offers by blogging about subject matters related to them, and then put CTAs that lead to the asset's landing page on every one of those blog posts.

3) You're not using social media strategically for lead generation.

Although social media is most effective for top-of-the-funnel marketing metrics like traffic and brand awareness, it can still be helpful as a source for lead generation — and a low-cost one, at that.

One way to generate more leads from social media is to sprinkle blog posts and offers that have historically generated higher-than-average leads numbers for you in with the new posts and offers your team is creating.

4) Your forms are too long or too short.

How long should your lead capture forms be? Striking a balance between asking too much and too little on your forms is a common problem marketers gripe with.

If your form's too short, more people might be willing to fill it out, which is great for leads numbers — but the quality of those leads might not be very high. If your form's too long, though, fewer people might be willing to fill it out, meaning you'll get fewer leads out of it. On the bright side, the people who do submit their information could end up being higher quality leads.

Your "sweet spot" will depend entirely on your goals: Do you need more leads, or do you need better leads? Essentially, the length of your form will lead to a tradeoff between quantity and quality of the leads you generate. In general, shorter forms usually result in more overall leads, while longer forms will result in fewer, but higher quality leads.
Read the rest at HubSpot.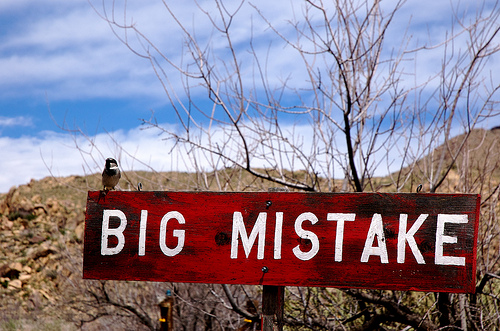 Image courtesy of: burnt sugar