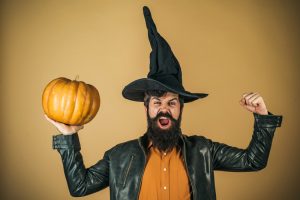 Trick or treat! Not, not yet, but before everyone knows it, Halloween will be here! That brings us to something important to discuss: It's essential to ramp up the marketing efforts during Halloween. Halloween has lots of tricks, and promotions must have tons of treats! A frightfully fun marketing campaign will greatly improve a website's reach. Plus, it should bring in more sales. In addition to joining us for our free webinar training to learn how to bring in more traffic, here are some spooky and easy promotions. These promotions will hopefully spook customers into coming back to your site for more!
Small Business Trends has a few fantastic ideas, which are to host a virtual trick-or-treat event and give "treats" with purchases. Get creative and come up with some ideas based on how your customers have responded in the past. It should pay off!
Host a Virtual Trick-or-Treat Event for Your Halloween Marketing Campaigns
You can also team up with other businesses to get people shopping and give away free gifts as part of an online trick-or-treat promotion. You can promote other businesses to your email list and social media followers and have them do the same for you. Then create a graphic or other promotional materials to show customers what each store or business is giving away to customers on Halloween.

Give Treats with Purchases
Even if you can't have an official trick-or-treat event, you can still get into the spirit by including small treats or themed gifts with customer purchases on or around Halloween. They're much more likely to remember the experience of shopping with you favorably. It's a great way to get shoppers to remember you from your marketing at Halloween.
Even though your business is online, that shouldn't prevent you from advertising it through traditional marketing. ThriveHive offers the ingenious idea of participating in a trick-or-treat event by joining. You can add a business card to the treats or network with fellow parents. It's time to get spooky or die trying!
Participate in Trick-or-Treating
If your town has a trick-or-treating event, take part! The increase in foot traffic can bring customers into your small business. Take this opportunity to familiarize with your community, get to know your existing customers, and meet new ones. Bonus points if you incorporated the other tricks in this post like having a Halloween special or contest!

Let your audience know via your website, social media profiles, and Google My Business listing.

When families come around to collect candy, have your business information available for interested customers, including your website and social media links to grow your online network. Make sure to use a hashtag for the event. If there isn't a hashtag, contact the coordinator and suggest one so that both business and family participants can more easily find posts about the event.

Join in on Community Events
During the month of October, plenty of community events will be taking place in your neighborhood, such as fall fairs, festivals, and farmers markets. Make sure you're there to attract new customers and delight your existing ones! A small table with coupons, decorations, and Halloween treats will go a long way when building your audience. Be sure to promote your presence on social media and advertise accordingly, such as an extra free item for the first 10 people who arrive at your booth. Participating in community events will help to build your local reputation.
Entrepreneur has yet another fantastic idea, which is to hold a Halloween costume contest. Invite your audience to participate and pick out the most creative costume. It'll be a great way to learn more about your customers and gain a stronger customer base! Check out the fun ideas below:
Hold a Halloween costume contest.
Holding a Halloween costume contest is a great way to get people into your brick and mortar business. If you don't have a physical business, you can hold a costume contest on social media and still get a ton of engagement.

For example, the Texas theme park Kemah Boardwalk utilized Instagram to hold a Halloween costume contest that gave its followers a chance to win weekly prizes or a grand prize.

via Kemah Boardwalk

You can hold a contest that encourages people to submit photos of their Halloween costumes, or even just ask them to share your post or tag their friends for a chance to win a prize. Don't forget to utilize Halloween-themed hashtags so that you can widen your reach and connect with a bunch of potential new customers this season.
Another way to have a fun time during Halloween in the online world is by making your website more "spooky." Small Business Trends explains how simple Halloween fonts and spiderwebs in photo corners can amp up the trick-or-treat factor.
Add Spooky Elements to Your Online Store Design
When marketing at Halloween, you can also add some flair to your online store. With some simple design elements like spooky fonts, spiderwebs in photo corners or even animated features, you can make it really clear to online shoppers that your business is in the Halloween spirit.

Send a Halloween Newsletter with Spook-tacular Bargains
Another on a list of Halloween marketing ideas is to use your email newsletter to show off your Halloween spirit to customers. Let them know about any Halloween promotions you're hosting and include an exclusive coupon code or discount offer to encourage them to buy products or visit your business over the holiday.

Start a Halloween Hashtag
On social media, you can encourage people to get involved through the use of a seasonal hashtag. Come up with something that has to do with Halloween and also your brand. Then you can use it to keep track of social content that followers want to share with you, and potentially even use it in other promotions as well.

Tell a Scary Story for Marketing at Halloween
People love a good scare. So you can fill that need with a simple blog post or even a podcast around Halloween. You can make it a really scary story or include some funny elements as well. You might be able to relate the story to your business or industry in some way. But if it doesn't relate directly, you can still provide some entertainment to your audience so they have a positive interaction with your brand and have an excuse to visit your website every Halloween.
Once again, another site that recommends focusing on specials and deals is Square Up. They have a great way to improve your offers in October.
Offer specials or deals.
Halloween-themed deals are a perfect opportunity to get more foot traffic and clients. An enticing, timely offer gives people a reason to choose your store over others. Think about offering discounts for items or services that will get people Halloween-ready. Square's email marketing tool has a template specifically tailored towards discounts and promotions, which makes this easy.
Entrepreneur discusses why you should spend time improving your online presence by using Halloween to your advantage. Engage your followers with fun Halloween-themed images and messages to garner a lot of likes and shares.
Halloween-ify your online presence.
Add some festive flair to your online presence: Let the Halloween spirit take over your social media accounts, like Facebook and Instagram, by posting Halloween-themed images and messages sure to attract many likes and shares from your Halloween-obsessed followers.

Dogfather & Co., a retail boutique and dog grooming spa, Halloween-ifies its Instagram account with photos of its furry clientele, to get viewers into the Halloween spirit.

via Instagram

Also decorate your website for the holiday so that users landing on your home page are filled with festive feelings from your brand. Just make some simple tweaks to your site by, for instance, adding a Halloween-themed image which utilizes a spooky font and festive elements like pumpkins or spiderwebs. Don't want to hire a graphic designer? You can easily transform your regular website images Halloween using a tool like PicMonkey.
Fundera offers another excellent idea, which is to give out trick or treat bags with your logo. As we mentioned earlier in the article, this is a fantastic way to help people learn more about your business.
Give Out Branded Trick or Treat Bags
It's relatively cheap to create some plastic bags with a spookified version of your logo on them—250 custom bags can run under $150. It's a great way to get your business's logo out in the wild on a night when a good majority of the public will be out and about. Leave them out at your store front for the taking or send them in a direct mail campaign.

Halloweenify Your Online Presence
Make your avatars, profile photos, and headers all Halloween-themed—from Facebook to your website to your email newsletter. Spookify your logo or other branding while you're at it. You can even create a Halloween-focused #hashtag related to your business that customers can post about or share.
Get ready to join in on the Halloween spirit! With a few simple changes, you can attract an audience by participating in fun Halloween events. Join us for our next free webinar training and find out how improving your online business takes a little bit of creativity, and we can help you get there.
Sources: ThriveHive, Small Business Trends, Entrepreneur, Square Up, Fundera
CHALLENGE Yourself to Profit!
Build your Profit-Generating Online business in this new 21-day challenge!
Sign Up, follow the easy steps and You'll get the Tools, Training, and Support needed to create your online profit stream. It's easy!