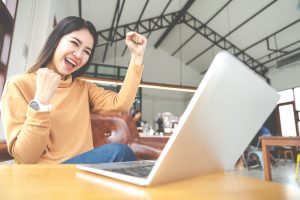 To truly grow an audience on YouTube there are a lot of platform-specific quirks to remember. Joining a large community is exciting, and there are many ways to build a YouTube channel. To start racking up subscribers, it takes some strategizing and coming up with techniques that work. If things don't align right away don't get frustrated. We can help brands get through frustrating times by revealing some methods that work in our free webinar training. We also discuss different avenues to use to grow a business online. For now, enjoy these 7 strategies that'll help build and maintain a steady YouTube audience.
Get your audience to watch your channel regularly
Contently recommends working on a regular posting schedule so that your audience doesn't fall off a cliff. You can post videos that continue a story or technique that people want to learn. Or, you can reveal various projects over a series of weeks. Be creative and keep your audience coming back for more.
Your editorial calendar on YouTube should look a lot like the calendar you use for your blog. Not every piece of content has to belong in a larger collection, but planning out a series can keep you on track.

Volvo manages a YouTube channel specifically for its trucks, and one of the best series it released on its channel was 2016's "The Search," a full season following professional driver and fuel efficiency advocate Christian Scheiflinger as he interviewed like-minded people. The episodes referenced the season's larger narrative arc, which led up to the moment Scheiflinger picked three of his subjects to enter the Drivers' Fuel Challenge World Final. It's certainly possible to watch a single video, but the way the content is structured, you're going to want to see the season through if you start.

Though "The Search" felt like a docuseries, Volvo's longer running series "Welcome to My Cab" recalls MTV's stylized reality shows from the early aughts like Pimp My Ride, Room Raiders, and Next? Each episode focuses on a professional truck driver as he or she gives viewers a tour of their cab, which is more interesting than it sounds. Thanks to Volvo, I learned the cross-country truckers spare no expense decking their cabs out with their hobbies and passions, whether that's Rihanna or death metal bands. Because "Welcome to My Cab" episodes are short, funny, and rarely mention Volvo's products outright, it's exceedingly easy to take in more than one episode in a single sitting.
Educate your audience
Your YouTube channel is the perfect place to educate your audience, which is Neil Patel argues is imperative. The sit puts it well by saying you should put education first and not always focus on entertainment. If your viewers like learning then you're in luck because you can create many more videos like the ones that do well!
While network programming like TLC prioritizes entertainment first and education second, as a brand, you should flip the script on YouTube. Put education first and entertainment second. Figure out the utility value of the content. In other words, what does the viewer get out of it?

The fundamental rule is to educate your viewer. That's not to say you don't have to figure out the entertainment part of it, just that it should serve as the sizzle of the educational steak.

Example 1: Bigcommerce

E-commerce software and shopping cart solution provider Bigcommerce hosts a series of educational videos on YouTube, which they've branded the Bigcommerce University and organized into playlists.

The majority of videos are effectively video tutorials to educate users or prospective clients of the platform, but they've also got a series that mainly targets marketers who want to learn the basics of SEO and keyword research, and it doesn't sell Bigcommerce too aggressively.

Although it sounds straightforward, it has proven effective: Bigcommerce has earned over 8,600 subscribers by focusing on education.
Create searchable titles
Hootsuite reminds us of how vital it is to come up with catchy and searchable titles. You should also focus on your descriptions. Every little thing can help you grow an audience in the long run.
I also asked Cochrane if he had any simple optimization techniques that people tend to overlook. He recommended spending a few minutes creating SEO-focused titles and descriptions.

"The best thing you could do is create YouTube titles and descriptions that have the most relevant search terms in them," says Cochrane.

"An easy way to test is to start typing into the YouTube search bar the words you WERE going to use in your title. Which search results come up? Now try other words (one word at a time because YouTube will autofill based on popular search terms) and you can see what other people are ACTUALLY typing into YouTube and see how many results those search terms give you."

Your Task: Use YouTube's autofill feature to create SEO-friendly titles and descriptions.
Know what's working (and what isn't)
After a while, if you're not seeing results Content Marketing Institute urges you to figure out what is working and what is not. Do away with what isn't performing well and instead, focus on coming up with more video topics and what is making you the most money and leading others to your site.
YouTube's audience retention report is a neat analytics dashboard, showing viewing duration, top videos, and audience retention for each video (e.g., a graph that shows precisely when users stop watching).

Tim urges creators to watch the last 20 audience retention graphs to spot triggers that cause people to stop watching the video. One of his clients discovered saying the word "module" would cause viewers to leave. When he stopped saying that word, he saw higher retention and viewing time.

Some creators are so in tune with their audience retention graphs that they know how many seconds they can talk before cutting to a different angle, how music impacts viewing patterns, and how often they need to say a sacred word or have another ritual.

Sacred words express your beliefs in a way unique to your creed. "These are the things that people use to identify themselves as an insider or an outsider," he says.
Translate popular videos
If you find some of your audience is coming from other countries, Hootsuite mentions how it may be worth your time to translate popular videos. Plus, targeting a brand new audience will surely improve your brand and viewership on YouTube.
It's hard to find a winning YouTube formula. But once you hit gold, you need to focus your efforts on replicating success.

After publishing for a few months, you'll likely have a few videos that resonate. I recommend translating these popular videos to a few languages (such as German, French, and Spanish). This helps you rank in international markets, gain new free YouTube subscribers, and expand your reach. It's always a good idea to add subtitles to every YouTube video as well.

Your Task: Hire a translation company to turn your top-performing YouTube videos into international hits.
Expand your search net with Pinterest
Don't underestimate the benefits of social media. Hootsuite urges small business owners to expand their search net by utilizing Pinterest. Pinterest and other social media sites are an excellent way to promote your YouTube channel and help more people find it.
Most of your subscribers will discover your channel by either searching in Google or via YouTube's search bar. Pinterest is also a visual search engine, making it a perfect match for your YouTube strategy.

Not every business or brand is right for Pinterest. To determine whether your customers live on Pinterest download our helpful audience worksheet.

Hire a designer to turn a few of your best YouTube videos into Pinterest-friendly images. For example, if you run a YouTube cooking channel, you might have a Pinterest visual that offers tips for proper knife techniques or quick tips about baking. On each visual asset, link to your YouTube channel and tell people they can watch the full video there.

Collect these graphics and create an SEO-focused Pinterest collection. For example, you could turn your topic-focused playlist into a Pinterest collection. Target a high-volume keyword with your Pinterest collection—such as "Healthy summer recipes" or "Photography 101 tutorial."

Consider investing some budget in Pinterest ads. They are quite effective and will help boost your visibility. This is optional as people will naturally discover your Pinterest collections via search.

Your task: Build SEO-focused Pinterest collections that link back to your YouTube channel.
Use a variety of video formats
Another way to improve your YouTube channels is by using a variety of video formats. Contently recommends using Q&As, comedy videos, product reveals, and more (which they discuss below).
If someone set an egg timer and said, "Name every type of YouTube video in thirty seconds!" I guarantee you wouldn't even scratch the surface, no matter how deep into the platform you tend to get.

Among the video formats appropriate for branded content are docuseries, live Q&As, unboxing videos, comedy sketches, event coverage, how-to explainers, animated explainers, and man-on-the-street montages. Below, you'll see Samsung's UK channel collaborating with Slashgear.com in an "extreme unboxing video," a blending of several genres.

Make sure your YouTube channel has video content of every run-time, format, and tone you think works for your brand. Of course, if you're a financial brand, you probably don't need to do an unboxing video, but you can certainly upload short, lively Q&As with one of your funniest advisors alongside a serious short documentary about getting out of debt. That way your audience always has something to sink their teeth into, regardless of how much time they can devote to engaging with your work.
Join us for our next free webinar training to discover other ways you can grow your business and utilize different social media channels to push out content. You have the potential to develop a successful and profitable business!
Sources: Contently, Neil Patel, Content Marketing Institute, Hootsuite
CHALLENGE Yourself to Profit!
Free Download: Build Your Profit-Generating Online Business With This Free Blueprint
Sign Up, follow the easy steps and You'll get the tactics, strategies & techniques needed to create your online profit stream. It's free!