would you have the GUTS to do these things?  Now that is determination bordering on crazy…and crazy smart.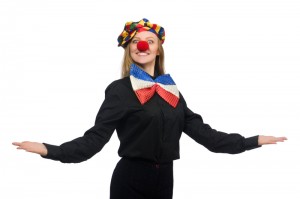 We have heard of stories of eating ramen noodles and knocking on doors to make a first sale.  And of course there are the more far out stories that have made their way around the internet.  Stories of crazy things that business founders did to make it.  Some are crazier than others and some may have moral conflicts.  However, we have found some stories about companies you have heard of.  Like really big companies that had unusual starts.
In this humorous and informative post from business insider they list out some of these crazy things:
The founders of Reddit created tons of fake accounts.
Reddit, known as the "Front Page of the Internet," is a site based on user-generated news links. In 2013, it had 731 million unique visitors.

But when it launched in 2005, it had so few visitors that the cofounders operated multiple fake user accounts and responded to themselves to give the semblance of traffic. Furthermore, since the founders owned all the fake accounts, they could build the tone and shape the discourse and direction of the site.

Their "fake it 'til you make it" philosophy paid off. As the real user base grew, they were able to abandon the fake accounts.
Whoa!  Well that is one way to go about things.  It is a multi billion dollar company and one of the biggest sites on the internet now.
The founders of PayPal gave out free money.
Online payment service PayPal now makes transactions totaling as much as $315.3 million per day.

But when the company first started out, the founders paid new users $10 to join, and even more money for referring their friends. It operated at a huge loss to get traffic, but it paid off when they hit 1 million users in just over a year of existence.
If you can afford it in this case free money worked wow!!
The founder of The Muse was banned from Gmail for spamming potential customers.
The Muse, a site that offers career advice and job opportunities, now features major companies like Facebook and McKinsey & Co.

In the days when nobody had heard about it, cofounder Kathryn Minshew knew word of mouth would be critical. She says, "We didn't have a penny to spend to jumpstart the process, so I decided to email my network and ask them to spread the news." She used Gmail to pull a list of everyone she'd ever emailed into Excel and started messaging them all — until she was interpreted as a spammer and Google shut down her email account.

This isn't the only guerrilla growth hack she did. In order to keep The Muse financially afloat in the early days, Minshew planned their launch party for 150 people for just under $10, including cab fare to move three heavy boxes of donated gin. She also guaranteed an employee's salary from her personal bank account.
Haha.  Well that is certainly over the top.  And it also shows determination for her to guarantee money like that and also scrappy to put together a party on that budget.
The founder of Pinterest personally wrote to thousands of users.
Pinterest wins the 5th Annual Crunchies Awards for Best New Startup.

Popular social media site Pinterest now has 70 million users worldwide.

At first, Pinterest's community was so small that cofounder Ben Silberman personally wrote to the first 7,000 people who joined the site to ask them what they thought about it.

Today, he attributes Pinterest's usefulness to collecting so much input and feedback from the users.
Now this one is a little less crazy and more ambition and commitment.  That kind of customer service certainly pays off.  Could you actually imagine writing that many emails?  It must have taken an extremely long time.
What is the craziest thing you have done or would do (that is moral) 😉 to get a business off the ground!  Perhaps door knocking to get your first sales?  Or maybe getting a lot of contacts by going to conference and meetup event one after another for months?
Good luck out there and happy entrepreneuring!!