Nobody's perfect, myself included at the top of the list. Especially when it comes to writing.
A while back, I had a tremendous 'LOL moment' when one observant reader pointed out one of my own blunders! I had shared an article about 7 worthless words to stop using in your writing, one of them being the word 'just'…
…and this person pointed a floodlight on my hypocrisy: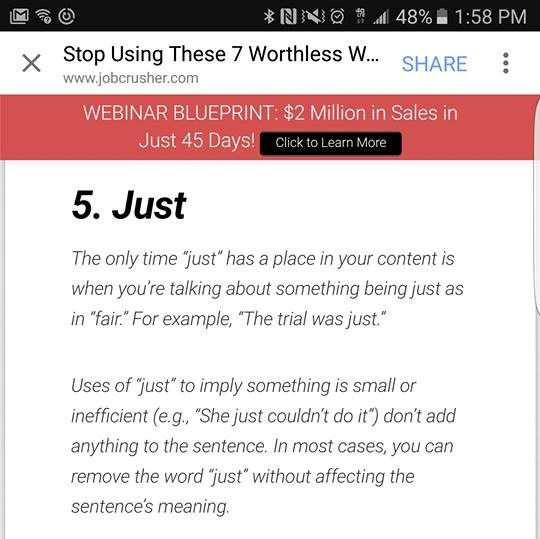 It just goes to show, we all have room to grow and improve.
Even the folks over at Contently, who do a lot of writing. They shared this article about their own consistent bad writing habits they started to notice.
So take a look. Are you making of any of these so-called 'mistakes?'
Here's 5 common bad writing habits you might be making:
1. Transforming nouns into verbs and verbs into nouns

A plague in the corporate world, changing nouns into verbs (verbification) and verbs into nouns (nominalization) is especially egregious on a site that's proud to hold the top search results for "content marketing buzzwords."

Adding -ize or -ise to a noun ("incentivize"), or tacking the standard -ed, -ing, -s verb inflections ("siloed") to a noun, makes your writing seem more like a bad corporate memo. So, too, does making an "ask," needing a "solve," or requesting a "build."

These words commoditize (ugh) and corporatize (ugh!) human actions. They should be banished.

2. Using "luckily" when there's no luck involved

"Luckily" is such a common transitional word that people overlook its meaning. Is there luck involved in the "plenty of opportunities to turn data into stories"?

No, that's a detail about the world.

Is luck responsible for a browser extension that "helps Twitter users get more information about the people they're following"?

No, smart engineers probably are.

Is it lucky that "with every problem comes a solution"?

No, that's just called optimism. You get the point.

3. Overusing "in other words"

Content marketing is a complicated topic, so phrasing a thorny thought in a different way can help. But too often, our use of "in other words" is misguided or unnecessary.

Like when we employ the phrase twice in three paragraphs to repeat effectively the same thought. Or when the sentence doesn't need it. Or when it attempts to clarify an already-clear thought. In other words, if you write with enough clarity and logic, "in other words" is almost never needed.

4. Using "etc." when you've run out of things to say

Using "etc." at the end of a succession of things is one of those writerly crutches that makes one look lazy when it's overused. Its biggest offense is popping up at the end of lists that leave you wanting more—more detail, more explanation, more connections between the things listed. Here, for example, we mention "a set of clearly defined brand guidelines: colors, fonts, preferred terminology, etc." How'd we get from colors to preferred terminology? By using "etc." instead of completing the list, we leave readers wondering what, exactly, brand guidelines involve.

Here, we say employees should contribute through "blog posts, webinars, etc." But with blog posts and webinars being so different in format, what are the other items? "Etc." leaves knowledge gaps that we should fill in with substantive words.

5. Starting sentences with "For example"

There's something inelegant about beginning too many sentences with a transitional phrase like "For example" or "In addition." It reminds me of essays I wrote in middle school, when I struggled to make logical writing transitions without using these phrases foisted on me by teachers who knew my pitfalls. Read publications known for their stellar writing and you'll notice that transitional phrases almost always never begin sentences.
You can read 5 more bad writing habits from our friends at Contently.
CHALLENGE Yourself to Profit!
Free Download: Build Your Profit-Generating Online Business With This Free Blueprint
Sign Up, follow the easy steps and You'll get the tactics, strategies & techniques needed to create your online profit stream. It's free!
Free Download:
"Download The 21 Days To Profit Blueprint 100% FREE… and Discover The Single Most Profitable Niche Market Selection Technique"
All new plug and play blueprint builds
profitable Internet businesses in record time…