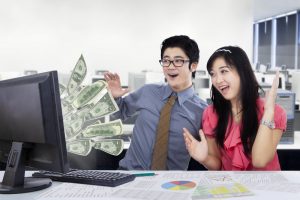 As there continues to be a high demand for new ways to learn online, students expect easy access to classes via laptops, tablets, and smartphones. Not many have tapped into this incredible niche, and e-learning marketing continues to take off at lightning speed. Since this market continues to soar, why not take the time to sell something that students would like to learn? Learn with us about new business ventures during our free webinar training and find out how to use online educational courses and a variety of other online business ideas to your advantage. It's possible to develop a profitable online business!
If you decide to take the plunge and offer online courses, Entrepreneur recommends offering more value than expected. By creating valuable online courses, you'll be letting students know that your classes are packed full of information. They'll feel like they got their money's worth.
Nowadays, it's quite easy to slap a high price tag on a course that shares mediocre value. Maybe the content is rushed, or maybe it doesn't share the secrets your audience is really looking for and willing to invest in. Avoid this at all costs.

Stephen Campolo, creator of the 12-week Body Transformation Challenge, advises taking a customer-centric approach. "I started sharing my fitness knowledge on social media in an effort to help as many people as possible," he explains. "That is when my life truly changed. All I wanted to do was help one person, which turned into thousands all over the world. This was only possible because I started to lead with value."
Digital Marketing Institute recommends defining your audience before starting your class. Or, if you've already begun filming, take the time to think about who your audience is. You want to keep your audience in the back of your mind as you develop your course. It'll help frame everything and help you produce high-quality work.
Define Your Audience

As with any business venture, it's critical to know who you are trying to sell the product to. Online training options are vast and varied so if your institution is to succeed in selling courses, it's crucial to have a clear sense of who your customers are.

To define your audience, consider creating audience personas. Drawing up a detailed profile of your ideal customer, their interests and pain points will help you find them.

After this, you can segment your audience further to consider different types of people who may be interested in purchasing an online course.

Once you have clear, defined audience personas, you can look to develop a strong value proposition. This must reflect the needs of your ideal customer and encompass the unique value your course offers them.

What makes your course better than other education providers?

Differentiate from Competition

Online training providers face a lot of hurdles when trying to sell their courses. One of the biggest challenges is their competition.

As the industry picks up pace, it is increasingly important to find ways to differentiate your company from the competitors. To get the edge on your rivals, look to do the following with your online courses:

Test them rigorously. Don't let a great course suffer from a poor user experience. Test the design out, looking for flaws and spots where there could be an improvement in every area. Ensure that the education you provide caters directly to the needs of your audience. Strive for perfection, and when you get positive feedback and testimonials, use these to garner more credibility.

Use a professional design. Anything else will look amateur and will be treated as such. Top-class training deserves a slick, professional design that is appealing and enjoyable to navigate.

Make it mobile-friendly. Depending on the age of your students, you may have users on smartphones, tablets or laptops. Your online courses need to be responsive to different devices, allowing for seamless interchanging and easy access, regardless of the platform.
Have you thought about creating a Facebook community for students? If you don't have time to create a community or group, join a group to get to know what students are looking for. Instant Expert Success discusses how this can benefit your online venture:
More and more courses are offering a community for the students, which is another added bonus. Facebook communities are a great place for your students to crowdsource information if they have a question regarding course material, and many see it as an added bonus to connect with others committed to learn what they're learning. Or, you could take this tip in a different direction; Facebook groups can also be a great host for your online course, so you can save money on the course platforms. Tanya Smith of Mindfully Marketing swears by this method thanks to Facebook's new "social learning" capability, but advises to keep an email list of all members.
Sell Courses Online suggests selling an evergreen course, which is setting up a class to hopefully get your audience to buy another course that has more value. There's nothing wrong with creating evergreen courses, but they work well because you can use them as a segway to something greater. Tap into your audience that way. Continue to develop courses to expand upon the knowledge you are giving them.
There are some strong arguments in favor of keeping your online course enrollment always open and the strongest one is that your students can enroll in your course anytime they want and they don't need to wait for your next launch.

If your evergreen course is a lower end offer, you can sell it using a simple 4-part sales sequence that follows the welcome campaign that you send upon subscription:

Day 1 – Introduce Your Course – Introduce your course, explain what's in the course, what they get when they buy it and what they can expect to learn from it as well.

Day 2 – Overcome Objections – Tackle all the objections that your potential customers might have and help them decide whether the course is right for them or not. You should also answer questions related to your target audience, refund policy, etc.

Day 4 – Case Study & Social Proof Email – Include any testimonials from your past students or clients. If possible, include a case study and share how you helped your students get results in the past. Tell them they can also get similar results by enrolling in the course.

Day 5 – Opportunity Cost Email – Create a sense of urgency by pointing out the opportunity cost of not enrolling in your course now. Build a case of why they should enroll now and remind them that there is a money-back guarantee, so it's a no-brainer.

If someone doesn't buy the course during your evergreen campaign, you should put them into your regular newsletter so that you can keep them engaged and sell again in the future.

While this sort of an approach works well for selling lower-priced courses, it won't be effective for selling a premium-priced course and the simple reason is that your subscribers will need a stronger push in this case.

In order to make a stronger push, you need to offer a special discount or a special bonus which is available only for a limited time but at the same time is unique for each subscriber.

In order to achieve this, you'll need to use a tool called Deadline Funnel that lets you create evergreen deadlines that are unique to your subscribers.

Deadline Funnel tracks your visitors using both IP and cookies and thus lets you create an expiring offer that is genuine and your users can't see an expired offer simply by visiting the page in a private window or a new browser.

Deadline Funnel is an advanced tool and there is a certain amount of learning curve attached to it as well. So, I don't recommend that you take this approach if you're just getting started.

This will unnecessarily complicate the whole thing which is not desired in the beginning and so, a closed cart approach would be the best option for you to sell your premium course initially.
Join us during our next free webinar training and discover how to develop an online business that works for you. We often reveal how to build an audience, hold their attention, and many other techniques that'll help you skyrocket your business to success!
Sources: Entrepreneur, Digital Marketing Institute, Sell Courses Online, Instant Expert Success
CHALLENGE Yourself to Profit!
Free Download: Build Your Profit-Generating Online Business With This Free Blueprint
Sign Up, follow the easy steps and You'll get the tactics, strategies & techniques needed to create your online profit stream. It's free!