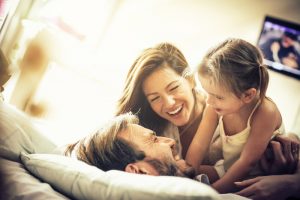 Many people are surprised to discover what successful people have in common – making time to relax and unwind during the weekend. These weekend habits help them take on the following week with a fresh set of eyes and a sense of accomplishment (Yes, you can feel accomplished by merely relaxing). While it's a good idea to maximize hours when not at work, it's also important to take time away during the weekend. Adopt the same habits as successful business owners, and you'll be a happy and productive person. Here are some ways to take advantage of your time off and it doesn't include working all weekend long!
Wake Up at the Same Time
Even though it's nice to sleep in every once in a while, Forbes recommends sticking to your normal sleep schedule to ensure your system doesn't get all out of whack. Switch up your schedule too much, and you may not be as productive when Monday rolls around. You may also feel more tired of having to turn around and wake up early the following week, which isn't fun.
It's tempting to sleep in on the weekend to catch up on your sleep. Though it feels good temporarily, having an inconsistent wake-up time disturbs your circadian rhythm. Your body cycles through an elaborate series of sleep phases in order for you to wake up rested and refreshed. One of these phases involves preparing your mind to be awake and alert, which is why people often wake up just before their alarm clock goes off (the brain is trained and ready). When you sleep past your regular wake-up time on the weekend, you end up feeling groggy and tired. This isn't just disruptive to your day off, it also makes you less productive on Monday because your brain isn't ready to wake up at your regular time. If you need to catch up on sleep, just go to bed earlier.
Limit Technology
Our lives practically revolve around technology and social media, which is why Business Insider says it's so important to unplug and set aside some time to put the cell phone away and turn off the computer for the day. Not only will it help you rest your mind but you can focus on things that matter – such as family time, nature, and other hobbies.
Successful people set email and phone rules for themselves and the people they work with, so that people understand when, if at all, they will be available to respond or pick up.

"This can communicate to employees how critical it is for everyone to take a complete break, and that any and all work can wait," Kerr explains. "Although employees may assume this, they often need to hear it from their leader to be able to completely relax over a long weekend."
Spend Time With Loved Ones
Has your busy life made it difficult to make time for your family? If your business is at a place where you're successful but you still don't have any time for yourself, you may consider hiring someone or coming up with a solution. Entrepreneur mentions that it's important to set some time aside and spend time with those you love the most.
It's no surprise that weekdays can be hectic and filled with obligations. There's a good chance you spent more time in front of your computer (and with co-workers and colleagues) than with the most important people in your life. Make sure you're tending to the quality relationships in your life by making them a priority on the weekends.

Have a date night with a partner. Go for a long walk or enjoy a leisurely lunch with a friend. Make sure you're building and maintaining those relationships by really listening to them. And then share what's on your mind and how you're feeling. The support and connection you feel with others will give you resiliency and can support you in stressful times.
Stay Active
Staying active is not only good for your health, but it's good for your mental health too. During the weekend you should take more time to exercise and enjoy yourself. Lifehack mentions how Anna Wintour, Vogue's editor-in-chief spends her weekend (being active of course!).
Vogue's editor-in-chief commits to playing tennis for one hour every day. And she's not the only big-shot making time for exercise. Richard Branson stays active with kite surfing and India's fourth-richest billionaire is a serial marathon runner. Successful people know the importance of an active body for an active mind — weekends included. If nothing else, it will also counteract that glass of wine and cheese platter from Saturday night.
Simplify Chores
Forbes also recommends making chores simple, even if that may sound challenging to do. If you're going to have a restful weekend, it'll hard to accomplish that if you're focused on getting chores done. Instead, try to only commit to a few errands that you can't go without taking care of and the rest can wait until the following week.
Chores have a funny habit of completely taking over your weekends. When this happens, you lose the opportunity to relax and reflect. What's worse is that a lot of chores feel like work, and if you spend all weekend doing them, you just put in a seven-day workweek. To keep this from happening, you need to schedule your chores like you would anything else during the week, and if you don't complete them during the allotted time, you move on and finish them the following weekend.
Don't Take on too Many Tasks
An article on Lifehack recommends not multi-tasking and taking on too much on the weekends because it can overwhelm and defeat the purpose of a weekend, which should be to relax.
Multi-tasking is so 2005. It may be tempting to maximize your weekend productivity by running on the treadmill while calling your mother and trolling your newsfeed, but successful people know that this just reduces efficiency and effectiveness. Instead, be present for each single activity. Ferris recommends a maximum of two goals or tasks per day to ensure productivity and accomplishments align.
Pursue a Passion
If you've been working every weekend, it may be hard even to consider taking up a hobby, but interests and passions can help you unwind and enjoy. The Muse reveals some fun facts on a few well-known people and what their hobbies are. Who knows, perhaps the following famous peoples' hobbies will encourage you to find your own and enjoy them during the weekend!
Would you believe that former U.S. President George W. Bush is an avid painter, that three-time Academy Award winner Meryl Streep knits for leisure, or that billionaire investor Warren Buffett plays the ukulele in his spare time?

You're more than just a cog in a machine: You have interests and passions. Cultivating a hobby is a fantastic way to unwind after a long week, whether you're playing a sport, pursuing photography, or even scrapbooking. But this is about more than unwinding; engaging in side projects and creative hobbies can result in enhanced work performance by way of encouraging creative thinking to solve work-related problems. Bottom line: don't feel guilty about making time for your hobbies.
Being a Child (Again)
Who says you can't be a child again during the weekend?! Doing something fun and not caring about what others may think is how to enjoy life to the fullest! Inc. reveals some excellent ways to embrace your childhood dreams once more.
Once they have a little money in the bank, many successful people go back to their childhood. William Barron Hilton, son of hotel pioneer Conrad Hilton (and grandfather of Paris), spends his weekends flying every type of plane imaginable around his 750,000-acre ranch in Nevada. Hilton learned to fly while in the military, and over the years, he's flown everything from balloons to helicopters.
Relax and Reflect
Last, but certainly not least, spend your weekends relaxing and take some time to feel rejuvenated. Do this, and you can go back to work on Monday feeling refreshed and stress-free. Sounds pretty good, right? Entrepreneur dishes on why this is so important:
Savvy entrepreneurs have learned that they must give themselves the space and time to decompress and mull over the events, issues or dilemmas they face. Giving yourself time for self-reflection allows you to link and construct meaning from your experiences. Reflection is one of the main ways we gain insight and foster complex learning and personal growth.

In our busy world, we are often dealing with packed schedules and juggling multiple issues. Make sure you find time on the weekend to disengage from your hectic schedule and just chill. Try journaling, going for a walk, taking in the beauty of a sunset or even just focusing on the present moment and being aware of all the sensations you're experiencing.
Sources: Entrepreneur, Forbes, Business Insider, Lifehack, The Muse, Inc.
Free Download:
"Download The 21 Days To Profit Blueprint 100% FREE… and Discover The Single Most Profitable Niche Market Selection Technique"
All new plug and play blueprint builds
profitable Internet businesses in record time…
CHALLENGE Yourself to Profit!
Free Download: Build Your Profit-Generating Online Business With This Free Blueprint
Sign Up, follow the easy steps and You'll get the tactics, strategies & techniques needed to create your online profit stream. It's free!