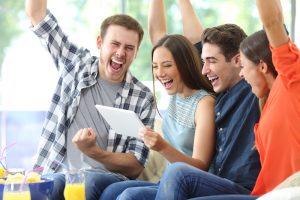 Today an online audience is seeing plenty of content but in some cases are lacking connection. We're social and create friendships around our passions and interests. We also like to connect with brands that align with those interests. Online businesses, as we've often mentioned in our free webinar training, will always win when they establish a community of dedicated customers. They can spend less time marketing everything to death and more time focusing on keeping and forming new relationships. Below are some proven ways to curate customers into a community. 
Kapost recommends being a part of a discussion and focusing on inviting potential customers to be a part of that discussion. Establishing a driving force behind your brand will help current customers and leads identify and trust in products and services you are selling.
Customers join communities so that they can feel closer to your brand. As your community grows, user-generated content will become a larger part of your overall strategy—and you'll want to let them build bonds without your interference. In the early days, however, you have to count on being a large part of the driving force behind discussions within your community.

Start discussions on your chosen community platform regularly. Respond to inquiries. Solicit feedback. Make them feel like they are a part of the product development process.
Are you giving your customers a voice? Disciple recommends giving your customers a voice by listening to their needs. If your customers start feeling ignored, they'll more likely look elsewhere for similar services. 
Building customer loyalty comes with two-way compensation. The moment customers get the feeling that you're not listening to them is the moment they start turning away in droves. No one likes to be ignored or, worse still, be confronted with constant upselling and cross-selling whenever they have a legitimate concern they want to share. Brilliant brand communities are those where customers have the greater voice. Lego, for example, lets members submit their ideas and vote on each other's proposals. Those which receive enough votes go to market, and the person who submitted the idea even gets a cut of the sales. What could be better than that? Not only is there a financial incentive – Lego fans get to have a direct influence on the development of one of their favourite products.

Giving your community members a voice doesn't just make them feel like valued customers; it also presents direct business benefits. Customers know what they want, and it's your job to give them that, not to tell them what you think they should want. The wealth of feedback generated by a community of engaged customers feeds directly into making a better product. Businesses can use this information to continually improve not only their offer itself, but also their marketing, customer support and every other customer-facing aspect of the company. That's why models like crowdfunding and early access have become so successful in recent years.
Creating your unique language is a powerful way to connect, as Entrepreneur tells us below. A few examples, as explained below, are Lady Gaga's "Little Monsters." 
Create your brand for an archetype your audience wants to become or a characteristic they want to amplify. For example, Harley Davidson riders are outlaws, while Tough Mudder is about being the hero. Then develop your own unique language to capture that identity, so your customers attach it to you. That's why "Star Trek" fans identify as "Trekkies" and Lady Gaga has her "Little Monsters."

This can create a positive "us versus them" mentality. Just like you want to attract those who are right for your tribe, you also want to repel those who are not. Think back to the Apple ads that distinguished between two types of people: Apple users and PC users.
Inc. recommends being consistent and providing value because without it; it's going to be hard to take your brand very far. Inc. elaborates more on why offering value to your customers is vital:  
Be consistent.

Another crucial element when it comes to building a loyal following is consistency, according to Nicole Munoz, founder and CEO of Nicole Munoz Consulting, Inc.: "If you are doing something right that your community loves and adores, keep doing it."

According to Munoz, brands should be very careful and smart about any changes and adjustments they want to make. "Always keep the 'old favorites around' and be sure to introduce new ideals carefully, potentially in soft batches depending on how popular you are," she recommends.

Continuously provide value.

"If you want to foster brand loyalty, you must continuously provide valuable resources to your community," insists Duran Inci, co-founder and COO of Optimum7.

On way of achieving this is by focusing on educating your audience and helping them make informed decisions, Inci believes: "In addition to our monthly newsletter, we provide free marketing and e-commerce learning resources to our clients through detailed e-books and interactive workshops."
As you continue to grow your business, don't be afraid of approaching people. Kapost also says that interacting with people will help them learn more about you. The interaction will also show them what you're selling, and hopefully, make them want to stick around for more. 
Being able to interact with people that represent your company is one of the driving reasons why people want to join a brand community. They want to learn about product updates before you let your email list know about it. They want to beta test new features. They want better product support and the ability to have their questions reliably answered.

To give these things to your audience, you need to be present. While the CEO doesn't have to take part in every conversation, you should at least ensure that your customer support and success reps are engaging with customers whenever it makes sense.

In short, your company should be approachable. Your customers should see you interacting regularly on the community platform and shouldn't feel intimidated about asking questions, joking around with your team, and developing closer relationships in the process.
Entrepreneur recommends offering insider access, as that makes an audience feel special. Plus, offering insider access can provide your customers with exclusive benefits that no one else has. 
Many cult brands cater to outliers. Their customers appreciate that not just anyone can have what they do. For instance, Johnny Cupcakes built their business on limited-edition clothing and accessories and turned down retailers asking to sell their designs in stores.

You can give your community this "insider" status in different ways. You might create valuable content just for your community. Give them first access to special announcements, opportunities, or sales, or create ones just for them. During the annual blackout sale on Despair.com, only insiders can access the website, not to mention the special prices.
Another way to curate customers into your company is by strengthening your bond with them through rewards programs. As Disciple says, everyone likes perks, which is why you should use that to your advantage. However, keep in mind that you can't "buy" someone's loyalty. Stay true to yourself, and your brand and the rest should follow. 
The term 'brand community' might be relatively new on the scene, but it has a long history in the form of loyalty programs. They've been around for well over a century, and they still play an important role in driving people towards your community in the first place. Although reward programs don't necessarily lead to lasting customer relationships, they're a good starting point. Not only do reward programs show the value of joining up; they can also incentivise further engagement and empower brand advocacy.

While everyone likes perks such as discounts, freebies and exclusive offers, companies also need to remember that they can't simply buy loyalty. Reward programs should never be seen as compensation for having a substandard product or poor customer service. Rather, they serve as a stepping stone to spark those initial engagements, as well as encourage customers to continue participating. In fact, reward programs don't necessarily even need to be financially attractive; many businesses use gamification tactics to award active participants with points and ranks. Though rather abstract in nature, gamification offers a proven method to instil a sense of achievement.

For example, The North Face, allows each of their customers to sign up to their loyalty programme.

Instead of just encouraging customer to pay more money, their rewards programme really understands their target audience. The type of rewards on offer are in line with their ethos and brand. This helps build a deeper connection between North Face and the customers.
Developing a successful business online is exciting, and what's even more impressive is gaining loyal customers who love your services and products. Join us for our next free webinar training and learn more about how to create your customers and develop a robust and loyal community. 
Sources: Entrepreneur, Inc., Disciple, Kapost
Free Download:
"Download The 21 Days To Profit Blueprint 100% FREE… and Discover The Single Most Profitable Niche Market Selection Technique"
All new plug and play blueprint builds
profitable Internet businesses in record time…
CHALLENGE Yourself to Profit!
Free Download: Build Your Profit-Generating Online Business With This Free Blueprint
Sign Up, follow the easy steps and You'll get the tactics, strategies & techniques needed to create your online profit stream. It's free!