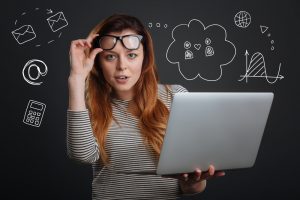 As a small business owner who is starting to build an online business, there's already a lot to do while managing the day-to-day operations (We discuss how to get an online business up and running during our free webinar training). But it's important to take the time to think about how to build business credit, especially if the goal is to scale up. It takes time to build a business's credit, which is why many business owners start early. Whether or not a loan or line of credit is necessary, setting up business credit now can provide a safety net — and savings — in the future.
For starters, establishing a business entity is essential so that you can separate your business credit history from your personal credit history. Fundera explains why it's necessary to keep the two separate and also outlines various structures to choose from (i.e., C Corp or LLC).
As we mentioned before, your business credit history is separate from your personal credit history. To keep these two things separate, you need to set up a business entity and incorporate your startup.

Unincorporated business entities—a partnership and a sole proprietorship—are the easiest to work with in terms of starting up and managing paperwork. But with these structures, there's no legal or financial separation between the owner and the business. When you choose to work with a vendor or apply for a loan, you'll have to provide your personal social security number. As a result, your activity on your business accounts will be reflected on your personal credit report.

If you're concerned with establishing business credit, then you'll want to choose one of the following structures:

C Corporation. A C corporation gives you and your business the most legal and financial separation. This makes it much easier to quickly establish and build business credit. A Corporation is ideal for a business that's planning to issue stock or go public in the future.

S Corporation. Many businesses avoid a C corporation structure because a C corporation is subject to a double tax. S corporations are a "pass-through" entity that avoids this double taxation, and the business's profits are only taxed at the individual level. Beyond this, an S corporation has the same business credit building benefits of C corporations—establishing clear separation between you and your business.

Limited Liability Company (LLC). An LLC is another type of incorporated business entity with liability protection and financial separation between you and your business. An LLC makes it easy to establish business credit, but it's easier and less expensive to manage than a corporation.

While it's important to keep your ability to build business credit in mind while making your decision on how to structure your business, it's not the only thing you should be thinking about.

If you're unsure what exactly you should be focusing on, consult a business lawyer or an accountant to determine how you should structure your startup.
Wondering why you need a business credit score? Nerd Wallet gives us the scoop on what it affects and how it can affect your business.
If your business is just getting off the ground, you're probably using your personal credit to do the borrowing. If things are going smoothly, you might be wondering why it's necessary to establish separate credit for your business.

Getting financing may be easier: Establishing a solid business credit score can help increase your chances of landing a small-business loan or line of credit at favorable terms.

Rates on insurance policies could be lower: As your business grows, insuring it could get expensive. A high business credit score may help keep rates lower.

Business and personal finances are separated: Creating a credit profile for your business adds a layer of separation between your business and your personal finances. Keeping your finances separate makes it easier to track business expenses for tax purposes.

Borrowing power increases: Strong business credit can help you get larger amounts of financing.
Even though you set up business credit doesn't mean you can use that for lenders. According to Entrepreneur, it's still essential to have excellent personal credit. If your business is doing well, a bank should hopefully increase your credit line in the future.
While unsecured credit that doesn't require a personal guarantee is very appealing, the majority of traditional lenders will require it, especially if your business credit profile is new or thin.

Maintaining solid personal credit will allow you to secure your first few tradelines and it also helps get your foot in the door at banks. This is an opportunity to show banks that your business is healthy and responsible, which can lead to increased credit lines and future unsecured approvals.

If your personal credit needs some work, dedicate some time to improving it — it's the fastest route to securing business credit, especially if your business is new.
Use business credit to establish cash flow is essential, which is why Credit Karma recommends using a business credit card to assist with that task. Do your research on which credit cards have the best interest rates and what their grace periods are, etc.
One potential benefit of building your business's credit is you may become eligible for lower rates and better terms with vendors. Both of these can help you manage your cash flow — the lifeblood of many businesses.

You can also use a business credit card to manage your cash flow. "Credit cards may offer fast and flexible financing at interest rates lower than other types of quick funding, such as merchant cash advances," says Detweiler. "The key is to make sure the overall cost (including interest paid) will result in a profit for the business."

A credit card's grace period lets you avoid interest charges, while lines of credit might accrue interest immediately. Heads up, though: If you revolve a balance on your credit card, the interest rate may be higher than what you'd pay on your credit line.
When your business gets going, and you set up business credit, you should remember that it's a good idea to maintain a good relationship with your bank. Entrepreneur says a personal banker, in particular, can help you build your business credit and answer any questions you might have.
Business credit has fewer restrictions in terms of what banks can do compared to personal credit. On the personal side, the banks must abide by fair lending laws and other restrictions. Whereas, on the business side, relationship banking is more common.

Developing a strong relationship with your bank, and more importantly a personal banker, will take accessing business credit to new levels. Your banker will be willing to jump through hoops if they understand how your business works and who is running the company.

If you have a personal history with a particular bank, that will give you a slight advantage and help speed up that relationship-building process. If you have a strong history, it's an indication that you will also be a great client on the business side as well.
Fundera says it best by reminding small business owners (all business owners, really) to borrow responsibly. The worst thing you can do is get over your head and have your company collapse. Spend wisely and make prudent decisions so that everything hopefully runs smoothly.
When it comes to establishing and building business credit, your mantra should be exactly the same as it is with building personal credit: borrow responsibly.

Your score isn't going to skyrocket overnight. But with steady, responsible borrowing habits—drawing from a mix of business credit accounts, and paying those accounts on time and in full—you'll see your business credit score improve.

As with a personal credit rating, your business credit rating will suffer if you apply for too many credit accounts over a short period of time. Make sure to space out your business credit card or business loan applications.

And just like your personal credit score can get dinged by too much debt, so can your business credit score. If you're feeling cash flow crunches or are having trouble paying your bills as a result of too much debt, consider options like refinancing or debt consolidation to make payments more manageable.
If you do end up having business credit cards make it a priority to pay on time or early, maintaining a positive score is essential and can improve your credit score.  
Pay on time or early. The sooner you pay your bills, the better your business credit score will be. On the Paydex scale, 100 is reserved for businesses that pay 30 days before the due date. A score below 20 means the business pays 120 days or more after payments are due.

Another incentive for paying early: some creditors offer a discount if you pay within 10 days. That offers the double advantage of improving your credit score and putting money back in your pocket, Boatsman says.
Join us during our next free webinar training and learn how to set up an online business and what techniques you can apply to make it succeed. 
Sources: Entrepreneur, Credit Karma, Fundera, CreditCards.com, Nerd Wallet
Free Download:
"Download The 21 Days To Profit Blueprint 100% FREE… and Discover The Single Most Profitable Niche Market Selection Technique"
All new plug and play blueprint builds
profitable Internet businesses in record time…
CHALLENGE Yourself to Profit!
Free Download: Build Your Profit-Generating Online Business With This Free Blueprint
Sign Up, follow the easy steps and You'll get the tactics, strategies & techniques needed to create your online profit stream. It's free!