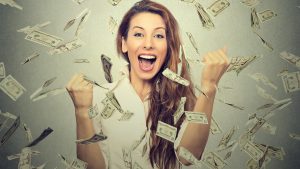 With a digital world that is continually growing, it becomes harder and harder to hold their attention. If the content is not relevant to an audience's needs, they won't stick around. And if they won't stick around, that means a site will have a harder being successful. To better attract customers — which is a topic we talk about quite frequently during our free webinar training — it's essential to hold their attention. It's possible to do this with captivating content. Let's find out more about inbound marketing and how to make it useful for your business. 
UP provides a clear definition of inbound marketing and how, if done correctly, it can improve your online traffic. Improve your traffic, and you'll be more likely to attract and keep new customers.
What is inbound marketing?
First you need to understand that inbound marketing is an approach designed to engage with a buyer persona and to pull that specific audience towards your brand through the creation of quality content that adds value to them. It's about empowering them throughout the sales funnel and continuing to delight them through the use of content even after they've became customers.

By adding value to these potential customers, inbound marketing will be better than outbound marketing in delivering more qualified leads and a better ROI for your business.
Small Business Trends tells us how powerful inbound marketing is. They reveal that if a business learns how to master the art of effective inbound marketing, its leads can increase by up to 72%! These statistics are very encouraging for online business owners. If you effectively use inbound marketing, then your site has a more significant probability of improving and securing customers
Inbound Marketing Statistics
The most impressive finding in the survey is how inbound marketing increases leads and conversions. The businesses say it has increased their leads by 72% and their conversion by 55% in the past six months.

It is important to note businesses have different agendas when it comes to their marketing strategy. For the businesses in this survey, 24% say attracting leads is their biggest priority in their inbound marketing strategy. The same amount (24%) also say converting the leads to customers is their priority.

Social Media for Inbound Marketing
Nine in ten or 90% of businesses use social media platforms for their inbound marketing. The reason, according to the report, is because they have a large audience and they are easy to use. However, not all businesses are using social media effectively.

While 42% say social media provides the most successful inbound marketing activity, 21% say it is the least successful.

When they do use social media, 62% use content promotion materials and 61% create visual content. Other businesses (53%) say they incorporate blogs and search engine optimization into their strategies.
What about SEO? If you're wondering how important SEO is for your business, Hubspot explains how to use it to optimize your webpages. More specifically, learn about what the search engines look at and what you can do to improve your rankings.
Optimize for On-page SEO
On-page seo deals with structuring the content of your web pages in a way that makes it easy for search engines to see and understand what the page is about. Practically, the search engines look at 5 specific areas to understand your page:

The page url
The page title
The header tags
Image alt tags
Body copy
By placing keywords into these key areas you effectively communicate your page's message to the search engine. Additionally, you should be optimizing each page of your website for only one keyword. If you try to optimize a single page for multiple keywords you will end up confusing both search engines and your readers.

Develop an Off-page SEO Strategy
Off-page seo deals with building inbound links to your website and landing pages. Holistically, the search engines see inbound links as "votes" for your content. The more inbound links that you have to your site the more valuable your content must be.

However, not every link is viewed as equal in the eyes of the search engines. Some links have more "authority" than others. By authority I mean the weight and importance that is assigned to a specific link. Lets look at a brief example to solidify the concept:

Let's say you're a custom furniture manufacturer looking to build inbound links to your website. Each link that you develop is going to help your seo rank, however, each inbound link is valued differently.

A link from a major furniture retailer like: Raymour & Flanigan, Thomasville, or Ashley Furniture is going to be worth way more than say the local retail furniture shop's website. So as you are building your off-page seo it is important to focus on building both the quantity of inbound links as well as quality links to your website.

By developing a sound on-page and off-page seo strategy you can increase your search engine rank for keywords that are relevant to your business. This will help drive qualified leads into the funnel as visitors query these keywords and find your content.
Digital Marketing Institute argues that blogging has a significant impact on a site's return on investment, and we couldn't agree more. Make blogging a vital part of your marketing strategy, and you'll be 13 times more (see this stat below!) to increase your income year-over-year.
Blogging Has the Biggest Impact on ROI
84% of inbound marketers report organic, top of funnel sources (such as social media, blogs and SEO) as rising in importance. But what's the best inbound practice for achieving that much-talked-about positive ROI? Apparently it's plain old blogging. The report found that marketers who prioritize blogging are 13 times more likely to increase their ROI year-over-year. However, HubSpot does caution that this figure might not be entirely accurate as too few marketers can report reliably on their ROI.
Are you growing your email list? Another essential part of inbound marketing, as explained by WordStream, is increasing the number of people who are on your email list. Below are a few excellent examples of what you can try to increase the number of people who come to your site.
Grow your email list
There's a common misconception among people who aren't marketers that email is an outdated technology. It's better to invest in social media, right? Wrong.

According to DMA's "Marketer Email Tracker 2018" report, in 2017, the average return for each £1 spent on email marketing was £32.28. That's a pretty crazy ROI if you ask me.

It's great to have a blog, a YouTube channel, a podcast, or a best-selling book, but the most valuable online marketing asset you can have is an email list.

That is why you need to make sure that you are using all the other inbound marketing methods to draw people to your email list. You can do that by adding opt-in forms to your website and encouraging people to subscribe. You can even make it mutually beneficial by offering something in exchange, like an ebook, video course, or a webinar.

And once you've grown that list? Remember that no one wants to be spammed with endless sales pitches, so make sure that your emails add value. One company that does this really well is a male grooming brand Beardbrand.

via Beardbrand

This company sends their subscribers a mix of helpful grooming tips, interesting grooming-related content, and promotional emails. Now, when a subscriber of theirs who enjoys their emails wants to buy, say, beard oil, who will be the first company that comes to his mind? Beardbrand.

So figure out what your subscribers want and give it to them. What problem do they have that you can offer a solution to in the form of an email?
Another way to promote your business is by paying close attention to the culture of your network. What does that mean? Learn more about your audience and pay attention to where they spend their time the most. Part of figuring this out is understanding each network. Hubspot more about this below:
Understand the Culture of the Network
When looking to promote your company through social media, it's very important to know the culture of the networks on which you are posting. Once you understand the culture, let this information influence the type of content that you promote on that network.

A tangible example would be the difference between Facebook and LinkedIn. Facebook has a fun and casual culture, while Linkedin has a more professional feel. Typically people are using Facebook to browse pictures of family, stay abreast of happenings with friends, and watch funny videos.

Linkedin on the other hand has a much more professional culture. Business people are using Linkedin to network with colleagues, stay current with industry trends, and follow thought leaders. So post content that is consistent with culture of the network.
Another form of inbound marketing you should pay attention to is Pay-per-click. Use this advertising method, and Up says you'll increase your web traffic and make more money.
Pay-per-click (PPC)
PPC is a paid advertising tactic that falls under inbound marketing because it targets specific searchers who are actively searching for solutions that your brand can provide. A faster way to get your content or product in front of this specific audience is by incorporating PPC into your inbound marketing strategy.

With PPC, you are able to pay digital channels for top placements in search results by utilizing specific keywords and messaging to attract qualified leads to click on your ad. Once you focus a strategy that combines SEO with PPC, this will deliver the best insights needed to better search positioning, maximize your web traffic and conversion opportunities.
Are you ready to give inbound marketing a shot? By implementing some of these tactics, you'll be on your way to creating a profitable website. We can help you get there too! Join us during our free webinar training to learn how you can improve the quality of your online site and gain a stronger customer base.
Sources: Small Business Trends, Hubspot, UP, Digital Marketing Institute, WordStream
CHALLENGE Yourself to Profit!
Free Download: Build Your Profit-Generating Online Business With This Free Blueprint
Sign Up, follow the easy steps and You'll get the tactics, strategies & techniques needed to create your online profit stream. It's free!