Recently, Ahrefs — one of the top SaaS companies in the SEO space — did a massive research project where they looked at two million featured snippets.
You've probably noticed that for some queries, Google gives you an answer right there on the search results page, quoted from one of the top 10 results.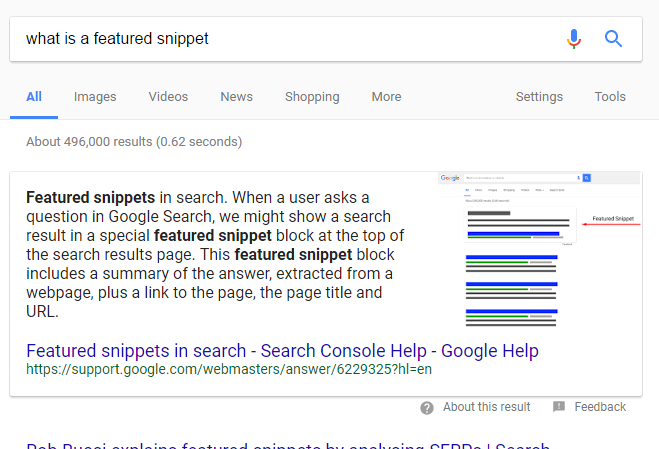 That's called a "featured snippet," and recently, Google has been creating them for more and more queries.
The site that's quoted in the featured snippet isn't always #1 in the search results. But if they're not, being in that featured snippet can definitely steal traffic away from the site that is in the first position — along with the other results.
That's no good if you're ranked first.
So if you are already ranking, or you're likely to rank, for a query that brings up a featured snippet, you want to be the one that gets quoted.
In their recent write-up on their research, Ahrefs offers some helpful tips about how to maximize your chances of being featured.
1. Secure the featured snippets that you already own.

The odds are your website ranks in a few featured snippets already.

You can easily see that in Ahrefs' Site Explorer tool by applying a "Features" filter to the list of keywords that you rank for:

[image source: Ahrefs]

(We only rank in 12 featured snippets with ahrefs.com website)

If you don't want someone else to steal these featured snippets away from you, you have to make sure that each of your featured snippets perfectly matches its search query.

There are three simple ways to do it:

Your content should be awesome and up-to-date;
Try to provide both the question and the answer on your page (make sure both are short enough to fit the "box");
Match your content to the current format of the snippet (paragraph, list, table, image).

Here's a great post by Richard Baxter that shows this strategy in action: Optimising for Google's Quick Answer Box.

2. Look for existing opportunities.

We already know that any page that ranks in the top10 Google search results can be "featured."

You can use Ahrefs' Site Explorer to quickly find the keywords with featured snippets where your website is ranking in the top10:

[image source: Ahrefs]

(Looks like there are 195 keywords with featured snippets where ahrefs.com website ranks in the top10)

The key to winning these snippets from your competitors isn't in any way different from what I just suggested.

You just have to "feed" Google a better snippet than what's already listed.

Some people have reported that using structured markup helps to get featured. At first Google confirmed it, but immediately after they said otherwise.

Well, according to a recent study from GetStat, Schema.org markup is actually less common on featured snippet URLs than it is on regular search results:

We noted that the code snippet of itemtype="https://schema.org/ appeared on 15.7 percent of featured snippet URLs, but we saw the same markup on 19.6 percent of regular search result URLs. Wikipedia was the number one domain for featured snippets in our data set and they don't use Schema.org, which may have skewed our results here.

3. Write in-depth content that helps people

As you just learned from this study, the majority of featured snippets are:

triggered by long-tail keywords;
triggered by search queries that aren't categorized as questions, comparisons or prepositions.

This means that the best way to rank for a lot of featured snippets is simply to produce a lot of great content that will address what people are searching for.

And, of course, formatting it in a way where it would be easy for Google to pull featured snippets from it.
You can learn more about how to optimize for Google Featured Snippets over at Ahrefs.