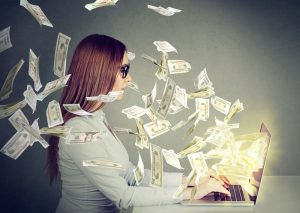 Today there's a vast consumer marketplace that many people are taking advantage to sell products and services on the Internet. That's why entrepreneurs choose ecommerce websites. It can be scary setting up a site to sell products, but it's vital to start somewhere. Many new business owners may not know the process right away, and that's okay. If things don't go as planned in the beginning, it's essential to anyone's success to realize it may take time. Thankfully there are experts in the field who have loads of advice to expedite the process. Wondering where to start first? Keep reading to learn some tips on how to make sales and help an ecommerce business succeed.
Quicksprout talks about how to make sales, and it's all about awareness. Blog posts can help with that, and that means regularly pushing out content.
There is a big difference between website traffic and sales.

You may have noticed in the early days of your site launch that you've gotten some traffic. That's great. But nobody is buying anything.

Don't worry. It's a game of numbers. No website has a 100% conversion rate.

But the more traffic you can drive to your site, the greater your chances of getting sales will be. It's all about understanding the customer conversion funnel.

The top of the funnel is the awareness stage. Blog posts help create brand awareness and generate more site traffic.

via QuickSprout

That's why blogging is absolutely necessary for all ecommerce sites.

Think of it like this. What are you selling? Is it so important that people are going to shop every day for it? Probably not.

But your blog gives people a reason to visit your site on a regular basis, even if they didn't plan on buying anything.

Blogging also improves your organic search ranking. When consumers look for products on a search engine, your site will have a greater chance of being a top hit.

Your blog can also serve as a channel for product promotion. Pitch whatever you're selling within the content of your posts, and add hyperlinks to a landing page where the products can be purchased.
Don't take Facebook for granted; it can help your business tremendously. If you have the budget for it take advantage of their advertising. It can help ecommerce sites and encourage customers to come back and hopefully purchase products.
Thanks to the level of segmentation, Facebook Advertising can be enormously effective for acquiring new customers and re-activating old ones.

For eCommerce sites specifically, Facebook Exchange is particularly effective in reducing shopping cart abandonment.

Facebook Exchange works by dropping a cookie on a user's computer when they visit certain pages on your site. If a user adds a product to the shopping cart but doesn't purchase, a cookie can be dropped on their computer, signalling Facebook to display an advert on their timeline encouraging them to complete their order.

In combination with standard Facebook Ads, this technique is extraordinarily powerful. In a study of $1.2M in eCommerce sales, Nanigans found that customers who entered FB Exchange remarketing pools after first viewing a standard Facebook ad purchased 89% more in sales revenue than those who entered FB Exchange remarketing pools from other channels, such as organically or through search.
Shopify says it's all about social media and advertising your products. Getting active on social media can drive sales and encourage people to at least check out your site. It will also plant a seed in potential customer's minds. Hopefully, they'll bookmark your ecommerce site and come back to purchase products later.
SOCIAL MEDIA
1. Make Friends on Facebook: Learn how to get started with Facebook marketing – everything from crafting strategic status updates to creating a compelling Facebook page for your store.
2. Network on LinkedIn: Find out how to strategically connect with people, complete your profile, what to post and how to leverage LinkedIn groups.
3. Get Busy on Youtube: Discover how to sell with video, what video software to use, what kind of video content to produce and how to get started with YouTube analytics.
4. Spark Conversations on Twitter: If you're new to Twitter then this section is for you. Learn how to get started setting up your account and how to strategically engage potential followers and customers.
5. Inspire with Pinterest: Pinterest can be a huge driver of traffic. In this chapter we show you how to integrate a 'Pin it' button on your site and start inspiring potential customers to start following your pins.
6. Work It on Instagram: Instagram is quickly becoming one of the best platforms for online store owners to build an audience with. Discover how to post photos that drive engagement, run contests and more.
Don't forget about SEO, which also can drive traffic to your ecommerce website. Entrepreneur also says to never forget about organic rankings, but stay patient as it may take time.
Earlier in the article, I mentioned that our profit would be much better in the first month if we had SEO traffic and orders more frequently coming through the funnel. If you continuously work on increasing your domain authority by building credible links, this can be one of the most profitable endeavors for your ecommerce business. This is a time-consuming process and it can take over a year to reap the benefits, depending on the competitiveness of your industry.

Never lose focus on growing your organic rankings. Patience is a virtue. Sign up for a service like Moz to track your search engine ranking positions. If you are able to achieve page one rankings for sought after keywords that can result in sales, this will yield the best return on investment for your business from a marketing perspective.

Don't forget about email marketing and content marketing, both of which are crucial when first starting out your ecommerce site. If you want to generate over $1,000 in your first month of operations, follow the steps above and you're sure to be on your way to success — it worked for us!
If you need to find manufacturers, Forbes suggests a few directories of suppliers where you can find manufacturers. They also outline what to what else you should know about manufacturers.
There are many online directories of suppliers that make it easy to find manufacturers. Some directories are better than others, but there are two that are worth looking into.

Worldwide Brands – Thousands of wholesalers and over 10 million products ($299 membership fee)
Wholesale Central – 1,400 supplies and over 700,000 products (Free)
Once you've built a list of manufactures the next step is to start reaching out in hopes of reselling their products. Not all manufacturers will want to work with someone who is just starting out since they don't have any track record of sales. Start with the manufacturers and distributors who have the least intimidating application and requirements. Many larger manufacturers will want to know who you're working with first, so leverage the relationships of smaller suppliers to get larger suppliers on board.

Note: Many manufacturers will ask for a Tax ID number or Resale Certificate number. Check with your local city and state to learn what licenses and permits you need to sell tangible goods.
Did you choose the correct platform? Business.com recommends finding a platform that's a good fit for your business. If your platform isn't working well for you, it may be worth it to consider something that's easier, such as WordPress.
The first step in the process is to choose a website building platform. Also known as content management systems (CMS), these are the engines that allow websites to run. The three most popular platforms are WordPress (which has an incredible 50.07 percent market penetration rate), Drupal and Joomla.

If you're new to building websites (which is why you're reading this article), you'll probably find WordPress to be the easiest solution. It has a streamlined interface, gives you access to thousands of unique themes and useful plugins, and has an excellent support community. But we shouldn't discount Drupal or Joomla. They just have a little steeper learning curve.

There are also some good DIY template solutions. Though they also have a bit of a learning curve and less in the way of customization options, sites like Squarespace and Wix. These comprehensive solutions allow you to most of the things discussed in this article within their sites, but you'll pay a monthly price and lose some control. It all comes down to what you're looking for.
A hosting platform is equally as important. Business.com reveals more:
This is the point where some people get confused, so take your time with this step and make sure you understand what's happening. While you've selected WordPress (or one of the other solutions) to be your website builder, you now need a host.

A web host is a company that will connect your website to the internet. You can build whatever website you want with WordPress, but it can only go live with a host, such as HostGator.

You have plenty of choices here, too. When looking for a host for your online business, it's best to go with a hosting provider that specializes in e-commerce – or at least hosts a lot of existing e-commerce sites.
Sources:  QuickSprout, Shopify, Entrepreneur, Forbes, Venture Harbour, Business.com
CHALLENGE Yourself to Profit!
Free Download: Build Your Profit-Generating Online Business With This Free Blueprint
Sign Up, follow the easy steps and You'll get the tactics, strategies & techniques needed to create your online profit stream. It's free!
Free Download:
"Download The 21 Days To Profit Blueprint 100% FREE… and Discover The Single Most Profitable Niche Market Selection Technique"
All new plug and play blueprint builds
profitable Internet businesses in record time…