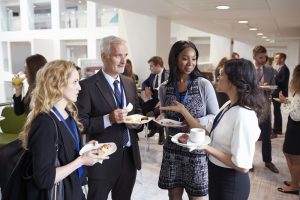 Freelancers are always on the hunt for work, and landing a long term client is the goal for many. While many freelancers have enough work to keep them busy, it may not stay that way for long. It's the simple truth of the matter and part of the freelancing game. Luckily networking by attending seminars and trainings such as our free webinar training can help combat losing work. It also provides ways to keep in touch with people to improve a career and form a successful online business. 
To begin with, the Freelancers Union provides a brief explanation of what networking is and why you should make it essential. 
Why network?

One of the main reasons to attend networking events is to help make connections with other creative professionals, the kind of people who can refer you to potential clients or hire you outright. You might also want to network as a way to manage the isolation and loneliness of being a freelancer. Community can be a great way to help your business and it can enable you to maintain good mental health too.
One way you can network with people in your industry is by attending networking events. Design Studio discusses why this can help your career as a freelancer and also strengthen your skills. 
Attending Freelancer Networking Events

The traditional method of in-person networking remains the most popular, even in the digital age. Furthermore, these local functions often provide the greatest level of opportunity for rapid growth. Irrespective of your goals, you can usually find the right event for your professional objectives. For example, you may simply want to meet other like-minded freelancers to share ideas, tips, and professional strategies. On the other hand, your intentions may be business-driven as you aim to gain new clients or professional partnerships. As you search online through the myriad of local functions, pay attention to the event descriptions. If you have correctly identified your objectives, you can get a feel for which event is right for you.

Here are some of the many types of networking events available for freelancers include:

Casual Networking mixers and low-pressure meetup events

Strong Contact (Such as Business Networking International (BNI)

Volunteering for industry-relevant community service

Joining industry-relevant business groups

Mastermind groups

Professional organizations with local chapters related to your field of interest
Giving before you get something is something you must remember while networking. You can't ask for something right away, or it'll likely turn new connections away. Think about it: If they were to ask you for something that would probably make you feel comfortable. Don't expect to get anything but instead focus on building relationships with people in your field. Freelancers Union further explains why this is the case: 
You shouldn't network with "getting" in mind. The best networkers give first, putting faith in karma and the psychological rule of reciprocity: When you do for others, they naturally seek to return the kindness. In my experience, you invariably get a much higher return than you'd ever expected when you help someone and don't expect something in return.

I like to introduce people whenever I find there's a match between what somebody wants to do (a freelancer seeking to write for a technology client, for example) and what somebody needs (an editor or marketing leader who's looking for a technology writer). For me, networking is first about making connections for others. And yes, indirectly, I make connections for myself too, but that's a secondary concern

I didn't learn this "give first" style of networking on my own, but from people who recommended me to friends in need, and did so without expectation of return. Author Dorie Clark is a great example. She recommended me several years ago to the biggest writing client I have right now. She barely knew me then, but she created an opportunity for me by recommending me to this client. She also showed me that this is what great networkers do: help others first.
Are you ready for a few more ways to network? Good, because FlexJobs reveals that going to trade shows and remembering to follow up with new contacts is imperative. You don't want to forget about someone who wants to keep in touch with you! 
Go to trade shows.

Sometimes, a change of scenery will boost your networking opportunities. The Upwork blog suggests focusing on trade shows. "You don't have to have just one niche, but targeting a specific industry is a great way to get to know players in that space that can connect you to all kinds of work. Instead of going to networking events…go to trade shows and vendor events in your industry. You'll connect with tons of potential clients, get talking points for leads, and get an ahead of the game look at what's hot in the industries you love most."

Always follow up on your networking efforts.

This advice comes from an article by TheSelfEmployed.com. "Whether it's sending out a couple of emails or using social media channels to approach prospects in a more informal way, be timely with your follow-up—as other freelancers will be competing for the work you're interested in securing. A quick and enthusiastic approach to follow-up can turn potential prospects into paying clients—which is the end goal."

Even if you follow these networking tips, you may still be uncomfortable as you try to build your community. But remember: a little discomfort is preferable to an inability to make ends meet.
Talented Ladies Club has a few incredible ideas, such as carrying a business card with you and considering sponsoring an event. Getting involved can help you grow your business and also help strengthen your life skills too. 
Always carry a business card

In our technology-driven times it's easy to be dismissive of the value of a business card. But when you're out and about meeting people it's vital to carry one on you at all times. You never know when you're going to be introduced to a potentially lucrative client who has only seconds to acknowledge you. Handing them a card makes you appear professional and ensures they have all your important contact information and details. You can even leave some cards on a table for people to pick up if appropriate.

Sponsor an event or charity fundraiser

Paying a small amount to co-sponsor their company event or fundraiser could earn you big brownie points from a client, make you look successful and established, and ensure that other potential customers find out about you.

If you're sponsoring an event, you may have the opportunity to include a logo and advert or small write up about your services in a programme, on their website or other marketing materials.

Do free work for charities

If you have the time, offer your services to a charity that needs them. At worst you'll have a great-looking case study to add to your credentials, and at best you may secure paid work from them or another client off the back of it.
UpWork says not to forget about past clients and to use some favorite clients to refer you to new clients. LinkedIn is another way you can build an online presence, so follow up with new and old contacts. You never know what type of opportunities can come your way. 
Leverage past clients for referrals

If you have a few clients under your belt, this is a big plus for your network. Offer them a discount for sharing the link to your business, or a finder's fee for sending new clients your way, or just a warm and sincere thank you for referring new clients to you.

Chances are if they liked working with you, they're going to be more than happy to send some of their friends over.

Use LinkedIn to build a presence

The type of social media outlet you use to position yourself as an industry expert is really going to depend on your audience, but generally speaking, LinkedIn is a great place to be. It keeps your personal and professional social media networks separate and gives you a place to flex your genius.

Share links to your work, offer free advice in your feed, and publish content that shows off how brilliant you are at what you do—the leads will come to you.
Join us during our next free webinar training to learn more about improving your freelancing career. There are many methods not only to network but learn and thrive as a profitable online freelancer! 
Sources: FlexJobs, Design Studio, Talented Ladies Club, Freelancers Union, UpWork
CHALLENGE Yourself to Profit!
Free Download: Build Your Profit-Generating Online Business With This Free Blueprint
Sign Up, follow the easy steps and You'll get the tactics, strategies & techniques needed to create your online profit stream. It's free!