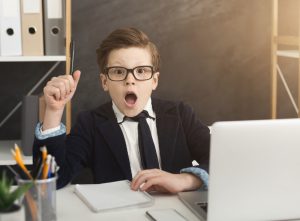 It can get challenging making money online. Brands try a variety of things from sponsored Facebook ads to digital marketing methods that may help some, but getting noticeable results is the ultimate goal. As opposed to getting discouraged about the lack of return on investment, there's an easy yet smart strategy to try. To grow consumer engagement and get noticeable results a business needs referrals. In our free webinar training we often discuss how referrals can help a business take off, and its true. Turning customers into advocates for business encourages other people to support a company, and the result is an improvement of online profit. Here are some excellent ways to get the customer referrals you want.
Forbes says entrepreneurs can gain more referrals if they have an incredible customer service team. Hiring individuals who believe in your product as well as effectively answer any questions customers may have will make all the difference. Customers will be more likely to refer your business if their questions get effectively answered by your customer service team.
Many businesses offer an above-average level of customer service. Their employees smile, they respond quickly when customers ask a question, and they seem to care about your business. That's what most customers today expect, at a minimum.

To get customers talking about you to others – telling stories of how you went "above and beyond" to give them what they needed – you need to routinely do things that are attention-worthy.

Take the age-old story of the long-time customer who returned car tires to Nordstrom for a credit, which they received without question, despite the fact that Nordstrom has never, and probably will never, sell tires. Or the customer whose luggage got delayed before a major presentation, so a dedicated associate at local clothier delivered to their hotel a complete suit in their size, saving the day.

Your goal should be to have your customers telling similar stories about your business.

Did you pay the rush fee to get a customer's order shipped in time for Christmas? Did you call around to other businesses to track down what your customer was after, but which you didn't have? Did your team work through a weekend to be sure your client's website was up-and-running by Monday morning? Or did your entire company attend a customer's special event or fundraiser to show your support?

Brainstorm what you could do to get your customers talking about you in a positive way, then do it.
Forbes also says that offering an incentive referral program is another smart way to get more business. Who doesn't want a gift in exchange for positive feedback and referring a business? You should also consider giving a gift even if you don't get referred right away. It's possible that later on, a loyal customer may recommend your business.
Many companies now do this – offering customers a thank-you gift of some kind for referring customers their way. This could be a gift certificate to your business; a gift certificate to another popular business, such as Starbucks or Amazon; or a bouquet of flowers or a basket of fruit, for example – something you're pretty sure your customer will like.

Some businesses give the gift whether the customer buys anything or not, as a sign of appreciation. That's the smart approach, which gets customers thinking about who else they can refer, in order to enjoy more thank-you gifts. Get It Straight Orthodontics regularly reminds its patients and their parents, that referrals net gift cards to area stores.

Offering an incentive for simply making the referral also takes the onus for selling your services off the customer and puts it back on you, where it should be. You don't want to ask your customers to do all the work, only to encourage others to make contact with you. You can take it from there.
Personalizing your interactions can also go a long way. Here is what Campaign Monitor recommends doing to work on personalizing your communications more:
The more you can personalize the experience for the customer, the happier they'll be. Whether that's remembering information about them, reminding them of something important, or sending them a well-timed promotion, personalization shows customers that you care.

For example, if a customer purchases a new snowboard from your sporting goods website, it makes sense to send out material that's relevant to that subscriber. You might send information on snow conditions, recommendations for more gear, or a promo code for a lift ticket at a local mountain.  Alternatively, if someone purchases a basketball, they might receive different recommendations.

Personalization results in a more engaged customer-base, one that is likely to refer to your friends, family, and colleagues.
Similar to giving gifts to loyal customers who refer your business, Entrepreneur recommends nominating a referral source for recognization. How do you do this? Read more below:
Watch for opportunities to nominate a referral source for an award. Local service and civic organizations often present annual awards recognizing contributions to a particular cause, and local periodicals often sponsor award contests for businesspeople. Find out which groups and interests your referral source is involved in, and check to see if there is any form of recognition associated with them.
Also, keep in mind that offering incentives doesn't have to be complicated, but it's essential to offer the right incentives. Here's what buyapowa recommends doing:
Providing the right incentives, meanwhile, can encourage referrals on a much higher level and a much more consistent basis than you would see otherwise.

One of the important decisions you need to make when designing any type of referral program is whether or not you will offer a reward in return for a successful referral. Part of this decision is determining who you will reward (the advocate and/or the person they referred to you), and what type of rewards you want to offer. In this post, we discussed some of the common options for program rewards—including cash equivalents, bill credits, store coupons, and loyalty points. You should decide not only which of these incentives is most likely to result in increased referrals, but also the value of each reward.

Consider different tiers of rewards in relation to your budget. Determine how much you can provide regarding rewards while still (theoretically) driving a profit.  For example:

Issue a "micro-reward" to advocates who send out referrals (perhaps low-value loyalty points, or a $2 Starbucks card for the first five referrals they send out).
Issue a higher value reward when a referral results in one of those referred friends making their first purchase with you.
Encourage loyalty by paying the reward out over time. For example, a $50 reward earned for bringing in a new paying customer might be paid out in 5 x  $10 discounts over a series of purchases.
Reward "referees" (the new customer who was referred to you) a different amount than the referrer.
Reward your higher LTV customers (i.e. those who have made multiple purchases with you over an extended period of time) a higher amount. Birds of a feather do flock together, and your higher LTV customers will tend to attract similar people to your brand.
Search Engine Journal provides a few tips in the form of quotes from well-known professionals that have successful businesses. Hey, every bit of advice on how to make money online helps!
Share great content with your customers who know and love you, and they'll share your amazing content with their friends. Think of Dollar Shave Club and their video. Or Bonobos and their open letter to Jim Harbaugh. By creating content just for your customers, they'll introduce your brand to friends and leave a positive first impression.

– Brett Farmiloe, Markitors

A simple way to encourage referrals is to offer social media sharing options on your order confirmation page. So after a person has placed an order online, they are presented with something along the lines of "Let your friends know you're the proud owner of a new blue widget," along with social media buttons that'll post just that for them. After all, isn't social media centered around bragging?

– Nicolas Gremion, Free-eBooks.net
Think Bigger reminds businesses that it doesn't have to be complex getting referrals. You can make it easy for customers to refer your company by offering incentives and being transparent. An example of being transparent is by telling them you welcome referrals.
Happy customers want to help, but they don't want to be inconvenienced. The first step is to let them know you welcome (even encourage) referrals. If you offer any incentives, make sure your clients know. Put slips in with newsletters, or provide them when you are delivering your products. Another opportunity to simplify the process is to include a form on your website and social media pages where customers can provide you with a name and email (or standard) address.

Don't forget to stay compliant with the CAN-SPAM Act in your marketing to these referrals. Always be 100 percent transparent when it comes to the purpose of your message and honor opt-out requests promptly.
Customer referrals feel great and are essential to getting more business. In our free webinar training, we teach you how to get referrals, improve or start an online business, and succeed.
Sources: Forbes, Search Engine Journal, Entrepreneur, Campaign Monitor, Think Bigger, buyapowa
Free Download:
"Download The 21 Days To Profit Blueprint 100% FREE… and Discover The Single Most Profitable Niche Market Selection Technique"
All new plug and play blueprint builds
profitable Internet businesses in record time…
CHALLENGE Yourself to Profit!
Free Download: Build Your Profit-Generating Online Business With This Free Blueprint
Sign Up, follow the easy steps and You'll get the tactics, strategies & techniques needed to create your online profit stream. It's free!