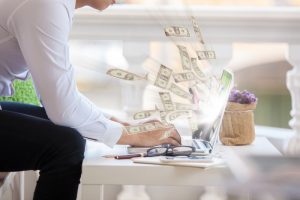 The internet has changed so much over the years. Instead of snail mail, email now dominates. We no longer have to spend money on long-distance phone calls because there's Skype! Furthermore, Amazon has just about anything a person needs. Why go to a shopping mall?! Technology also means entrepreneurs can use email to market products and even make a living by selling things on Amazon. One industry that many haven't taken advantage of yet is book publishing, specifically, selling ebooks. It's hard to believe that millions of ebooks are sold every year, and industry experts say that in 2018 and beyond, ebook revenue could very well go past $8 billion. The good news is there's still plenty of space for an entrepreneur to make a profit too, even if they only write one ebook. So how do you get started on this exciting venture? Of course, marketing is essential, but there are other details to consider as well. This much is true: Create a compelling ebook, and you may be on your way to making a small fortune!
So what exactly are ebooks? The Balance Small Business explains and how it's possible to make big bucks crafting the perfect ebook:
Ebooks are, well, books. But in a format where they can be delivered or downloaded online. You can write them yourself, employ writers, use public domain content, and create your ebooks from many sources. And just about any subject can be covered — just as many, if not more, than what a traditional publisher might release because you can tailor your tomes to niche markets. Travel guides, how-to manuals, mystery, romance, science fiction, self-help, technology, religions… just about any subject is fair game as long as there is a market of ready buyers.

(One of the best ways to check for is to scan the bestseller lists on Amazon. And not just the overall list but also the ones for categories and subcategories.)

Also, you won't have to rely on an editor or publisher telling you whether a book will be published. And you won't have to rely on a bookstore to put your book on its shelves. You're in complete control of the entire process.

In fact, you're going to handle everything yourself, including marketing and selling. And that means you get to keep all the profits. They're nothing to sneeze at.

Self-published authors have had big success in recent years. Take Hugh Howey, who sold a series of science fiction books through Amazon's Kindle Direct Publishing. At one point, he was selling 20,000 — 30,000 copies a month, which generated $150,000 in income monthly. Amanda Hocking, who writes "paranormal romance" and fantasy novels, has sold well more than a million books on Amazon, generating over $2 million in sales. That's proof that you can make money self-publishing on Amazon.
Perhaps what's stopping you from making an ebook is having to start from scratch. However, if you blog you don't have to start from the beginning! You can take your blog and turn it into an ebook with some editing and making it flow better. Small Business discusses this idea more in detail:
Believe it or not, you might already have most of an ebook written already. If you are already making money with a blog, those blog posts could be turned into an ebook with some editing. Simply collect relevant blog posts into an order that makes sense, make any needed edits so that references that aren't relevant are taken out, and add an introduction and conclusion, and you're done. Any blog posts you use should cover the same or related topics and work well together.

Of course, that's only one way to put together the content for your ebook. If you want to publish an original work of fiction or nonfiction — something you write yourself fresh — that is also a good option.

The key part, if you're starting from scratch, is to work steadily towards your goals of finishing that book. Write something every day! Start with an outline and then fill it in.
Affiliate income is another option by giving away an ebook for free. Instead of selling it The Penny Hoarder explains how you can implement affiliate links. Every time a reader clicks on the link and buys the product you get part of that profit. Pretty slick, huh? Let's read about how you can make that happen:
A few years ago I bought a PDF ebook about building niche websites. By the time I had read half of it, I had signed up for a link-building service the author recommended. I paid $150 a month for the service, and because he had linked to it using his affiliate code, he earned a $30 share of each payment.

I also bought two other products he linked to, resulting in commissions of $10 and $20. Altogether, he made $60 from me in a couple days with his affiliate links, and the link-building service paid him another $30 for every month I was subscribed! His ebook cost me about $20, but he would have come out ahead even if he had paid me $20 to read it — or given it to me for free.

That got me thinking. It must be easier to give away a book than to sell it…

I spent a few days putting together a little ebook. The result, "Mind Power Meditation," has eight short chapters on using meditation to boost the power of your mind. Several times in the book, I mention a brainwave entrainment product used for meditating, linking to it using my affiliate code. When a reader clicks through and downloads the $85 package, I get $42.50.

A week after finishing it, I gave the ebook to my "Mind Power Report" subscribers and quickly made a few hundred dollars in commissions. I gave the book away on my websites too, and I still make an occasional commission from it years later.
Sticking to a writing schedule is essential when you start writing an ebook. The Money Snowball provides an excellent example on how to do that:
You've got to develop a writing schedule and stick to it.

If you're worried about getting burnt out, take an hour each day and expand on one highlight.

Or, set a date you want the book finished by.  Divide the number of highlights in your book by the number of days until your target date.  100 highlights / 50 days = 2 highlights per day.

Put aside time each day to write about two highlights.

Use the Jerry Seinfeld method to track your productivity.

The easiest time to write is between 10 pm and 8 am.

Almost everyone else is asleep and you've got no distractions.  There is no one to bother you.

Start going to bed late or waking up early to do your writing.
After you write an ebook, and you need to start marketing it, at the very least you should have a sales page, as Amy Lynn Andrews explains how to do:
At the very least, you will want a dedicated page (or post) on your existing blog or website which will serve as the main sales page (landing page) for your ebook. However, you might also want a dedicated website for your ebook.

Hopefully you were able to register the domain name which matches the title of your ebook as mentioned above. This is just a good marketing move in general, but if you have the domain, you could easily set up an entirely separate website for your ebook (even if your "site" is just one page for now).

Why would you want a separate site for your ebook?

If your ebook is somewhat unrelated to your existing site. If that's the case, a dedicated site might be a good idea. It helps keep things more clear and it keeps your existing readers from getting confused.

To give you the option of building a new site around your ebook. Is the topic of your ebook a new one for you? Are you branching out and contemplating turning it into an entirely new venture? If so, starting out with a brand new site leaves you the possibility of exploring other related projects or streams of income in the future.

To make things more clean and straightforward for the search engines. This is particularly the case if your domain name contains strong keywords.
Of course, writing a successful ebook relies on selecting the right niche, or, at least, a niche that you're passionate about. Not only will choosing a niche you love make it easier to write about the topic, but hopefully it'll pull readers in and encourage others to check out your ebook too. Read what Niche Pursuits has to say about why selecting a niche for your ebook is so important:
DEVELOP A NICHE

When you think about Stephen King, you automatically know which niche he has filled. If you're looking for a horror novel, you might be inclined to specifically seek out one of King's books. On the other hand, if you wanted to read a historical romance, you would probably do a double-take if you saw his name alongside a depiction of a Fabio-esque gentleman and a swooning maiden wearing hoop skirts. The King of Horror has developed a place for himself in the publishing world, and you should do the same thing.

WHY A NICHE IS IMPORTANT

One of the main reasons a niche is important is that it makes it easier to establish yourself as an authority on your subject. You probably know a lot about a few topics and a little about hundreds of topics. Let's say you're a nurse who works in a general pediatric office. Some of the topics you likely know a lot about might include what it takes to become a nurse, children's vaccinations, and common childhood illnesses. You also probably know a little about things like specific heart ailments, bone problems in children, and head trauma. (Of course, you will also know about plenty of topics from your personal life, too, but we're just focusing on work for now.)

Could you write an ebook about children's vaccines? What would make it different from what's already out there? Plenty of doctors and worried parents have written books on the topic.

Maybe since you're a parent in addition to being a nurse, you could write about how you, as a parent, had to weigh the risks and benefits of vaccinations and how you overcame any fears that you had about vaccines. You can present yourself as an authority on both the nursing angle and the parental angle.

After you write this ebook, you could then go on to write additional books on topics where intuition as a parent might or might not align with the usual medical recommendations. Alas, your niche has been born!
Sources: Small Business, The Penny Hoarder, The Money Snowball, Amy Lynn Andrews, Niche Pursuits
CHALLENGE Yourself to Profit!
Free Download: Build Your Profit-Generating Online Business With This Free Blueprint
Sign Up, follow the easy steps and You'll get the tactics, strategies & techniques needed to create your online profit stream. It's free!