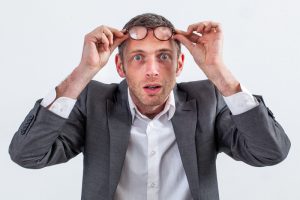 It's possible that old content could be affecting a website. Even for new companies, as new content gets written, older content must stay up to date. In our free webinar training, we regularly discuss improving the authority of a website, and updating content is one way to do that. Make the right decisions while improving a website and in the process, increase engagement, conversions, and links. Ready? Let's learn about the blogging tactic no one is talking about, but can significantly improve a site's performance.
Neil Patel stresses how essential it is to fix grammar errors. After all, grammar may not seem like such a big deal. However, if there are constant errors, it's going to be challenging holding a reader's attention. Work on catching grammatical errors and correcting them. 
Everyone knows the feeling.

We're reading an old post we wrote months or even years ago, and we notice a cringe-worthy spelling mistake.

Instead of just ignoring it and hoping for the best, spend a bit of time to correct the errors.

Google's former anti-spam team leader, Matt Cutts, stated that spelling and grammar aren't one of Google's 200 ranking factors, but it's still something to consider.

Poor grammar and spelling negatively impact the user experience, which will play out in your rankings either directly or indirectly.

When Tim Soulo at Ahrefs decided to make minor changes (including mostly spelling and grammar errors) on an old post, he increased traffic to that page by 486%.

Now, to be fair, he didn't just edit the spelling and grammar mistakes. He also optimized the post for a more relevant keyword, which I'll discuss in a minute.

Then he changed the date to display the recent fresh content, and he pushed it onto the blog's homepage and promoted it like a new article.
If some of your past content isn't high-quality, you may consider getting rid of it or working on improving it. According to Search Engine Journal, having high-quality content on your website will help visitors have a better experience. 
Next, you'll need to analyze the quality of the content you have on the website.

I define quality content as content that is:

Accurate

Mobile-Friendly

Answers Questions

Informative

Original

Shareable

Solves Problems

Inspiring

Readable

Visual

Entertaining

Educational

And for me, low-quality content:

Has no target audience.

Has no goal / purpose.

Is not optimized.

Is unsuccessful.

On the other hand, Google defines quality content as:

Useful and informative.

More valuable and useful than other sites.

Credible.

High quality.

Engaging.

A term that also comes up often is E-A-T which comes from Google's search quality rating guidelines. Simply put E-A-T means:

Expertise: Your unique skills, information, or knowledge.

Authority: Other people know about and recognize your skills or knowledge.

Trust: People believe what you think, say, or do and feel secure buying from or endorsing you.

Google considers content as low quality when it has the following elements:

Inadequate E-A-T.

Main content quality is low.

Unsatisfying amount of main content.

Exaggerated / shocking title.

Ads or supporting content distracts from main content.

Unsatisfying amount of info about website or content creator.

Mildly negative reputation of website or content creator.

What's the best action to take when you find out that you have low-quality content? Should you remove or improve it?
What about implementing surveys? Content Marketing Institute recommends using polls on your website to improve engagement, and if all goes well, they can you some leads as well. 
Surveys are usually used to get to know your customers better, but did you know you can use them as lead generation tools? If you create a survey that closely relates to the article, you can generate great leads from that content. Somehow surveys appear to engage more people than lead magnets.

A few years ago, we did an article on the history of Google's Penguin updates and asked our readers whether they ever saw an impact from any of them (and what they expected from future updates). We put together the responses in a white paper and sent it to all survey takers. We earned quite a few solid leads from that survey and created a solid linkable asset (which helped in the long run).

SurveyAnyplace has a bunch of lead generation survey templates to help with inspiration, but it all comes down to what your content is about and what your hook is.
Organic competitors that are succeeding are doing something right. To replicate their good results, check out what seems to be working for them. Then Content Marketing Institute says to work on replicating that to generate your own success. 
Often, simply scrolling through your competitors' sites can be quite enlightening:

What are they doing to engage their visitors?

Are they implementing something ingenious or creative?

How are they prompting their visitors to pause and hang around? (This is a hard thing as web users are often accessing your site while in the middle of a task, from a mobile device or a smart speaker assistant.)

How do they structure their web pages to make them more readable as well as to pursue more ranking opportunities?

To better identify your organic competitors, use Serpstats' Top Pages report: Type in your most important keyword and the tool will find URLs that rank for the most closely related queries.
Hubspot suggests using old blog posts to improve your website's views by optimizing blog posts based on keywords. They provide three steps on how to do that below: 
How to Conversion Optimize Old Blog Posts Based on Keywords

Step 1: Export your blog analytics to identify your top-viewed "old" blog posts.

Step 2: Identify which keywords each post is getting found for using a combination of keyword research and a keyword tracking tool like HubSpot's. Then prioritize your keyword list based on the one or two keywords the majority of each post's traffic seems to be coming from.

Step 3: Conversion optimize your posts using the target keywords identified in Step 2, incorporating those exact keyword phrase(s) into your posts' calls-to-action (CTAs).

The next part of the historical optimization project we tackled was search engine optimization. If you remember, the goal of historical search engine optimization is to improve the search rankings for posts that already convert well but aren't getting a lot of traffic from search. More traffic to these high-converting posts could result in more leads.

Someone once said (honestly, no one can figure out who to give credit to), "The best place to hide a dead body is page two of Google." If you're not sure what I mean by that, take a look at the following chart from a 2014 study conducted by Advanced Web Ranking, which shows the clickthrough rates of specific organic search ranking positions in Google:
Neil Patel admits that Google loves new content. There are a few techniques you can try that'll improve a site's rankings and double your traffic. 
It's no secret that Google loves fresh content.

Content published recently gets a higher ranking, especially for topics that change frequently.

So if you're only publishing new content, you're missing out on a huge opportunity. Your old pieces will die a slow death in the search engine rankings.

Instead, you can revive that content. The truth is, updated content is an easy way to double your traffic.

Create a new publication date or just save an update in WordPress. When Google crawls your site again, you'll see a boost in your search engine traffic.

When Ahrefs launched evergreen content instead of content that was quickly outdated, they saw a massive spike in views and visits.

You can do the same thing with your content. Work hard to make sure it's fresh, and you'll get the lion's share of the Google results your articles deserve.

It's an easy way to improve your rankings by demonstrating you have fresh content.
Creating newer formats is another technique to implement, and according to DreamGrow, switching up blog post formats can attract a brand new audience. 
Today, people love content that has been broken down into easily readable and understandable segments peppered with illustrations. I am talking about infographics. These simple, yet powerful, tools are invaluable in your quest to repurpose old content. They provide an attractive visual representation of the key concepts in your content.

An UnBounce survey shows that the demand for infographics has increased 800% in the past year and last year, infographics usage grew from 9% to 52%. We used Gifographic in one of our articles to present the most important Google algorithm changes and had a winner in our hands.

Unless you want a gifographic or animated infographic, you don't need a designer to create infographics. There are many free templates available on the web. Just choose the one that fits your purpose, fill out the text boxes and voila! 

Another powerful way to present content is in the form of presentation and slideshows. It is dynamic since it incorporates movement and can hold the reader's attention for a longer period than an article.
Register for our next free webinar training to continue to learn about additional blogging tactics that can improve your readership and generate sales! 
Sources: Content Marketing Institute, Hubspot, Neil Patel, Search Engine Journal, DreamGrow
Free Download:
"Download The 21 Days To Profit Blueprint 100% FREE… and Discover The Single Most Profitable Niche Market Selection Technique"
All new plug and play blueprint builds
profitable Internet businesses in record time…
CHALLENGE Yourself to Profit!
Free Download: Build Your Profit-Generating Online Business With This Free Blueprint
Sign Up, follow the easy steps and You'll get the tactics, strategies & techniques needed to create your online profit stream. It's free!