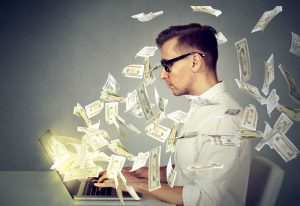 Is it really possible to make money blogging by turning passions and experiences into a real income online? Yes, it's possible and there are steps to take that will lead to a successful blog that makes a substantial profit. The internet holds countless opportunities to not only build a compelling blog but make money on it. Not only do we cover some tips below on how to make a profit and maintain that profit on a blog, but there's so much more that goes into building a successful site. You can learn the scoop on how to make money online on our free webinar training.
There are many tips on how to maintain a profitable blog and here are just a few that Making Sense of Cents discusses below:
Grow your following.
As a blogger, you'll want to find ways to improve your traffic.

No, you don't need millions and millions of page views to earn a good living from blogging. In fact, I know some bloggers who receive 1,000,000 page views yet make less money than those with 100,000 monthly page views.

Every website is different, but once you learn what your audience wants, you can start to really make money blogging, regardless of how many page views you receive.

Having a successful blog is all about having a loyal audience and helping them.

Even with all of that being said, to make money blogging, it doesn't hurt to improve your traffic. The more loyal and engaged followers you have, the more money you may be able to make through your blog.

There are many different ways to increase the number of page views you receive on your blog.

Here are my tips:

Publish high-quality blog posts – Your blog posts should always be high-quality and helpful, and it means readers will want to come back for more.
Be active on Pinterest – Pinterest is one of my top traffic sources. I recommend creating great images, making sure the description and title of your images are catchy, pinning regularly, and only pinning long images. In case you are wondering, I use Picmonkey to edit all of my images and Tailwind to schedule them.
Find other social media sites to be active on – Besides Pinterest, there are several other social networking sites to use, including Facebook, Twitter, StumbleUpon, Periscope, Instagram, Snapchat, Youtube, and others.
Post regularly – For most blogs, you should publish something at least once a week. Readers may forget about you if you go for weeks or months at a time without a blog post.
Network with other bloggers – Too many bloggers see other bloggers as competition. However, you should see them as friends and colleagues. This means interacting with them on social media, reaching out via email, attending conferences, and more. Of course, be genuine with it all, and give more than you take.
Guest post – Guest posting is a great way to reach a new audience, as it can bring new readers to your blog who will potentially subscribe to it.
Make sure it's easy to share your content – I love sharing posts on social media. However, it gets frustrating when some blogs make it more difficult than it needs to be. You should always make sure it's easy for readers to share your content, which means your social media icons should be easy to find, all of the info input and ready for sharing (title, link, and your username), and so on. Also, you should make sure that when someone clicks on one of your sharing icons the title isn't in CAPS (I've seen this too many times!). No one wants to share a blog post that sounds like you're screaming at them.
Create catchy headlines – The title of your post can either bring readers to you or deter them from clicking over.
Learn SEO – SEO (search engine optimization) is not something I can teach in this small section. But, to learn SEO, I recommend taking the same course I did, Accelerate Your Blog.
Make it easy for readers to browse – If you want more page views, you should make it as easy as possible for readers to read your other blog posts. It should be easy for readers to find your blog homepage, categories, tags, search bar, and so on. Also, I recommend including links in every single one of your blog posts, which helps readers easily find related topics.
Are you taking advantage of affiliate marketing? The Balance Small Business argues why this is so important for a blog that's making money and how to use it to your advantage:
As I mentioned above, one of my favorite ways to make money on the internet is by promoting digital information products as an affiliate.

Just like Amazon.com is a marketplace of physical good sold on the internet; there are also marketplaces of digital products sold on the internet as well.

One of the most popular digital product marketplaces is Clickbank.com. You can search the Clickbank marketplace for products related to your marketplace and promote them on your website, write product reviews, etc.

Just like with Amazon, if someone clicks on the link and goes back and buys the product you are promoting, you would get a commission for a percentage of the sale.

One attractive feature of promoting digital information products is that the commissions tend to be higher than that of physical products; ranging anywhere from 10% to 50% or even higher. As an example, if someone is selling a digital information product for $500 with a 50% commission – you can earn $250 per sale. This is much higher than commissions on physical products due to the high-profit margins.
Forbes mentions selling ad space and offering services on your blog as an excellent way to make money. In particular, they suggest selling services that are related to your blog. For example, if you love to cook, then you may sell an ebook that teaches cooking techniques. Another idea is to sell products on your blog that can help cooks improve their skills.
Sell Ad Space

This is the strategy that most bloggers start with when looking to monetize their blog. However, keep in mind you're not limited to selling banner ad spots (which is generally an ineffective strategy these days). Consider other areas you could rent out: space on your pop-up box, social media headers, the "P.S." on your email newsletters…think outside the box (quite literally).

Offer services

While selling your services may not make you rich (look to passive income to do that!), it's a great way to make some extra cash and to build up your reputation. Sell services directly related to the topic of your blog (e.g., catering for a food blog), or freelance blogging services like writing or graphic design.
Smart Blogger reminds bloggers that honing your craft, which in this case is writing is imperative if you want to stay in profit on your blog.
You've probably heard that "Content is king," and it's true… to an extent. A more accurate statement would be…

The Best Content Is King

If that's hard to understand, think about it this way:

Lots of bloggers sit down and think, "What will I write today?" They jot down some thoughts, doing their best to be helpful, original, and entertaining. If they're disciplined, they might even stick with it for a few months.

But it almost never works. Here are a few reasons why:

What you want to say isn't what other people want to read
You weren't using a proven content framework
It's not the best post ever published on the topic
Granted, it's not your fault. Until today, chances are no one ever told you about any of those requirements. You thought you just had to write interesting stuff and publish it.

No, grasshopper. No.

The truth is, having good ideas and powerful words isn't enough. you have to create the best content ever published on topics lots of people are interested in learning more about. And that brings us to the three levels of content creation:

You know what content is popular in your niche, and you write exclusively about those topics
You've mastered frameworks proven to make your content more popular (list post, how to post, etc.)
Your content delivers more value to the reader than any other post published on that topic
You're probably thinking, "Geez. That sounds hard." And you're right, it is.

I personally spent about three years honing my skills by writing for other sites before I started my own blog. It doesn't have to take that long — I'm just a perfectionist, so I wanted to learn from the best people in my space.
Making Sense of Cents says making money on your blog begins with passion and in order to continue making money it's best to keep that passion alive. Love what you're writing about to keep your content and blog high-quality:
Be passionate about your blog.
Blogging is a ton of fun, and I believe the best blogs are written by those that love to write and love everything that goes into blogging.

There are a lot of tasks and responsibilities that go into running a high quality blog, which means it's easy to spend 100 hours a week working on it. This is why being passionate about what you are doing is so important.

There are always new things to learn, posts to write, things to research, networking opportunities, finding more ways to make money blogging, and more to do. So, enjoying what you do will make everything much better and even easier.

I have been passionate about Making Sense of Cents from the beginning. I enjoy helping my readers improve their finances and reach financial freedom, I love talking about finance, and really I just love everything that goes into blogging.

This passion and motivation means that I look forward to every single day that I work, which keeps me from feeling tired or stressed after spending hours and hours working on my blog.
Blogging takes time to master, but with dedication and applying various techniques, you should be on your way to staying profitable. During our free webinar training, you can learn more tips on how to increase your profit and succeed online.
Sources: Forbes, Smart Blogger, Making Sense With Cents, The Balance Small Business
Free Download:
"Download The 21 Days To Profit Blueprint 100% FREE… and Discover The Single Most Profitable Niche Market Selection Technique"
All new plug and play blueprint builds
profitable Internet businesses in record time…
CHALLENGE Yourself to Profit!
Free Download: Build Your Profit-Generating Online Business With This Free Blueprint
Sign Up, follow the easy steps and You'll get the tactics, strategies & techniques needed to create your online profit stream. It's free!