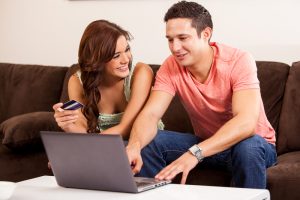 eCommerce owners who aren't in the process of improving their landing pages to convert potential customers aren't making nearly as much as they could. As of 2018, an average eCommerce website both in the US and the rest of the world only converted four percent or less of its visitors. While setting up a new eCommerce website, keep in mind that there's a vast audience to convert (95% of an audience, in fact!). Some of the suggestions below should improve eCommerce products and a brand. Besides, learn how to keep an eCommerce site profitable now and in the future by checking out our free webinar training.
1. High-quality product pages
Crazy Egg recommends setting up high-quality product pages to entice customers to not only stick around but buy the products.
This might sound like eCommerce 101, but shoppers today expect high-quality images of your products as a standard part of the online buying experience.

Since your visitors can't physically pick up what you're selling and examine it, detailed images are the closest alternative you can provide.

Subpar images, on the other hand, can sour visitors both on your landing page and your brand as a whole.

Sometimes an image of just the product does even better than a shot of the product in action, as we found out with this variant test:

In retrospect, the ad on the right could almost be for nail polish. – image source

The hypothesis was that the "action" shot would produce more conversions, but the original image of the iron by itself actually outperformed the new version by 44%.

We suspect that because the action shot offered less visual detail of the product itself, users weren't as interested.
2. Clarify shipping info
Being clear enough about your shipping information is essential. According to Crazy Egg, shoppers want to know how much shipping is going to cost and how fast it's going to reach them. The better deals you can offer without losing money, the more you're likely to convert visitors into customers.  
Speaking of clear definitions, there's another piece of information that eCommerce shoppers can be sticklers about: how their new purchase will get to their location.

Because Amazon and other large online sellers offer free shipping on most of their products, customers have come to expect zero or minimal shipping costs on their orders.

While you might not have the sales volume or infrastructure to offer free shipping, you still need to provide buyers with shipping costs and information at the right moment in the checkout process.

Saving it for the last step can feel like trickery when the final price goes up, but placing shipping information at the beginning of the transaction can turn some buyers off too.
3. Social proof
To build your eCommerce website, you should have credible social evidence. Whether this means creating a following on social media or gathering customers reviews, Crazy Egg suggests making this a focus so you can show you're a reputable website.
Social proof means using third-party sources to indicate trustworthiness in your product or brand.

In the eCommerce space, you can use social proof on landing pages to:

Show off product quality

Highlight customer experiences

Promote further engagement

Reduce friction in your conversion funnel

Social proof can appear anywhere and everywhere in your conversion path.

You can add customer quotes near the top of your landing page, or a social share option after your users complete a purchase.

Just remember that you aren't trying to show off — your social proof should provide value and persuade would-be customers to take the next step in your process.
Reviews. Most eCommerce platforms include functionality for customers to write reviews. You can pull snippets of relevant reviews for your landing page copy, display star-based user ratings for your products, and more.

Testimonials. Testimonials are different from reviews in that they usually offer a more complete, experience-based description of a customer's interaction with your business. Video testimonials can also engage shoppers who aren't willing to read through a backlog of written reviews.

How-To Videos. Seeing your product in action — in videos created by your customers or via tutorials produced in-house — can reassure potential buyers that their purchase will provide value.
4. Mobile optimization
Are you setting up your website that's mobile friendly? If your site is hard for visitors to shop or purchase on, they're more likely to abandon their shopping cart or the website altogether. That's why Sumo urges eCommerce owners to optimize their website for mobile so issues like that won't take place.  
In 2017, over half the world's traffic came from users on mobile devices, a jump from 30% to 50% in just two years. This rate of increase means that ecommerce sites can't afford to miss out on the rising wave of mobile traffic.

Even though mobile accounts for such a large percentage of our traffic, customers still have complaints about making mobile shopping more convenient.

This leads to two big takeaways for ecommerce brands:

You need to optimize your ecommerce landing pages to accommodate a growing mobile customer base.

With mobile shopping continually growing, there's a huge window of opportunity to edge out the ecommece competition.

So how can you optimize your ecommerce landing pages for mobile customer experiences? To start:

Use a responsive site to make sure your landing page adjusts to mobile screens

Make sure you're compressing your images and minifying any HTML, CSS, etc.

Optimize your checkout process to make it as simple as possible for users to buy
5. Create a post-click landing page
Instapage lays out what post-click landing pages are and how you can use them to your advantage. Landing page conversions are the ultimate goal, so you should focus on developing a compelling land page.
As businesses become more data-driven, post-click landing pages are becoming the preferred choice of the two because of their ability to drive more conversions, generate more leads, and ultimately, deliver high ROI. In fact, the infamous HubSpot report shows that brands using 40 or more post-click landing pages generate 120% more leads than companies that use less than 5 post-click landing pages.

The reason behind this is that every customer is unique and requires personalized attention and engagement to be persuaded to purchase. The best ecommerce post-click landing pages (aka pre-cart post-click landing pages) allow you to do this — tailor your business to individual customers through specialized digital storefronts, which in turn, increases engagement and boosts sales.

The most desired ecommerce post-click landing page conversions include:

Subscribing to email updates

Making a purchase

Downloading free content

Upgrading to an improved product or higher level of service

Along with explaining the best practices to use on ecommerce post-click landing page templates, this section shows several ecommerce post-click landing page examples to inspire your next design.

Eliminate site navigation

Since a post-click landing page is a standalone page from your website, it shouldn't include a navigation bar anywhere; nor should it include any other click-through opportunities aside from the main CTA. Including any additional links would only allow people to click away from your offer without first converting.

Incorporate multiple CTAs

The difference between product page CTAs and post-click landing page CTAs is that the latter should only have one goal. That doesn't mean only one CTA button, though. Multiple CTA buttons are acceptable on ecommerce post-click landing pages, as long as they cooperate with each other.
6. Implement a landing page strategy
It's hard to reach your goals if you don't have any to begin with, which is why Big Commerce says you need to develop an effective strategy. Below are some examples of what type of advertising campaigns you should consider running.
Here is how most online brands run advertising campaigns:

Launch a Facebook of Google PPC ad.

Drop shoppers who click on those ads on specific category or product pages

See low conversion rates on those product pages as customers begin to browse other sections of the site

Lose the ability to properly measure ROAS (return on ad spend).

This is occurring even outside ads, but in campaigns in general.

Here's how most people are running email marketing campaigns for instance:

Launch an email marketing campaign targeted to a specific customer segment

Drop that customer off on a specific product page

See low conversion rates on those product pages as customers begin to browse other sections of the site

Lose the ability to properly measure ROI (return on investment) for the email campaign, and LTV (customer lifetime value) generated from individual campaigns.
7. Use a top funnel landing page
Big Commerce recommends using a top funnel landing page that shows your website visitors what your brand and products are all about. Overall, below is an excellent summary of what you should focus on while setting up your landing pages.
Typical campaign type: Lookalike audiences

The Strategy

Create a landing pages that tells your brand story including who you are, why you exist and what you believe in.

Also show off social proof (from customers and media outlets, if possible) and begins to build community with the lookalike audience.

The CTA

Join the Community and Take 10% Off Your First Purchase

The goal here is to capture an email address so you don't have to pay to market to these folks again.

You'll then retarget traffic that lands on the page, but doesn't convert (i.e. give you an email address) to test a new message and offer.
Converting website visitors into loyal customers can happen by focusing on your eCommerce landing pages. To get tips on how to effectively develop a website and build an audience, join us for our free webinar training class. We want you to be successful, and we can help you get there! See you soon!
Sources: Crazy Egg, Instapage, Big Commerce, Sumo
CHALLENGE Yourself to Profit!
Free Download: Build Your Profit-Generating Online Business With This Free Blueprint
Sign Up, follow the easy steps and You'll get the tactics, strategies & techniques needed to create your online profit stream. It's free!