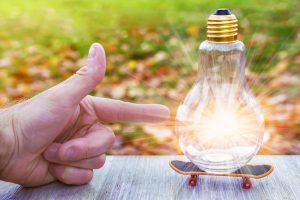 Having a well-developed brand is imperative for a new online business to thrive (and we discuss this more during our free webinar training). If an audience doesn't know what a brand is all about it'll be more challenging to build a customer base and make money. Here are 7 ways to build brand awareness and help an audience identify and stay loyal to a brand.
Create a unique personality
While developing your business Survey Monkey recommends building a unique personality. Create a singular brand identity, and you'll identify with your audience better.
As the marketing platform HubSpot states, "Your brand identity is the representation of your company's reputation through the conveyance of attributes, values, purpose, strengths, and passions." Creating and maintaining a unique brand identity is one of the most effective ways in increasing your brand's awareness. For example, brands like Dollar Shave Club and Old Spice are known for being witty and just a little out there. Or just share experiences to gain readership.

Going back to Dollar Shave Club, this is a brand known for being irreverent. Starting with the ad title, "Our Blades Are F**king Great," the video that introduced the brand was comical and outrageous. The video quickly gained millions of views on YouTube thanks to social shares. But, the most interesting fact of the viral video is that 12,000 people signed up for the service within the first 48 hours of the video's launch. Ask yourself why? How can you incorporate this idea into your own ideas or campaigns?

Create a unique ad or campaign that will leave an impression with your audience. When it happens that your audience remembers you or your brand—they connect with your brand in some personal way—then your audience will be more likely to share your content, which in turn will give your sales a boost.
Get influencers to display your products
As you continue to develop your company Entrepreneur says you should connect with influencers on the web. By networking with them, you should be able to increase brand awareness and get the word out on your site and products (if you have them).
Inviting influencers into your niche is a great way to increase brand awareness and hopefully drive sales. When influencers have an established audience that knows and trusts them, once they mention your product(s) and discuss your brand in their content, those mentions will expand your reach and increase people's awareness of your product.

Ikonick is a perfect example of a company that works directly with influencers: It sells canvas art for your home and office. The way Ikonick uses influencers involves providing them with art and having those influencers pose with the art, then share the photos on social media.

"Our relationships are an important part of our business,"  co-founder Mark Mastrandrea told me. "Our relationships make up our community, and the community is how our brand grows."  

Ikonick uses all types of influencers, from Instagram photographers to celebrities. The company's social strategy has enabled it to scale and grow exponentially because its influencers become part of its sales team — even ambassadors. The relationship is mutually rewarding, Mastrandrea said.
Forbes adds to Entrepreneur's thoughts by recommending developing a strategy to get your products well advertised. Hopefully, if everything goes well, you can also have companies help promote your company.
In today's rapid news cycle, securing earned media with adequate prep time can challenge even the most resourceful PR shops. To help avoid the last-minute scramble, anticipate news to the biggest extent possible, then start fleshing out a strategy for featuring your brand. As an example: During the last presidential campaign, we leveraged the fact that the dates of the debates were published well in advance. We had enough breathing room to develop op-eds that were both thorough and incredibly timely, which led to multiple publications featuring our commentary. – Joseph DiBlasi, The Conference Board
Explain things more clearly
Are you explaining things enough? Forbes says you should be conveying every clearly to your audience so that they understand what you're trying to tell them about your brand.
Don't think that your customers understand your product as well as you do. Even something super simple might be not that evident for people. Especially if you provide some complex software with a learning curve. We always talk with the customers about our product with simple words, detailed explanations and examples. Don't let your clients feel confused. – Arina Katrycheva, actiTIME
Incredible guest posts
Another way to strengthen your brand is through guest posts as Wordstream suggests. Securing a few guest posts from good writers can help beef up the content on your blog and give your readers a new perspective from different writers.
Another great way to get your brand known on the web is to deliver ultra valuable, gorgeous looking content to share on other blogs. Guest posting (despite what some might tell you) is still a powerful way to get your name known in your industry.

However, run-of-the-mill content won't cut it – you need to be guest publishing high-quality stuff. Create memorable, valuable content and you'll be introduced to new audiences and make a lasting impression.
Try podcasting
Have you considered podcasting? Wordstream recommends starting your own podcast to identify with your audience better.
Starting your own industry podcast where you interview industry experts is a great way to build your brand while also developing relationships with others in your field. Some industries, like marketing, already have a hefty number of podcasts that would be tough for a beginner to compete against. (Here are a few of our favorite marketing podcasts.)

However, for niche industries where there isn't much on the airwaves, you could easily make yourself a household name. You could also try podcast advertising!
Make personalization a priority
Personalizing your brand is imperative, which is why Thrive Hive recommends focusing on personalization. Appreciate your customers, and they'll be more likely to get the word out about your business.
By personalizing the experience you offer as much as possible, you show that you value each individual prospect and customer. The more appreciated people feel, the more likely they'll be to spread the word about your business.

What kinds of things can you personalize? You can address each person by name in your emails, meet various preferences and needs using dynamic website personalization, and switch up templated, generic support responses.
Social media marketing
Of course, digital media marketing is essential while building your online business. Digital Agency Network says to go where your customer is, which means engaging on various social media sites.
Social media marketing has to be top of the list when writing about how to create brand awareness.

In 2018, it might be slightly obvious to point out that social media is important, but here goes: where do most people spend a huge chunk of their time on a daily basis? That's right – Twitter, Facebook, Instagram, etc. So, in terms of creating brand awareness, it makes sense to go where your consumer is.

The other huge thing about social media marketing is that it's a free way to build brand recognition. In the digital era, a big chunk of your time will be spent building a solid social media presence.

Where you need to concentrate your efforts will depend on your industry, but it shouldn't be hard to find out what the most useful social media platform will be for your brand.

Once there, make sure your presence is regular. Generating regular content is probably the most important aspect of maintaining social media presence. People lose interest quickly, and once they lose the habit of checking in regularly, it will be hard to get their eyeballs back on your brand.

Social media is also, perhaps ironically, the best place to add a little human element to your brand. Brands tweet and post photos on Instagram, but so do regular people.

Adopting a more personal tone can be a great way to gain a loyal following. It's also important to bear in mind that people go on social media for entertainment – humour can be a great tool if used wisely.

At the same time, Tweeting and posting come with inherent risks. You don't want to push the boat out too far and generate a Twitterstorm by saying something inappropriate. Or maybe, if you live by the adage 'there's no such thing as bad publicity', you do.

Of course, just as off color comments can trend, so can funny threads and cute videos. Going viral is the holy grail of all social media marketers, and viral marketing is a sure fire way to generate massive brand awareness.

For managing your various social media profiles effectively, you may want to check out the vast range of tools available. Especially if you are a small business or site, automating your posts can be a life-saver when it comes to managing your time.
Now that you know 7 proven ways to grow brand awareness, learn how you can set up and develop an excellent online business. Join us for our next free webinar training, and we'll share some ways to enhance your business and improve it so that it becomes a profitable powerhouse.
Sources: Forbes, Wordstream, Thrive Hive, Digital Agency Network